Blog:

Why is Vietnam's dairy sector growing rapidly? just-food flies in to find out

Dean Best | 8 May 2014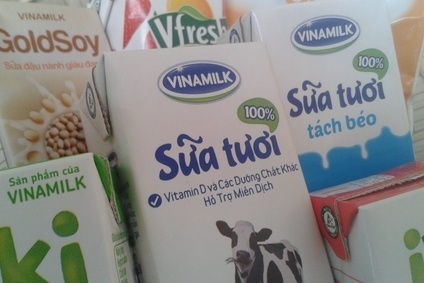 Vinamilk dominates Vietnam's buoyant dairy sector, analysts say
This morning (8 May), just-food arrived in a hot and humid Ho Chi Minh City, the commercial centre of Vietnam, to take the temperature of the country's burgeoning dairy sector.
We pride ourselves on our emerging markets coverage and this week we are in Vietnam to investigate the country's dairy market with packaging giant Tetra Pak and Vinamilk, the Asian nation's largest processor
Dairy companies with international ambitions have increasingly looked to emerging markets as a potential lucrative opportunity. In Asia, much of their attention has, of course, been placed on China but, as we reported in our analysis of Indonesia's dairy sector last week, there are a clutch of other attractive markets in South East Asia.
And Vietnam is one of them. The country's dairy market has enjoyed buoyant growth in recent years on the back of urbanisation and rising incomes. The Vietnamese government has also been investing in the sector to boost production and exports.
Local production accounts for 20% of consumption, BMI says, with imports from countries including Australia, New Zealand and the US meeting demand.
In a further boost, the Vietnamese government has also introduced a series of initiatives to raise the height of its citizens, which analysts at Euromonitor say has helped demand for drinking milk.
According to research from Business Monitor International, dairy consumption at the mass-market level is rising at a "high single-digit" rate each year.
Multinationals like FrieslandCampina and Groupe Bel have already secured notable footholds in Vietnam. Bel, the French manufacturer behind brands like Babybel and Le Vache Qui Rit, is the largest player in the country's fledgling cheese market. Euromonitor estimates Bel accounted for 70% of cheese sales in Vietnam last year.
However, looking at Vietnam's dairy sector in the round, it is Vinamilk - a homegrown player - that dominates the market. Euromonitor data shows it accounts for almost half of sales of drinking milk - the largest category - and has the lion's share of other categories like condensed milk and yoghurt.
The number crunchers at BMI claim Vinamilk accounts for "an estimated 75% of of the high-growth Vietnamese dairy market".
Nevertheless, Vinamilk has continued to invest to meet what analysts believe will be continued strong demand for dairy products. Analysts expect growth to remain robust in a market where per capita consumption is lower than in other countries in Asia - and its growing wealth and the rise of a modern grocery retail trade should support industries like dairy.
Vietnam has seen its economy slow in recent years, with growth at around 5% in 2012 and 2013. However, there is optimism for faster growth this year, with domestic consumption showing signs of recovery. And, notably, BMI has forecast food and drink consumption will rise at a double-digit rate each year between 2014 and 2018.
On the flip side, there are challenges. Weak infrastructure can make the distribution, particularly of chilled products, difficult. Companies also have to work hard to develop products for a country dominated by a low-income, rural population.
Nonetheless, there is no question Vietnam's dairy sector - along with much of the FMCG industry - has potential.
This week, we will seek to hear how Vinamilk and Tetra Pak view the prospects for Vietnam's dairy industry. Tomorrow, we will visit Vinamilk's recently-opened plant in Binh Duong province, north of the capital, set up to serve demand in the country. How does Vinamilk believe demand for dairy in Vietnam will evolve? What about the competition?
Vinamilk also has interesting international ambitions. It is said to want to become one of the world's 50 largest dairy processors by sales by 2017 and has recently made investments in Cambodia - and, notably, further afield in North America and Europe.
In December, Vinamilk announced it was looking to buy 70% of Driftwood Dairy, a business in the US.
This year, Vinamilk has also revealed plans for a subsidiary in Poland.
Much of our extended coverage of the Vietnam visit will be for subscribers only. If you have not signed up yet, we are running a very special trial offer at the moment. For GBP1, EUR1 or US$1, non-subscribers can get 30 days of full access to just-food.
What are you waiting for? Click here, fill in a few details and you can read the site in full for a month. It is an offer as hot as the temperature this afternoon in Ho Chi Minh City.