Blog:

Will Fox be on the run over post-Brexit food standards?

Andy Coyne | 18 October 2018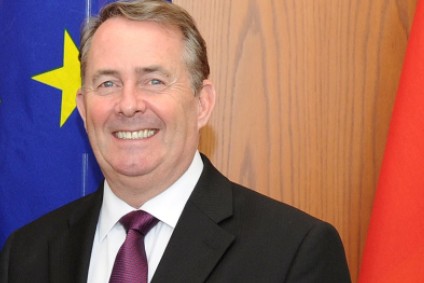 Claims UK plans to "lower food and farming standards are categorically untrue", Fox said
From a UK food industry perspective, one of the key issues discussed about the world after Brexit is whether Britain will be forced to change its standards to win trade deals.
Or to put it in tabloid terms, will Brits have to accept chlorine-washed chicken, hormone-fed beef and more 'Frankenstein foods' (GM crops) if potential trading partners such as the US and Australia aren't to walk away from the negotiating table?
Categorically not, says Dr. Liam Fox, the UK's international trade secretary.
Speaking to a conference convened by the UK's Agriculture and Horticulture Development Board yesterday (17 October), Dr. Fox said: "There have been a lot of reports lately, mostly on social media, that my department has been planning to lower food and farming standards when negotiating free trade agreements post-Brexit.
"Well, today I am here in person, and let me tell you categorically that these reports are untrue."
Dr. Fox said recent market access agreements secured by the Department for International Trade were secured "because, and not in spite of, the UK's world-class agricultural standards".
He cited recent deals with China. "In June, the Chinese Government agreed to lift a 20-year ban on the import of British beef which could be worth GBP250m [US$326.8m] to British beef producers in the first five years alone," Dr. Fox said.
"In August, I travelled to China to sign two other landmark agreements for agricultural produce. The first opens up the Chinese market to British dairy products made with milk from third countries - a significant step that could be worth GBP240m to the wider dairy industry."
All well and good but will the UK really be in a position to shout the odds in post-Brexit trade talks when everyone knows it is desperate to find markets outside the European Union for its goods?
The Australians think not, it would appear.
Submissions from various authorities, industry group and bodies, which have been fed into an Australian government investigation into a future deal with the UK post-Brexit, found their way onto a UK-based political analyst's Twitter feed this week and made for interesting reading.
The UK will be a "distressed negotiator" and it - Australia - should be able to extract significant concessions, it was suggested.
There was also concern over whether a deal with the UK would damage Australia's trading relationship with the EU.
And the Australian Meat Processing Corp. thought the negotiating climate post-Brexit might be a good time to push the UK to accept beef containing growth hormones.
Ironically, a lot of the food standards the UK is keen to retain are European Union-wide ones. When the UK is on its own, potential trading partners may think they can pick it off and gain access to the British market with products banned by the EU.
What the Australian documents suggest is the UK will be negotiating from a position of weakness and will be ripe for the taking (my words not theirs).
Whether the UK will be able to withstand making concessions on food standards when it is under intense pressure to do deals remains to be seen.
Dr. Fox clearly thinks it can but we are not in that place yet.
It is easy enough to say at this juncture that UK food standards will remain the same but as the old English proverb goes "fine words butter no parsnips".