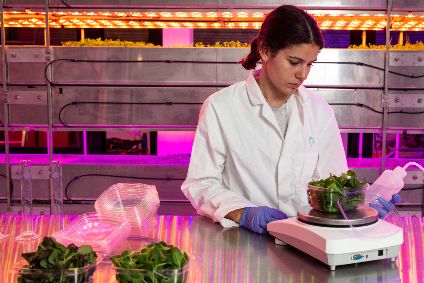 UK sausage and vegan food manufacturer Heck has partnered with a vertical farming specialist in a move it suggests could help it to create new flavours for meat-free products.
The company has linked up with London-based Vertical Future to install a vertical farm at its headquarters in North Yorkshire in northern England.
Vertical farming is the practice of growing crops in vertically-stacked layers indoors in a controlled environment to optimise plant growth.
Heck co-founder Debbie Keeble said: "There are huge benefits to vertical farming. No pesticides or herbicides, less water and food waste, no transport, more efficient production, taste control and better shelf life."
The Heck vertical farm will focus on micro-crops including a micro form of basil.
Keeble added: "Micro-nutrients will also provide fantastic health benefits as well as giving us a unique selling point. We are farmers originally and it's really exciting to now be investing in the future of sustainable, cutting-edge agriculture and not relying on imports."
Originally founded as a sausage company, Heck has more recently launched into the plant-based market.
It said it hopes the micro-crops will allow it to create "unique and interesting flavours" in its vegan product area.
Jamie Burrows, CEO of Vertical Future, said: "Growing fresh produce in a fully controlled environment allows us to 'play God' with flavours, aesthetics, and other characteristics - this is because we control all of the different variables associated with plant growth.
"This has massive benefits for healthy brands like Heck as we can use our systems to respond directly to their needs and specifications. What's most interesting is that we can do this in a sustainable way, year-round, on demand, and with absolutely no chemicals. This is a step evolution in food production."
just-food analysis, December 2020: What are the prospects for vertical farming in Europe?