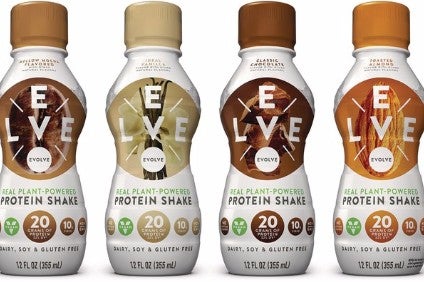 Hormel Foods, the owner of the Muscle Milk protein drink brand, has developed its first plant-based line.
The company's CytoSport arm has created Evolve, a plant-based and vegan drink, which, as well as being free from dairy also contains no soy nor gluten.
Hormel is also putting Evolve protein powder on sale and is lining up the launch of Evolve protein bars later this year.
The shelf-stable shakes contain 20 grams of pea protein and ten grams of fibre. The drinks are also free from artificial flavours and contain no GMO ingredients.
Greg Longstreet, the CEO of Hormel's CytoSport unit, said: "Our goal was to create highly nutritious, delicious and sustainable products that consumers will be proud to support."
The shakes come in four flavors: Classic Chocolate, Ideal Vanilla, Mellow Mocha and Toasted Almond. The bars will launch "this spring", the company said. At the time of writing, Hormel had not responded to a request for comment on confirmed listings