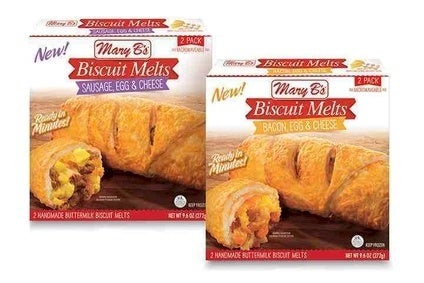 J&J Snack Foods has made its debut in the US frozen breakfast category with the launch of Mary B's Buttermilk Biscuit Melts.
The product comes in two variants: sausage, egg and cheese; and bacon, egg and cheese. The biscuits are made with whole eggs and real cheese and target those looking for an on-the-go solution.
"We are excited to enter into a new category in frozen retail and offer consumers a meal solution for their on-the-go needs," said Tony Hess, vice president/general manager for J&J's Hom/Ade Foods unit. "Mary B's is a leader in frozen biscuits, frozen breakfast is on the rise, and these melts seem to be the perfect fit."
Mary B's is part of the Hom/Ade Foods portfolio J&J acquired in 2007. It is known for its frozen dough products including dumplings and its Buttermilkbiscuits.
J&J said the move into frozen breakfast was a "natural progression…to expand beyond the frozen dough category and into one of the fastest growing categories in retail frozen food today".