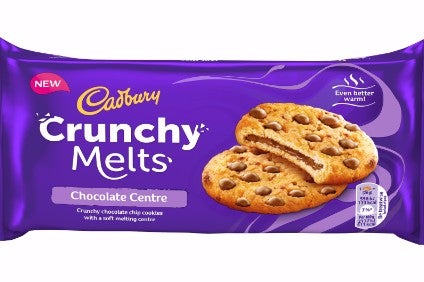 Mondelez International is rolling out a line of Cadbury-branded biscuits in the UK developed with the option of eating the products warm out of the microwave in order to target demand in the "premium" end of the category.
Chiara Missio, the marketing manager for Cadbury biscuits in the UK, said demand in the country for "traditional, everyday biscuits" was falling, with consumers wanting "more premium experiences".
The US-based snacks group is launching Cadbury Crunchy Melts, chocolate chip cookies with a melting centre.
The biscuits come in in three variants – Chocolate Centre, Double Indulgence and Soft Cookie Centre – and are sold in 156g multipacks of six. They have a recommended retail price of GBP1.89 (US$2.46). A GBP1.29 price-marked pack is also available on the Chocolate Centre SKU.
The Cadbury Crunchy Melts line is the second set of biscuit products Mondelez has launched in the UK since buying back the licence for Cadbury biscuits last year from local business Burton's Biscuit Co.
In the spring, Mondelez launched Cadbury Roundie, a biscuit already on sale in Australia, in the UK. Citing Nielsen MAT data for the week ending 15 July, Missio said Mondelez had generated sales of GBP2.1m from Roundie biscuits in the ten weeks since they were launched.
In 2015, Premier Foods plc, the UK group which manufactures Cadbury-branded cake lines under licence from Mondelez, launched a line developed to be microwaved, if desired.