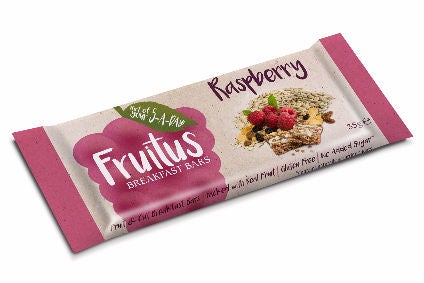 Finnish food maker Raisio is relaunching its Fruitus snack bars in the UK to cater to what it says is a growing demand for free-from products.
The new Fruitus recipe is to be dairy- and gluten-free, with Raisio's UK arm Halo Foods targeting 16- to 34-year-old consumers looking for "healthier, on-the-go cereal bar options".
Fruitus will be available in three flavours – apricot, raspberry and mixed berry – and will be free from added sugar. The recipe combines "real" fruit, gluten-free oat flakes, cereals and seeds.
Jodie Cavaye, brand marketing manager at Halo Foods, said: "With a consumer trend towards healthier lifestyles more people are looking for quick but healthy snacking options. With 56% of cereal bars eaten at breakfast time, Fruitus is the perfect solution, delivering on both taste and satiety with its natural fruit and oat ingredients".
A four-pack of Fruitus bars has an RSP of GBP1.99 (US$2.81).
Raisio acquired the Fruitus brand when it snapped up UK business Glisten in 2010.