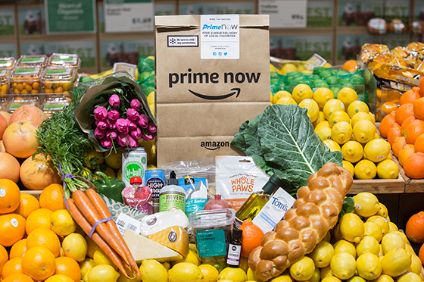 A year since Amazon shook the grocery sector with its acquisition of upmarket US retailer Whole Foods Market, just-food's Stateside columnist Victor Martino weighs up what the deal has meant for the two businesses – and for the wider industry.
It was one year ago this week Amazon, the world's largest retailer of everything, bought Whole Foods Market, the grocer that brought organic foods out of the speciality closet and into the mainstream in America.
The $13.7bn deal ignited a thunderstorm of coverage in the global business press, along with predictions from grocery industry experts and analysts that Amazon's acquisition of Whole Foods would rock and disrupt US food retailing like nothing ever seen before.
Others, however, were more cool-headed and perspective-driven regarding the potential seismic ramifications of the grocery retailing "deal of the century".
One year on, the picture that has emerged suggests the more cool-headed and perspective-driven were right.
The changes at Whole Foods under Amazon so far have basically been around the edges rather than being dramatic.
The online colossus has taken Whole Foods in a more mass-market direction, for example, adding more conventional mainstream food and general merchandise products to its shelves and affecting a more mass-market look when it comes to merchandising, particularly with displays.
Amazon has also incorporated its Amazon Prime subscription programme into Whole Foods and filled the stores with big blue "Prime" signs promoting and advertising the development, something to be expected given "Prime" is key to everything the online titan does in retail.
As part of its more mass-market push with Whole Foods, Amazon has also started moving the grocery chain away from its long-standing and very successful decentralised buying and merchandising scheme into a more centralised system.
This development has received a lot of attention, mainly for the high percentage of out-of-stocks that have occurred in the stores during the system's implementation. All hands weren't on deck at Amazon and at Whole Foods in Austin when it came to this important project.
But again this move isn't surprising. Every large grocery chain in the US has moved to more centralised buying and merchandising. In fact, Whole Foods was moving in this direction already prior to its acquisition by Amazon. Smaller speciality grocery chains like Trader Joe's and Sprouts Farmers Market also use centralised buying. It's far from unique.
However, what is most interesting and significant about this move is decentralised buying and merchandising, including all the way down to store-level, has always been a major ingredient in the secret sauce that's made Whole Foods a successful niche food retailer, contributing greatly to its long-running achievement of having the highest gross margin among all publicly-traded US grocery retail companies.
The development has been a silver-lining though for smaller, fast-growing chains like Natural Grocers and Kroger-backed Lucky's Market, as well as independents, that continue to use a decentralised model that puts buying and merchandising closer to the customer at the regional and store-levels.
These retailers are picking up customers from Whole Foods' core base who shopped the grocery chain primarily for this reason; its heavy emphasis on local.
However, centralisation is baked in the strategy Amazon has for Whole Foods. And there's no turning back.
There are two reasons: to allow Amazon to take Whole Foods as far as it can get by into the world of mass-market, bricks-and-mortar grocery retailing, growing it significantly in the process; and to use the physical stores as the hub for Amazon's real grand strategy, which is to make online grocery as mainstream as it is for everything else the giant e-commerce retailer sells on its Amazon.com platform.
"Prime", along with store brands, are Amazon's two primary vehicles for driving this process both in-store and online for Whole Foods and for grocery in general.
So what has changed at Whole Foods in the year since Amazon takeover? Very little really.
Whole Foods has not become a discounter like many said it would become in the first year.
Amazon has made the changes described above but has basically left the historic Whole Foods format in place – for now at least.
Whole Foods has not done much industry disrupting so far under Amazon's ownership either, which is something else many pundits suggested would happen fast.
The biggest change that has occurred since Amazon acquired Whole Foods has been from without rather than from within
Ironically, the biggest change that has occurred in the year since Amazon acquired Whole Foods has been from without rather than from within.
That change is the reaction to the deal by other grocery retailers, particularly the big five players: Walmart, Costco, Kroger, Target and Albertsons.
Each of these chains, especially Walmart and Kroger, have made major moves to dramatically increase its respective digital grocery and e-commerce capabilities, including through acquisitions.
They've also moved rapidly into new categories like meal-kits. Walmart has launched a variety of kits, Kroger is growing its existing offering and recently acquired subscription meal-kit company Home Chef for $200m, Costco entered into a deal with Blue Apron to sell its kits in its stores, and Albertsons acquired subscription meal-kit startup Plated.
This rush to the meal-kit space by these major chains is in large part due to Amazon's acquisition of Whole Foods, which was a real – as well as symbolic – signal a tipping point in the marriage of online and offline grocery, food tech and traditional grocery, has arrived and is here to stay.
In today's grocery retailing environment retailers need to start thinking more about consumers' stomachs and how they can get a greater share of that space rather than thinking in terms of the traditional industry concepts of product, format and price. The Amazon-Whole Foods deal is speeding up this paradigm shift in thinking in the industry
A year later, the jury is still out on the success potential for Amazon with Whole Foods.
Yes, Amazon has disrupted the book-selling and consumer electronics retailing industries in America. Yes, Amazon is a phenomenal retailer I have much respect for. And yes, grocery retailing is probably ripe for disruption in a greater scale than we've seen thus far.
But, unlike books and consumer electronics, grocery retailing in the US is a vast enterprise with many phenomenal retailers from huge chains to smaller regional operators and single store independents.
It's also got the key variable of fresh foods, which to date have proven to offer little interest to even those consumers who regularly shop for groceries online. Even these digital shoppers prefer to see, touch and buy fresh produce, meat and prepared foods in physical stores, according to numerous surveys along with data from the point-of-purchase.
Third-party technology is also enabling grocers to compete with Amazon at what it does best.
For example, today even a single-store operator can get into click-and-collect and grocery delivery through a third-party provider with little effort or cost.
That same grocer can get the much talked about checkout-as-you-shop smartphone-enabled technology Amazon is using at its Amazon Go store in Seattle from at least two start-ups, both of which have grocers using the technology.
However, Amazon's acquisition of Whole Foods is a turning-point and a tipping-point for US grocery retailing. That's a big deal.
Technology is here to stay – and will only grow in importance for grocery retailing and for retailers.
E-commerce is the new in-store bakery for grocers. Having an online ordering option combined with store pick-up or delivery, or both, is no longer a unique option. Instead it's a must for most brick-and-mortar grocery retailers.
Going forward, for Amazon and its ownership and management of Whole Foods, I see mostly more of the same as in year one – changes around the edges but nothing radical.
If Amazon truly wants to achieve its stated goal of being a major player in grocery in the US sooner rather than in decades, it is going to need to make another major acquisition of a physical grocery company. Walmart, Costco, Kroger, Target and Albertsons combined control over 50% of total US grocery sales, compared to about 2% for Amazon-Whole Foods.
The available pickings out there are slim. About the only potential deal I see out there presently might be Albertsons, which has private-equity owners I believe would welcome a call from Jeff Bezos' consumer team. The question though would be how much? And is it worth it?
Meanwhile, Amazon has its hands full with Whole Foods.
Never rule Bezos and company out though when it comes to innovation, determination and success. They're a "Prime" retailing team.
But grocery is Amazon's toughest battle to date in US retail.
Kroger. Costco. Walmart. These are prime players and competitors too in their own right. And they aren't sitting still. They're innovating.
Add-in the myriad of phenomenal big and innovative regional grocery chains – Wegmans, Meijer and Hy-Vee to name a mere three – and it's safe to say the headlines over the past year about how Amazon will disrupt US grocery retailing were greatly exaggerated.
The next year is going to be a very important and significant one for Amazon-Whole Foods, and for US grocery retail.
I can't wait until June 2019, can you?