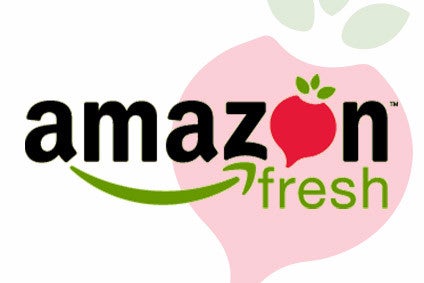 As Amazon launches its AmazonFresh in Germany, Andrew Pearl, director of strategy and insights for the Europe, Middle East and Africa region at e-commerce analytics firm Profitero discusses the implications for retailers and brands.
Germany is the latest country where Amazon is seeking to challenge the established grocery retailers, with the launch of its online grocery delivery business AmazonFresh.
Following the launch in Germany of Prime Pantry in November 2015 and, the following May, of one-hour deliveries through its Prime Now service, Amazon is now looking to broaden its offering in ambient and fresh products, offering 85,000 products at launch.
Germany appears to be launching its Fresh offering in its tried-and-tested format, trialling the service first on Berlin, the country's capital, with further cities likely to launch in the next six to 12 months. The strategy also mirrors further European expansion, following the announcement that Prime Pantry will shortly be arriving in Switzerland.
Although the initial impact on established German retailers is likely to be small in terms of market share, Amazon continues to influence its competitors through its same-day delivery options. In addition, price is likely to remain a key battlefield, with shoppers expecting significantly cheaper prices on Amazon than their usual weekly shopping trip. A 2016 study by Profitero shows AmazonFresh beats supermarkets in the UK – where the e-commerce giant launched the service last summer – on price by 17% on average.
Brands operating in Germany should also be aware of the introductions of further Amazon own-label products, replicating the launch of Amazon sub-brands such as Happy Belly coffee and Wickedly Prime food in the US. With its extensive customer insight, Amazon is able to identify key products and flavours that resonate with the German grocery shopper, and therefore has the ability to launch very tailored innovations. FMCG brands should therefore continue to monitor their performance on Amazon, not only through their sales but also in areas such as search placement, to ensure they are able to quickly adapt to any challenges from emerging Amazon products.
Grocery e-commerce has been slow to take off in Germany and is much less developed than neighbouring markets such as France and the Netherlands. However, Rewe, the country's second-biggest supermarket chain, has been investing heavily in e-commerce in anticipation of Amazon's move into food. It offers next-day delivery for EUR3.90-5.90 and a minimum order value of EUR40.
As we are seeing in other major markets around the world, the online grocery channel is expected to see the biggest sales growth over the coming years. A.T. Kearney expects e-commerce will account for 3% of Germany's grocery market by 2020, up from just 1% now.
Some industry observers have noted that, in Germany, Amazon is entering one of the hardest grocery markets in the world, a country where its incumbent retail majors have, to varying degrees, been more reluctant than some of their European peers to embrace e-commerce.
However, Germany, with its raft of major cities and high population density, could offer promise for those interested in the online channel and it is clear Amazon believes the market has potential.