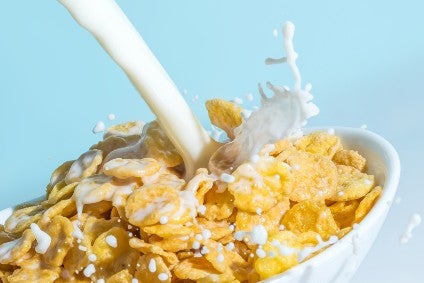 just-food's US columnist Victor Martino takes a close look at the US cereal category and suggests ways in which product providers might up their game.
Cereal isn't dead, it just needs better strategy and some 'snap, crackle and pop'
It's no industry secret that cereal category sales have been in decline for a number of years.
US consumers purchased about US$8.49bn of cold cereal in 2018, according to market research firm IRI, down 6% from five years earlier.
Researcher Euromonitor says Americans spent $13.9bn on cereal in 2000. That's a pretty big bite out of the cereal sales bowl.
Sales of hot cereal, a smaller category segment, faired a bit better according to IRI, growing 1% over the same period. That's better than declining, but it essentially amounts to flat sales, which is far from encouraging. And looking forward, if market research firm Mintel, which projects cereal sales to fall 5% between this year and 2023, is correct, cereal's sales decline will continue.
But there's a potential bright spot for what still is America's number one breakfast food (according to Euromonitor, 90% of Americans say they eat cereal for breakfast at least sometimes): cereal sales declined last year by only 1%, according to IRI, which suggests the increased efforts food makers' have started doing in marketing and new product development might be working a bit. Conversely though, cereal-makers also upped their promotional discount spending and frequency in the last year, so the slower decline in sales performance might simply be based on offering cheaper cereal for longer periods of time.
Many analysts and food writers say that cereal is doomed, most-often sighting as the reason that Millennials have turned completely away from cereal, replacing it with the myriad of other modern day breakfast food options such as yogurt, energy bars, prepared fruit bowls, breakfast sandwiches and so on.
There's certainly some truth to this because the variety of breakfast foods and drinks – drinks too because smoothies and protein drinks are common meal replacements for breakfast foods today – available to consumers in 2019 compared to 2000 when cereal sales totalled nearly $14bn annually are an order of magnitude greater. Today's 'what's for breakfast?' list is an extensive one, with new additions coming on regularly.
Millennials, though, haven't turned completely away from cereal even though they are eating less of it. In fact, according to new research by Nielsen, Millennials actually comprise one of the three groups of heaviest users of cereal. These three groups or cohorts are: large families with kids, number one at 285%; Millennials (161%) are second; and Hispanics (110%) are at number three.
Cereal is far from dead. Rather, the proliferation of new and convenient breakfast food and drink choices, including the meteoric rise of yogurt over the last two decades, combined with a lack of marketing and new product innovation from cereal makers, particularly in the convenient-to-eat realm, are more to blame than is a massive shift in consumer preference, in my analysis and opinion.
It's doubtful cereal makers can regain the $5bn in sales lost since 2000 any time soon, if ever. But building on the improvement achieved over the last year – the reduction of the sales decline to just 1% – they can avoid the further 5% sales decline Mintel predicts over the next five years by focusing primarily on the four key strategic areas below. The cereal category in the US is controlled mainly by four companies: Kellogg, General Mills, Post and PepsiCo-owned Quaker Oats. So in that spirit, here are my own 'big four':
Focus on heaviest users
According to Nielsen, the heaviest cereal buyers — Large families with kids, Millennials and Hispanics – bought and consumed 74% of all cereal last year. This data suggests cereal makers should focus the bulk of their marketing efforts and dollars on these three consumer groups. After all, as the infamous American bank robber Willie Sutton said when asked why he robbed banks, "because it's where the money is". Since these three cohorts consume two-thirds of all cereal, they're where the sales are for cereal brands. It's much easier and wiser in CPG to move the sales dial north by focusing the majority of efforts on heavy users.
Cereal makers should also focus the bulk of their new product development and product launches on these three groups because like banks, they're where the money is.
Mine alternative channels
The majority of cereal sales will continue to come from the supermarket, mass-merchandise (Walmart, Target, etc.) and club store (Costco, Sam's Club, etc.) retail channels. However, cereal makers can benefit by putting more emphasis on the convenience store channel. Individual single-serve containers, for example, have started appearing in more c-stores, but penetration nationally is low.
The US convenience store industry is poised to generate sales of $654.3bn in 2019, an 8.9% increase over the previous year, according to the National Association of Convenience Stores' (NACS) 2019 State of the Industry Report. This is much higher sales growth than is occurring in the supermarket, mass-merchandise and club store channels. Growth in the convenience retail channel also has historic longevity: C-store Industry sales have increased every year for the last 16 years, according to NACS.
The low penetration of cereal in convenience stores combined with the segments impressive annual sales growth, equals big opportunity for cereal brands, particularly with existing and new single-serve type products that fit the needs of convenience shoppers.
The D2C channel (direct-to-consumer) also offers opportunities for cereal makers. Cereal is in many ways the perfect fit for D2C, particularly from a 'stock-up the pantry' perspective for large families with kids and as the growing hip channel of choice with Millennials. These happen to be the top two cereal-consuming groups, which makes the cereal-D2C fit even better.
A number of CPG startup companies, such as Magic Spoon, Catalina Crunch and Cereal School, agree with my assessment and are trying to semi-reinvent cereal by focusing on creating unique cereal varieties sold directly to consumers.
Big cereal brands, which have put little to no focus to date on the D2C channel, have an equal or greater opportunity selling direct to consumers than these start-ups do because of their brand equity, low cost of goods – the start-ups have to sell their cereal for a much higher price than normal because they're just starting out – and marketing muscle.
Key though is to come up with some unique ways to offer their cereal brands through the D2C channel. For example, a number of major CPG companies have partnered with Loop US to offer their brands directly to consumers in reusable packaging containers. The impetus for this innovative programme is the fast-growing zero waste movement. Cereal is a perfect candidate for Loop because it's a frequently consumed consumable and even though most cereal boxes are recyclable, they end up in the garbage can in many households. The programme also offers a way for cereal makers to test the D2C channel with close to zero risk.
Make cereal fun and exciting again
Once upon a time in America cereal was arguably one of the most exciting consumable CPG categories in the land. Cereal marketing was innovative and big.
For example, the first company ever to have an advertisement on the iconic Times Square billboard in New York City was Kellogg, for its breakfast cereals.
Nearly every American knew who Captain Crunch was – and few kids didn't have one of the captain's plastic whistles, which came as a prize in the cereal boxes.
Up until the 1990s most Americans could answer the question, 'what's the cereal capital of the world?' without hesitation, because Kellogg created and implemented a superb marketing programme to spread that message throughout the country. The answer is Battle Creek, Michigan, Kellogg's home town. Today I doubt few people under 40-years-old know the answer.
For about three decades cereal makers basically coasted on cereal's huge popularity and the category's continued annual sales increases. Even when sales started to decline for the first time in decades they did little from a marketing and product innovation standpoint, although the creation of the portable cereal snack bar was a brilliant exception.
Cereal makers have now accepted the reality the category is in trouble, though, and are increasing their efforts, particularly in marketing, but it's still lacking.
What's missing is a big idea. That big idea should be to make cereal fun and exciting again. One element should be to develop healthier cereal with less sugar that tastes good. Cereal originated as a healthier food product. Taste remains paramount though. And despite arguments to the contrary, most consumers still like and buy cereal that contains sugar.
Redouble R&D and innovation efforts
Playing on the strategic concept above, CPG companies in the cereal category should redouble their R&D and innovation efforts, including spending more money in the area than they currently spend. As part of this effort, cereal makers should take a fresh look at cereal as a food for all day parts rather than as primarily for breakfast. This is a perspective that's helped yogurt makers successfully reposition the product from primarily a breakfast food to an anytime snack, which consumers have adopted, and is a major factor in yogurt's meteoric sales growth
Thinking outside the (cereal) box is key to stemming cereal's sales decline and returning it to the growth category it's been for most of 150-plus years it's been on the market in the US.
A good place to start is to bring back the variety pack, but in updated, single-pack cartons. A cereal six-pack. Convenience and variety are two things consumers still value, after all. And I bet it would create some much-needed 'snap, crackle and pop' in the cereal category.
just-food columnist Victor Martino is a California-based strategic marketing and business development consultant, analyst, entrepreneur and writer, specialising in the food and grocery industry. He is available for consultation at: victormartino415@gmail.com and https://twitter.com/VictorMartino01.