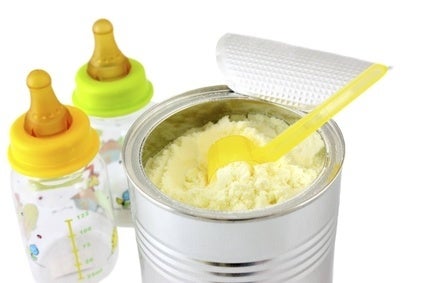 FrieslandCampina made two announcements last week that it was re-jigging its European operations, demonstrating it is well on its way to right-sizing its business and strengthening its profit profile in European markets. This week, the group announced a deal to grow its presence in China's infant formula market. This latest move from the Dutch dairy giant could prove fundamental to its top-line growth, fast-tracking it to hitting its route2020 targets. Hannah Abdulla explores.
Over the past two weeks Dutch dairy firm FrieslandCampina has made three operational announcements, suggesting the firm is rapidly moving to get its ducks in a row to secure it for future growth.
Last week the firm made two announcements regarding its European operations.
The first was an acquisition of its Italian cheese agent plus one other cheese supplier. The second saw FrieslandCampina shut a dairy facility in Belgium and consolidate production to a single site.
In European markets where, like most dairy firms, FrieslandCampina is struggling to grow, the moves suggest FreieslandCampina is working to tighten its profitability profile. The firm is right-sizing its operations and the announcements clearly demonstrate moves toward greater cost-control and maintaining a sustainable supply chain.
But its latest move, announced earlier this week, can be viewed as a signal of intent that FreislandCampina is also firmly focused in expanding in high growth markets. The company has entered a joint venture agreement in China with Huishan Dairy Holdings, for the production and distribution of infant formula in the country.
It's not FrieslandCampina's first move in China. Earlier this year the firm announced it was looking to double turnover from the export of its dairy products in the country and had appointed James Chiu, its first managing director for the greater China area in January. And of course, it set up the China-based Sino-Dutch Dairy Development Centre, an R&D site which the firm said would work on improving product quality and safety.
It's no secret that China is a key market for FrieslandCampina, particularly where infant formula is concerned. Demand for infant formula and baby food in China is phenomenal. In fact, according to Euromonitor International, it is one of the highest in the world, accounting for 23% of the US$41bn global market.
For some time now international formula manufacturers have been viewed by Chinese parents as "safer", partly as a result of a scandal in China in 2008 which saw six infants killed and a further 300,000 sickened after they consumed a locally made formula. The perception of Western made formulas being safer, coupled with the fact they are often positioned at the premium end of the market, means they continue to command a price premium. Despite this, demand for them has continued to rise. According to statistics from the Chinese government, prior to 2008 foreign firms accounted for around 30% of formula sales. This has since risen to 50-60% and international formula manufacturers account for 80% of premium sales.
Overseas manufacturers of infant formula have seized the opportunity: Mead Johnson, last month, announced it was upping capacity and research capabilities to serve the Asia market with the launch of a new campus in Tuas, Singapore. And Fonterra struck a partnership with Beingmate to create a "fully integrated global supply chain" that will utilise Fonterra's milk pools and manufacturing sites in New Zealand, Australia and Europe to bring product "from the farm gate direct to China's consumers".
The latter's move is interesting because it allows Fonterra to offer its expertise in the sector, while also leaning on the local distribution networks of the Chinese player. Securing distribution is about the biggest obstacle to overseas companies growing in the Chinese infant formula category.
However this is not the only challenge. Regulations have been tightened following the melamine-tainted formula scandal in 2008 coupled with other scares such as Mengniu and Ava Dairy of 2012, which saw a recall of a formula containing high amounts of aflatoxin, a carcinogen produced by fungus in cows' feed.
China has since passed a set of regulations allowing only approved formula manufacturers to import their products in the country. In its own domestic market China began a reform of safety standards where infant formula was concerned, in the summer of last year. It saw nine government bodies including the country's Food and Drug Administration unite in an attempt to standardise and reorganise the domestic infant formula sector. Tighter controls, including more stringent product certification and the oversight of product make-up, were introduced.
It's not something likely to faze FrieslandCampina, which plans to set up local production through the joint venture.
The dairy giant boasts expertise of delivering best in class safety standards. But in order to do this, FrieslandCampina must overcome the issues related to securing quality raw milk supply. The scandals that arose in the past were frequently related to deliberate adulteration of product – adding chemicals to watered down milk to trick protein tests, for example.
One could therefore argue FrieslandCampina has gone one better than Fonterra in bringing itself so close to the supply chain. As part of the deal, FrieslandCampina is forking out $114m for a 50% stake in Huishan Dairy's Xiushui dairy plant in north-east China, which is dedicated to the project.
"This combination will ensure that the joint venture has full control over the sourcing, manufacturing, marketing and distribution of its infant milk formula," the firm said, adding that the venture "fits well" with the country's latest policy on food safety.
The firm does appear to be moving in the right direction.
On the one hand, the European dairy market per se is pressured and FrieslandCampina is having to adjust operations to deal with declining dairy consumption in some parts of the region. On the other, having identified infant formula as a "growth category" as part of its route2020 ambition, the company is now intent on driving growth in this sector and China, it appears is key to that part of the goal.
The Chinese infant formula market, is set to see a huge spike in demand as China. According to Euromonitor, Chinese demand for infant formula will double over the next four years to $25bn.
By 2017 China will account for half of all global sales of infant formula and, by establishing operations on the ground, FrieslandCampina is in the perfect place to take advantage of that demand.