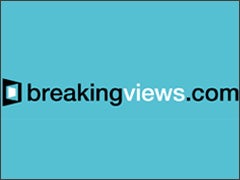 Stuart Rose's authority as Marks & Spencer's executive chairman is diminishing fast. Shareholders forced him to forgo part of his bonus earlier this week. Now divisions with deputy chairman David Michels have spilled into the open. M&S's plan to begin looking for a successor to Rose next year is too slow. The search must start at once.
Rose drove a coach and horses through UK boardroom best practice last year by demanding to become chairman while staying chief executive. His justification for the idea was that retail talent was in short supply and he was the best person to see M&S through a nasty recession. That was always a tough argument – institutional shareholders initially put up fierce resistance – but it sounds even less convincing today.
Shareholders' reward for trusting Rose as executive chairman has been to see the retailer take a bigger beating in the recession than most of its peers. Granted, Rose achieved a remarkable turnaround after taking over in 2004. But having steadied the ship, he has struggled to deliver growth. Nor has he proved he can make a success of M&S's paradoxical business model marrying upmarket food with increasingly downmarket fashion. New ideas are needed.
That alone ought to be reason enough to appoint an independent chairman and accelerate succession planning for a separate CEO to replace Rose. But with the FT reporting a split between Rose and Michels over the latter's ambition to chair the group, the need to refresh the board has become urgent. High profile departures over the past year do not inspire confidence that the boardroom is a place where directors can engage in a robust and constructive exchange of views.
Rose is right that retail talent is sparse. It will take time to find the right successor. Ideally, a new chairman would arrive first and wrap up the appointment of a new CEO. But searches for both roles need to start now.
The appointment of a new senior independent director may be a good interim measure. Jan du Plessis, already an M&S non-executive, would be an ideal candidate were he not so busy at miner Rio Tinto. But if M&S doesn't act soon, it will end up a poster child for why the roles of CEO and chairman should be kept apart.
By Rachel Sanderson
Breakingviews.com is the world's leading source of agenda-setting financial insight. Breakingviews.com has 22 correspondents and columnists based in London, New York, Hong Kong, Paris, Washington, San Francisco and Madrid. Its aim is to become the lingua franca for the global financial community.
For more financial analysis from breakingviews.com, click here .