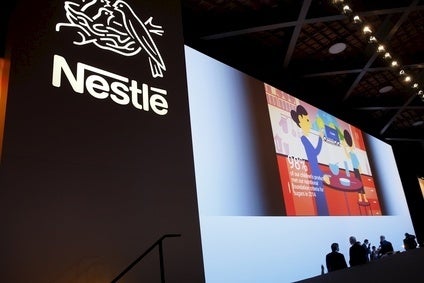 Nestle must adapt to emerging consumption trends and consolidation in the food sector with an "acceleration" of its portfolio adjustment efforts, chairman Peter Brabeck-Letmathe indicated yesterday (17 April). However, the struggling US frozen food business looks like it will avoid the axe – for the time being at least. Katy Askew reports.
Addressing investors Nestle's annual general meeting in Lausanne yesterday (16 April), chairman Peter Brabeck-Letmathe acknowledged the slowdown in consumption of packaged foods in the US had had far-reaching consequences for the food industry.
"American consumers are no longer spending as much on traditional food products or in large retailers," he noted. "The financial markets have closely observed what is happening in our industry and acted quickly and decisively."
Reflecting on how the word of finance has reacted, Brabeck-Letmathe spent time discussing how he saw the impact Brazil-based private-equity group 3G Capital and Warren Buffett's Berkshire Hathaway investment fund have had on the food and beverage sectors.
The investors, Barbeck-Letmathe claimed, have "pulverised" the industries, particularly in the US, with serial acquisitions: first through the creation of the world's largest brewery in Anheuser-Busch InBev, then with the purchases of food companies Burger King, Heinz and Tim Hortons. The latest move from the private equity investors looks set to see HJ Heinz merge with Kraft Foods Group, creating the third-largest food and beverage group maker in North America behind PepsiCo and Nestle.
Commenting specifically on the creation of the new Kraft Heinz Co., Brabeck-Letmathe said: "Both Kraft and Heinz posted subdued growth with products that were extremely attractive in the past but are not sufficiently adapted for the future. 3G's partners are known in our industry for ruthless cost-cutting and have already proven numerous times that they are capable of reducing operating costs in particular by between 500 and 800 basis points, which has a revolutionary impact on all the other members of the industry. Nonetheless, although profitability for a company like Heinz is indeed greatly improved today, the same is not true for sales growth, which declined by 4.6% in 2014."
And what of the impact on Nestle? The creation of larger stronger competitors, Brabeck-Letmathe suggested, requires "an acceleration in our policy of adjusting our portfolio of activities".
Nestle has trimmed a number of under-performing businesses in its portfolio and this week admitted another could be close to being offloaded, with the group in talks to sell France-based fooodservice supplier Davigel.
Of the group's remaining assets, Nestle's sizeable US frozen food unit, which includes the Lean Cuisine and Stouffer's brands, is under the greatest scrutiny.
Nestle has already started to place its innovation might behind its frozen brands, moving both Lean Cuisine and Stouffer's into faster growth areas of the frozen sector: breakfast and snacking. The company is working on pricing in the US frozen category, which had become highly promotional, and stepping up marketing efforts in a bid to build value.
Despite these endeavours, in Nestle's first-quarter sales update, released this morning, it was clear the unit continues to weigh on the group's performance in North America.
"Nestle's growth in [the] Americas in Q1 was somewhat disappointing, driven by North America, which was dragged down, once again, by frozen foods," Bernstien analyst Andew Wood noted.
CFO Wan Ling Martello recently said US frozen only has a finite amount of time to demonstrate a recovery. At a conference in London in March Martello insisted: "We're obviously giving our local team a chance to fix it but there's a clock on it".
With little sign of thawing sales in the first quarter, how far will Nestle's patience stretch for US frozen? Management has indicated it expects the businesses turnaround efforts to gain traction in 2015. "Our activities are not yet meeting consumers' expectations, as we have painfully experienced with our frozen products business in the US. However, we firmly believe we have found the solution for this in 2015," Brabeck-Letmathe insisted yesterday.
It would seem then Nestle's US frozen brands still have some time to win back consumers and lift their sales trajectory. Nevertheless, without some sign of improvement in 2015, their longer-term future within the Nestle portfolio is far from secure.