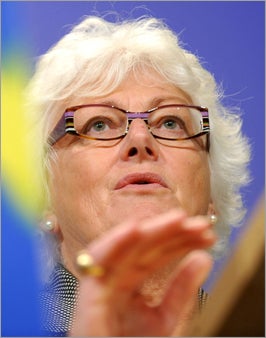 You have to hand it to matronly white-haired EU agriculture Commissioner Mariann Fischer Boel. She really sticks to her guns over CAP reform.
While many of her colleagues are abandoning their Brussels posts as the current Commission's mandate sputters to an end in October, this 66-year-old Dane is not only staying, but resisting Franco-German pressure to undo liberalisation reforms, especially on the dairy sector.
The French and the Germans – so often the voices of stagnant conservatism in the EU – seem to smell blood. The EU dairy sector is in a mess and Fischer Boel has been approving emergency aid for milk and butter producers. But she is standing firm on the agreement that restrictive dairy production quotas should disappear by 2015, while Berlin and Paris have called for the question to be reopened.
EU Agriculture Commissioner Mariann Fischer Boel
And thank goodness the Commissioner is being stubborn. Next year the diplomatic stars may well be aligned to deliver a World Trade Organisation Doha deal. If the French and the Germans push Europe back into dairy quotas, false market shortages and inflated prices, then agreement will be much tougher to secure.
And the Commissioner is not doing this for her glory. She'll be long gone from Brussels by next summer, maybe resting on her Danish farms, where she could benefit from more EU subsidies and protective quotas. If she let the French and Germans have their way, that is.