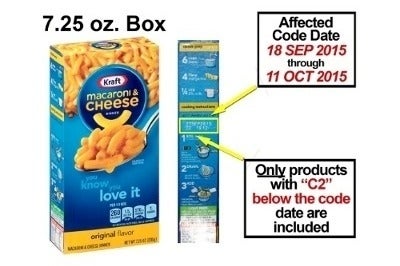 Up-and-coming categories and companies are increasingly setting the pace in the US food sector. Demand for natural, healthy, fresh and sustainable products is on the rise. This has left legacy brands facing slumping sales. But, as yesterday's (17 March) Kraft Food Group recall shows, there is still considerable interest in the old brands, Katy Askew suggests.
Kraft Foods Group is recalling 6.5m boxes of Mac & Cheese over concerns they could contain metal contaminates.
This is obviously unwelcome news for the US firm. It is a sizeable recall in terms of its scale. The expense and the negative PR are not to be relished. But they are a body blow, not a KO.
What I found interesting is this: most recalls go unnoticed by the consumer press. Larger ones get a nod of the head. Throw in some death and you will get a deal more ink. Kraft's recall – sparked by eight consumer complaints but not linked to any injury – has made headlines in publications ranging from Time to glitzy showbiz title E! (sitting alongside the press-stopping news that Kanye West went to a Taco Bell with Kim Kardashian).
Legacy brands have fallen out of favour with US consumers. Sales are lacklustre and interest is low. A jump in demand for simpler, more unique, more natural, less processed, more environmentally-friendly products has the potential to disrupt the pecking order in the US food industry, at least in the short term. The big CPGs have been caught on the back foot and a response is required.
For some, the answer has been M&A. General Mills snapped up natural food maker Annie's last year and, more recently, Pinnacle Foods purchased meat-free group Gardein and Hershey bought jerky maker Krave.
While this expands the larger CPGs respective footholds in on-trend areas, it does little to address the problem facing their core business. The standard answer to this issue has been NPD alongside investments in marketing and promotion to "drive excitement".
NPD has focused on trying to take big brands and emulate the appeal of smaller scale producers, perhaps missing the point that, to many, their authenticity comes from their petite scale. Reformulation to remove the nasties and brand extensions (ancient grain varieties being flavour of the month) have become a regular feature.
This is not going far enough. Recent research from the Hartman Group suggests larger companies must change gears and move away from the traditional mindset of generating organic growth through price, placement and existing brands.
"Legacy brands are dated and old from the perspective of the cultural history of food in America," the researchers argue. "There is something fundamentally alluring about newer, younger brands in American food culture."
The conclusion? According to Hartman, the most "overlooked and uncomfortable truth" in the US packaged food industry is "the food and the symbolic quality halo of old brands, not price, not placement and not promotional/marketing mix".
Viewed through this prism, the Kraft recall could be seen as feeding in to the idea that legacy brands have lost their "quality halo". The widespread interest it has generated can be taken as something of a smug 'told you so' moment. As a member of the press, I can say with some authority that we enjoy little more than knocking something from its pedestal.
However, a more optimistic reading turns this interpretation on its head and suggests the legacy brands are far from dead in the water. The massive media response to the recall also demonstrates the gravitational pull legacy brands, like Kraft's Macaroni & Cheese, still have.
They are highly recognisable. They are nostalgic and comforting. They are the food of a generation's childhood.
As though it were a tragic plot device, the greatest strengths of legacy brands are also linked to their greatest weaknesses. What many of the legacy brands are not is modern, dynamic and forward-facing.
It was not always so. Once upon a time, they were the dynamos of growth in the packaged food sector. They didn't simply grow with the market, they helped to grow the market and define US consumption patterns.
These patterns are, however, in a state of flux. In part demographics are at play. There is a rise in single-person and smaller households. So-called "empty nesters" now represent a sizeable portion of the population. Meanwhile, fewer Americans are having kids and those that are having children are having them later in life. Smaller households have different need states, while numerous families with kids would think twice about feeding their children the products they grew up on.
As a consequence, many of the established categories have seen their appeal wane across generations. US consumers are turning away from the legacy brands because – although they are indeed convenient – their overly processed nature simply does not seem healthy.
From baby boomers, to Gen X-ers, to Millennials, people are looking to packaged fresh and steering clear of the centre store and freezer aisles. Packaged fresh is viewed as healthier, more natural and of higher quality, while also benefiting from the convenience of shelf-stable foods. Positive perceptions of health and quality need to be fostered in categories like frozen and ambient.
Large food corporations are rightly looking to expand in on-trend sectors through M&A. But they could also do more with the brands they already own. Perhaps ConAgra Foods would find moving Chef Boyardee into the chilled section would be a stretch too far, but more adventurous and inspirational innovation is needed.
Tyson Foods, which recently acquired Hillshire Brands to expand in higher growth spaces, highlighted this necessity today (18 March) at the Consumer Analyst Group of Europe conference. Speaking at the event in London, Andy Callahan, president of retail packaged brands, focused on efforts to expand its established brands into new sectors.
"Jimmy Dean years ago was just a roll sausage. We moved it into convenient breakfast but most recently we moved even out of breakfast into any time meals," Callahan noted.
Noting other extensions of Ball Park and Hillshire – and with plans to move both brands into snacking in the second half – Callahan insisted that the company is benefiting from a move to "reframe from product to brand". He said: "We don't just manage with new products, we manage brands and bring those brands in a way that are meaningful for consumers."
Before we give up on the legacy brands and they are turned into little more than cash cows used to fund investment in higher growth areas, it would be wise to pause for thought. A more prudent approach might be to update them, to leverage their brand power and start getting ahead of the consumer. To begin setting the trends once again.