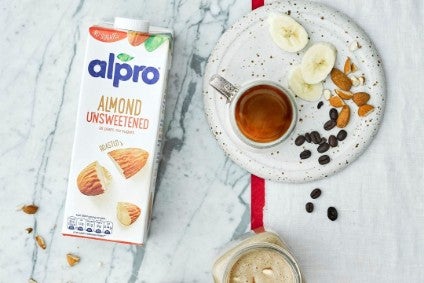 Danone is upping its investment in efforts to improve the sustainability of its operations and some of the latest measures focus on Alpro, its flagship European dairy-free brand. GlobalData Consumer believes the fresh pledges will give Alpro a competitive boost amid heighted consumer concerns about personal health and the environment.
Covid-19 does not appear to have slowed demand for eco-conscious, health-focused, plant-based alternatives to dairy products. Danone, which has an aim of growing its plant-based sales globally from around EUR2bn (US$2.36bn) in 2019 to EUR5bn in 2025, has recently announced a number of health- and environment-focused initiatives at its flagship European dairy-alternative business Alpro.
As sales of plant-based alternatives continue to grow, Alpro's sustainability goals are likely to strike a chord with concerned consumers.
Much of the growth in vegan, vegetarian and flexitarian diets in recent years have been tied into concerns around health and the environment, underpinning demand for plant-based products. However, there is increasing scrutiny of brands' health and green credentials, with growing attention, for instance, being paid to the sugar in some beverages or the water needed for almond cultivation.
Danone's recently-announced environmental pledges for Alpro include plans to introduce 100% recyclable packs (today, Alpro is at 76%) and bring in plant-based alternatives to yogurt in paper-based packaging. The French giant is also aiming for a 60% reduction of its water footprint per Alpro product.
Concern for the environment remains important to consumers and our research suggests that, for many, Covid-19 is a factor. According to GlobalData's most recent Covid-19 recovery tracker survey, dated 21 September, 12% of global consumers claim a reduced environmental footprint is now their top priority when making a product choice and a further 19% say it's 'significantly more important' to them than before the pandemic.
Likewise, 34% of consumers said reducing or recycling food waste was either 'significantly more important' than before or their top priority, and 32% of consumers said the same for sustainably-sourced ingredients. Some 34% of global consumers ranked recyclable packaging as 'significantly more important' or their top priority. In summary, around a third of global consumers say they give these environmental issues top or high priority when making a purchase during the Covid-19 pandemic.
Danone wants to bring more diversity into the Alpro portfolio, using at least nine different plant-based ingredients (today Alpro uses seven), which could have both environmental and health benefits.
On health, Danone also wants 50% of the ingredients in the Alpro product range to be a recognised source of fibre (up from a current 36%). Health remains extremely salient to consumers in addition to concerns around the environment. GlobalData found 26% of global consumers describe themselves as extremely concerned about their health, and only 15% of global consumers describe themselves as not concerned. The novel coronavirus primarily harms those who are already suffering from comorbidities, so products that could support personal health are becoming more attractive.
By stepping up efforts on the environment and on health, Danone has given itself a challenging mission on Alpro but it is a strategy that could position the brand well in terms of consumers concerns and, therefore, in the broader growing – but competitive – market for plant-based dairy.