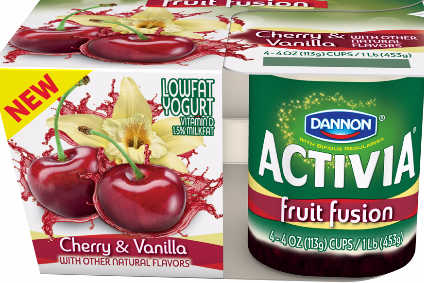 Danone surprised the market on Monday (19 December) with a warning on its full-year sales. In more positive news, the French giant also said it expects its comparable operating margins to "be above target" but analysts were concerned about the early results of the relaunch of Activia, with the company citing the brand as a factor in its lower forecast for organic sales growth in 2016.
Danone added some spice to the week before Christmas on Monday with a surprise trading update that included a warning on sales – but some positive news on margins.
The French group's announcement its comparable operating margins would be "above target" for the year, with the Cow & Gate baby food owner having previously indicated it expected to deliver a 50-60 basis point improvement in margins.
However, Danone's admission its organic sales growth would be "slightly below target" was a cause of frustration for some in the investment community, not least because a reason the company put forward for the news on its top line was due to the performance of its flagship yogurt brand Activia in Europe.
During 2016, Danone has relaunched three of its major dairy brands in Europe, with its new push on Activia in September following similar moves on Actimel and Danonino in the second quarter of the year.
When Danone announced its third-quarter sales in October, CFO Cecile Cabanis, reflecting on the relaunch of Activia, which involved new "premium" packaging and a new "positioning" for the brand, said: "The success of Activia is an important milestone for the stabilisation of [dairy] sales in Europe." Activia's annual sales in Europe are worth around EUR1bn, or 10% of Danone's global fresh dairy sales each year.
On Monday, Danone suggested the relaunch of Activia had not gone entirely smoothly. "The implementation of Activia's new brand identity across Europe has been well received by consumers and Danone will continue to build on it. Nevertheless, local execution plans are being reworked and teams have already started to implement them country by country," the company said in a statement.
To compound those problems, what Danone described as "aggravated market conditions" in Spain had also "impacted" the results of its fresh dairy business in Europe. The fresh dairy category in Spain was "down low-single digits and penalises the total Europe dairy improvement", Cabanis said as she discussed Danone's trading update with analysts later on Monday morning.
However, the focus of Danone's update was the relaunch of Activia in Europe. Cabanis said: "What we had set as an objective is to stabilise Europe dairy in Q4 through mainly the relaunch of Activia, and we take it as a moral contract to come to you as the year is ending and when we have news to share on this particular objective. Q4 was an important step for our dairy European business, especially with the relaunch of Activia, and we have to acknowledge that we are not yet at the level we thought we would be at this point in time. Even if the impact on the full-year company quantitative guidance is very limited – we are talking around 10 basis points – we think it is important to give you an update on the performance of dairy Europe and on the re-launch of Activia more specifically."
Cabanis added: "Given what I've shared on both the relaunch of Activia in Europe and Spain, the stabilisation of dairy Europe will take longer than anticipated."
Danone's candour must be commended but, putting the more positive news on margins to one side, the latest news on the company's fresh dairy business in Europe, long a market in which it been working hard to try to revitalise its dairy sales, was disappointing. Danone has been seeing the sales trends for its fresh dairy business in Europe improve but they have remained in negative territory; in the second quarter of 2016, for example, Danone's fresh dairy sales in Europe fell at a "low single-digit rate", an improvement on the first quarter, but still down year-on-year.
Speaking on Monday, Cabanis insisted the relaunch of Activia was "a very ambitious transformation for the brand" in Europe. "It's a genuine and deep change. We are not talking here about some adjustment or tactical changes, but of real brand evolution in markets that continue to be challenging. We are totally convinced that the direction for the brand is the right one, but we have overestimated the speed at which the turnaround would occur; and given the ambition of the transformation, we have to acknowledge that it will take some time."
Virginie Roumage, food and beverage analyst for European investment bank Bryan, Garnier & Co., said Danone's dairy business was "in trouble".
In a note to clients, Roumage wrote: "The relaunch of Activia – an estimated 30% of the European dairy sales – in mid-September, which includes a change in marketing, packaging and recipes has been disappointing for many reasons – marketing campaign excessively global, packaging problems with differentiating flavours and consumers' false belief that prices have been increased – and the brand's Q4 sales are below expectations. In addition, Spain – 5% of total sales – has deteriorated, with the yogurts category down low-single digit and private labels gaining shares. The group's CFO said that the yogurts division is expected to grow around 2% over the year, implying +0.5% in Q4 2016. This is a significant slowdown versus the first nine months of the year when dairy sales rose 2.5% organically. This is also well below our previous forecast of +3%, which factored in an improvement in dairy trends in Q4 thanks to the Activia relaunch."
At France-based finance house Kepler Cheuvreux, analyst Jon Cox said he had cut his "top-line growth assumptions for the next couple of years" on Danone "amid the issues in Europe".
Cox said the performance of Danone's dairy business in Europe remained an important factor in the company's performance, although he pointed to other parts of the business investors should consider.
"The relaunch of European dairy remains a factor – albeit less important – for the company to be able to deliver on its model of profitable sustainable growth. We still believe that Danone's portfolio, with a focus on health, should be among the fastest-growing, but the sales warning compounds other concerns." Cox pointed to the pressure Danone's water and early life nutrition businesses are under in China – although he said described that pressure as "transitory" – and said the company's planned acquisition of WhiteWave Foods was "expensive", although he said the deal "strategically makes sense".
Danone is not alone in seeing some pressure on its yogurt business in Europe. Yesterday, US group General Mills said sales of its yogurt brand Yoplait fell in Europe in the company's second quarter, which ran to 27 November. The French group is also seeing its dairy business gain share in the US.
There will, however, be some irritation in the investment community the relaunch of Activia in Europe has got off to an uncertain start.
"Danone was really positive about the prospects of a successful launch of Activia, in particular after the successful relaunch of Actimel and Danonino in the middle of this year. Investors will find it a little bit frustrating," MainFirst analyst Alain Oberhuber told just-food.
Oberhuber said investors would have been more positive about Danone's news on margins but suggested there is some dissatisfaction with the performance of Activia. "They've worked quite a lot on efficiency and margins, so I'm not so much concerned about the future but obviously there is some disappointment on the success of Activia. The jury is out there."