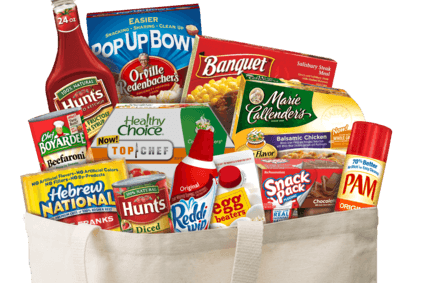 After a tough year, which included three profit warnings, ConAgra Foods and its management team face a very important 12 months.
ConAgra issued its full fourth-quarter results yesterday (26 June) but much of the important news had come last week, when the Hunt's ketchup and Chef Boyardee pasta maker issued its third earnings downgrade of the year, announced a US$681m write-down and warned profits from its private-label division would be lower than expected for the next few years.
Instead, analysts and investors took to the ConAgra conference call keen to hear how the company planned to revive sales growth from its consumer foods business and improve the performance of its private-label arm, which has struggled to digest the 2012 acquisition of US supplier Ralcorp Holdings.
To be fair to ConAgra CEO Gary Rodkin, he did not hide from the situation. "To state the obvious, we are disappointed with these results. We didn't live up to our expectations. In my book, there are no excuses for that," he told analysts.
ConAgra's consumer foods business, Rodkin noted, was operating in challenging categories but he admitted changes needed to be made to improve the performance of three brands – Chef Boyardee, Healthy Choice ready meals and Orville Redenbacher popcorn. ConAgra, he said, had made mistakes in areas like packaging on Chef Boyardee that it has rectified and had lost share to rivals in popcorn that had "executed better in-store".
However, Rodkin said ConAgra believed the actions it was taking on these three brands would play a key role in improving the sales of its consumer foods. The company, he said, was also looking to grow sales in different retail channels like club and dollar stores. "Looking ahead, we do have confidence in stabilising consumer foods volume, getting sequentially better in fiscal 2015," Rodkin said.
Turning to private label, Rodkin said profits had been "soft" due to concessions it had made on price to "stabilise" customer relationships, while charges from the continued integration of ConAgra had weighed on the division's earnings.
ConAgra, Rodkin admitted, had not realised how "difficult" the intregation of Ralcorp, which made the company's the largest private-label supplier in the US, would be.
At the time of the Ralcorp acquisition, some industry watchers had questioned how far private label could grow in the US but Rodkin remains certain in his belief the sector has potential. He was at pains to insist the problems ConAgra's private-label business had faced were its own and not endemic of the sector. "Those were our issues, not broad, private brand industry challenges," he said.
And, in an apparent retort to some in the industry who had queried whether ConAgra should run branded and own-label businesses, he said: "The profit headwinds and these specific integration issues that we have been discussing for a while now, are not a result of owning both a branded and private label business."
Rodkin added: "We expect profit to improve in this segment in fiscal 2015. We are turning this business into one that operates more effectively, and has a better more sustainable marketplace footing. This will be well worth it, as we look out a few years."
There were, however, plenty of questions for Rodkin and his colleagues on the call. Would ConAgra take a "harder look" at its portfolio after its performance in 2013/14? Another analyst asked if ConAgra could consider the future of its popcorn business, which had lost share in a growing category. Rodkin said he understood the questions but insisted: "Fiscal 2014 really isn't about our portfolio, it's truly about our execution. We do have a portfolio that can and will deliver sustainable profitable growth, and generate strong cash flow."
ConAgra was asked about the fourth-quarter performance of its consumer foods business, when volumes fell more steeply than earlier in the year. In an echo of General Mills' comments a day earlier, Tom McGough, president of ConAgra's consumer arm, pointed to the rivalry in winning shelf space. "I think the challenge that many manufacturers face, including ourselves, is that there is more competition for the limited space in stores."
In an environment when industry volumes are under pressure, it is hard to see the competition for shelf space easing. Companies could look to acquisitions to improve their performance but ConAgra has stated it wants to pay down $1bn in debt in the new financial year.
With asset valuations in the food industry after a recent run in M&A, could it instead be an opportune time for ConAgra to look at selling under-performing assets – like, say, popcorn?
ConAgra yesterday gave analysts and investors notice that earnings per share in the first quarter of 2014/15 would be lower year-on-year but forecast a rise in annual earnings.
There is, however, uncertainty about whether ConAgra can turn around the performance of businesses that, some say, are under-performing their categories. Tough decisions may ultimately have to be made.