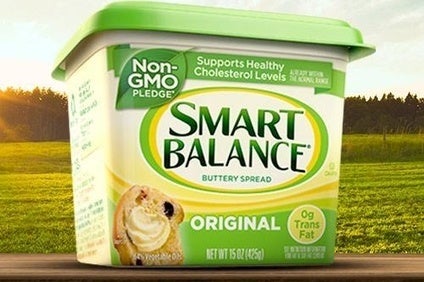 Boulder Brands, the US spreads and gluten-free group, stunned the market yesterday (22 October) with a warning it would report a loss for the third quarter and lowering its earnings forecast for the fourth quarter of the year.
Shares in the Smart Balance and Udi's owner tumbled, closed down more than 24% on the previous day at US$9.62, a level not seen for 18 months.
In a preliminary set of numbers for the period to 30 September, Boulder said it was expecting estimated non-cash goodwill and trade name impairment charges of $147.5m on its Smart Balance business, which has been under pressure of late.
Stephen Hughes, Boulder's chairman and CEO, said the "challenges" the company's spreads business had seen in recent quarters had continued. Boulder has been struggling to grow its Smart Balance spreads business in recent years amid competition from the likes of Unilever and growing consumer interest in what shoppers perceive as more natural products like spreadable butter.
At the same time, Boulder's gluten-free business, which includes the Udi's and Glutino brands, has enjoyed robust growth. The gluten-free lines form the bulk of Boulder's Natural division, which also contains frozen convenience food brand Evol.
However, the Natural arm generates lower margins than its Balance unit, which comprises Smart Balance, dairy-free brand Earth Balance and diabetes-focused business Level.
And, with growth from Smart Balance hard to come by, Boulder's margins have come under pressure.
"During the third quarter, we faced a number of headwinds that impacted our financial results. Smart Balance continued to face challenges in the spreads category, resulting in a larger-than-expected decline. In addition, as noted on our second quarter call, the mix shift of our fast-growing, lower-margin natural segment is significantly outpacing our higher-margin balance segment and is therefore putting increased pressure on our gross margins," Hughes said yesterday.
After yesterday's announcement, some market commentators suggested Boulder's woes could be a warning about the gluten-free trend in the US. Another factor Boulder cited in its revised forecasts was "normalised inventories" at a key retail customer.
However, those fears are wide of the mark. The category is forecast to continue to grow strongly. Boulder is facing increasing competition, both from specialists and from mainstream packaged food manufacturers, which, looking for ways to give their owns businesses a shot in the arm, are looking at categories like gluten-free for growth. However, Boulder is enjoying growth – second-quarter sales of its Udi's and Glutino brands were up almost 27% – and the category as a whole is forecast to continue to growth strongly.
The concerns surround Smart Balance and, as it continues to remain under pressure, Boulder should seriously consider its future within the business.
A year ago, just-food interviewed Hughes (you can read the two-part interview here) and put to the Boulder boss that, given the different growth trajectories of gluten-free and Smart Balance, perhaps the company should think about offloading the spreads business.
"Everything is always going to be an option on the table," Hughes said. He quickly added: "We feel there's a path for us to get that back into a growth mode. And it does fit our health and wellness legacy."
Nevertheless, he then added: "We also are very careful about how many resources as an organisation we devote to it. Every minute we spend on Smart Balance is a minute we perhaps don't spend on Udi's. We're very careful we're putting our resources and capability against what we think are really the growth engines."
Of course, with Boulder's Balance division generating higher margins than the gluten-free centric Natural arm, Hughes and his colleagues will have to think carefully. A sale of Smart Balance would likely have a short-term impact on profitability.
However, as things stand, Boulder's profit profile is coming under pressure anyway and a sale could provide the company with further resources to withstand growing competition in the US gluten-free sector and, perhaps, build on the fledgling international moves it has made in the UK.
Not every asset in the Balance division is struggling. Earth Balance saw sales climb 18% during the second quarter. The questions surround Smart Balance.
In the last 12 months, Boulder has already trimmed its Smart Balance business, with the decision to operate its Smart Balance milk line through a licence deal with co-packer Byrne Dairy.
Smart Balance business is what started the business back in 2007 when an investment vehicle set up by Hughes acquired the owner of the Smart Balance brand, GFA Brands. Two years ago, after buying Glutino and then Udi's, the company was renamed Boulder Brands. Boulder's future looks stronger without Smart Balance in the portfolio.