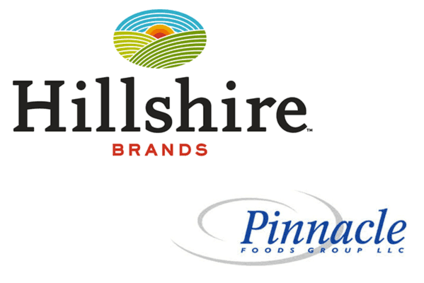 In the US, a market where volume sales have been and remain under pressure, it has been expected in certain quarters that boardrooms would increasingly run the rule over potential acquisitions.
With the food industry fragmented compared to other consumer products sectors, consolidation, the argument goes, could create savings to offset sluggish sales and provide value for shareholders.
Today (12 May), such a move was announced. Jimmy Dean meats and Sara Lee desserts owner Hillshire Brands said it had struck a deal to buy fellow US group Pinnacle Foods, the manufacturer behind products including Duncan Hines baking mixes and Wish-Bone salad dressings.
Hillshire said its US$6.6bn cash-and-shares offer is "expected to be immediately accretive to earnings". It forecast "annual earnings per share accretion" of over 15%.
The company expects the combined business to achieve an estimated $140m in annual cost "synergies" by the end of the third year after the deal was closed.
The market welcomed the deal. Shares in Pinnacle and Hillshire both climbed in pre-market trading this morning. Hillshire's shares sank after trading formally started in New York, which was likely to be down to moves to suspend its share buyback scheme and the debt from Pinnacle it will take on.
However, the strategic rationale for the deal is sound. It will bring savings from its enlarged scale, increasingly vital in a food sector growing slowly and where volumes are under pressure. Last week, Hillshire upped its forecasts for annual sales after a third quarter when revenues increased – but only after the effect of price increases. In its last financial year, Pinnacle's North American retail business saw sales rise 2% – with volumes up a meagre 0.5%.
And scale is becoming ever more important in a sector where the manufacturers' major customers are themselves consolidating, if one considers the deals among US food retailers in recent months.
Hillshire said the enlarged business would have an "increased scale and presence in frozen, centre store and refrigerated" aisles.
And, notably, Hillshire claimed the combination of the two companies' portfolios would give it a roster of "ten number one or number two brands".
Being number one or two in a category rather than three, four or five is becoming more vital in a US grocery sector seeing consumers shop more often at outlets like convenience outlets and dollar stores.
In March, Teri List-Stoll, the CFO of US-focused grocery business Kraft Foods Group told the Consumer Analyst Group of Europe conference manufacturers in the country were facing "unprecedented change" – and pointed to factors including income trends and shopping behaviour.
List-Stoll said companies had to act to adapt to a "barbelling" of incomes and consumers visiting "non-traditional channels" more often.
With interest rates still low, could manufacturers turn to M&A more often as they grapple with sluggish sales trends and evolving consumer habits? It certainly would not be a surprise.