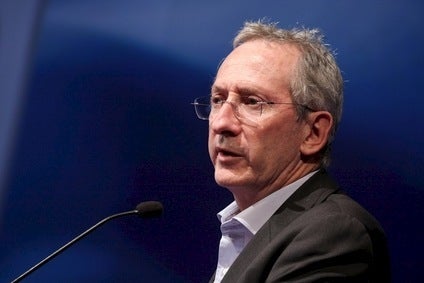 Looking at Danone's share price yesterday, one is left with the impression there is an expectation of changes at the French food group now Frank Riboud is to step down as CEO.
In some ways, that is not a surprise. Riboud, the son of the company's founder, has held the job since 1996. It is almost natural to assume the new chief executive, even if he has been promoted from within, will have new ideas and strategies for the company.
However, those expecting wholesale change at Danone should perhaps not be so hasty.
The executive moves at the top of the yoghurt maker suggest Riboud will still be central to the company's overall strategy.
And, as things stand, that is a strategy to which new CEO Emmanuel Faber has signed up and in which he has been keenly involved.
At an investor seminar in June in New York, Danone attempted to assuage concerns about its recent under-performance with indications it is looking to improve its performance. The company's management, including Faber, set out plans for greater centralisation, a focus on its return on capital invested and a focus on driving profitable growth.
There was speculation the following month that Danone was mulling a fuller strategic review of the business but the company sought to play down the reports, saying instead it was looking at areas including economies of scale, its supply base and making its operations "locally relevant".
Danone, then, is already looking to implement changes – internal changes to its culture, perhaps, and changes to the way it does business but not, so it says, looking at any transformational action.
Among the analysts just-food spoke to yesterday, there were those who suggested Faber would be able to give Danone a renewed sense of focus, marrying its financial and strategic imperatives.
Danone, Natixis analyst Pierre Tegner said, has "no big strategic issues". However, he added: "The big quality of Mr Faber is he is really able to make the strategic and financial vision co-exist. Danone needs someone who structures more the strategic vision with the financial vision because Danone has under-delivered over the last few years."
Others also want Faber to look beyond the four walls of the company and make bolder decisions, including selling its medical nutrition and bottled water businesses to raise funds to invest in emerging markets. Danone has been reported to be looking to sell its medical nutrition arm, although Reuters reported yesterday talks with US drug maker Hospira had broken down.
In reality, however, Faber is likely to be focused on the day-to-day running of Danone, injecting a sense of financial zeal into a business that some believe had become too bloated as it pursued growth.
Strategy is, it appears, being driven by Riboud. The 58-year-old will remain chairman, focusing, Danone said, on "the key strategic issues facing Danone in the medium and long term".
Danone is to set up a strategy committee, on which Faber will be present but which will be headed by Riboud.
In an interview with Le Figaro published yesterday, Riboud gave an indication of some of the areas on which he would focus.
"My predecessors have seen dramatic change in their environment, experienced the transition from traditional commerce to retail. We are now faced with an even greater upheaval – which is much more diverse – particularly with the rise of e-commerce and the digitalisation of media. One can not reason with these changes without making the governance group capable of dealing with them," he said.
Riboud's comments echo many a top executive in the food industry who has spoken about the changes facing the sector.
However, when weighing what changes could be made at and to Danone, one has to remember it has already identified problem areas – weakness of its European fresh dairy business, the need to revitalise its infant formula arm in China – and it seems already lined up what it will do internally, which will be spearheaded by Faber.
If the speculation is accurate, the company is also already looking at selling off parts of its business it no longer deems core.
Analysts roundly praised Riboud's tenure. One said he deserves a "huge amount of credit" for "transforming what was a pretty diverse food and drinks company into a really health and nutrition focused business".
It would be folly to argue Danone is in the best shape, of course. But the company has already set out means to improve its performance. The change of CEO is unlikely to mean drastic change above and beyond that.