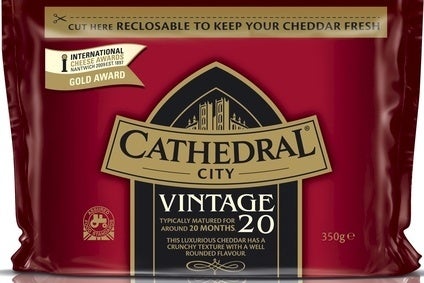 Shares in Dairy Crest shot up today (6 November) after the UK dairy group announced a deal to sell its most problematic and under-pressure division – liquid milk.
However, it may just be the City was not just reacting to the exit (dependent of course on competition officials approving the transaction) of Dairy Crest from a sector struggling to make money but the fact there could be takeover interest in the leaner company.
Dairy Crest's dairies operations have been under pressure for some time. It is business that supplies major retailers, middle ground customers – including smaller retailers, coffee shops and hospital – and residential customers
However, it is also a business under pressure amid fierce competition among major UK supermarket chains, which are using products like milk as a central part of their price-cutting campaigns.
Alongside news of the proposed sale, Dairy Crest announced its half-year results, which included a GBP4.4m operating loss from the dairies arm in the six months to 30 September. Excluding proceeds from property disposals, the division's operating loss was GBP12m.
Should Dairy Crest's deal with liquid milk rival and German dairy giant Müller go through, the company will be left to focus on a cheese, spreads and butter business, including brands like Cathedral City, Clover and Country Life.
Dairy Crest also has fledgling interests in whey production after its recent deal with Fonterra, a move that will see it have an interest in the growing markets for infant formula in regions like Asia. Securing Fonterra as a customer is something of a coup. Fonterra has access to some of the world's most buoyant dairy markets in Asia and Latin America. A five-year deal will see Fonterra sell all the demineralised whey powder Dairy Crest plans to produce at its Davidstow creamery.
Liquid milk has long been the business that would sour any interest in Dairy Crest. Should that go, the company would suddenly look more attractive to some of the world's major dairy players.
"Dairy has always been a poison pill. If you weren't in that business, why on earth would you want to get involved in it? Without it, it makes them more attractive, they've got some nice little brands, they'd probably fit into a larger company's portfolio," Investec analyst Nicola Mallard says.
Dairy Crest has one or two attributes that would give any suitor pause for thought. The spreads sector in the UK is under severe pressure as consumers increasingly switch to butter. That said, Dairy Crest's Clover brand, while it is battling to get sales growing again, did increase its share of the category in the last six months.
Dairy Crest also has a pension deficit, although there is a belief in the City the deficit is manageable.
Some industry watchers suggest the transaction with Müller could give Dairy Crest more resources to buy businesses but, on balance, it seems more likely to be acquired.
"It gives them a bit more firepower but the reality is they could have made acquisition anyway so I don't think it changes things fundamentally. They are not looking to be aggressive on the M&A front. It's more about focusing on what they are good at and if there is an opportunity they'll got for it. I wouldn't start thinking that because they have got GBP80m in cash they would go out and spend it," Peel Hunt analyst Charles Hall says.