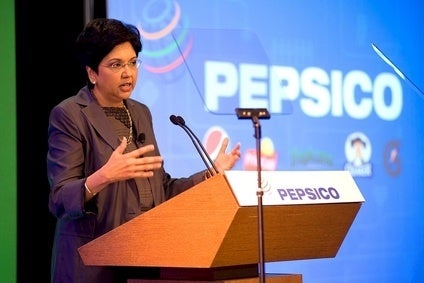 PepsiCo yesterday (22 April) reported a set of solid underlying first-quarter results. But it was away from the numbers that the US food and drinks giant stirred more interest, with Indra Nooyi's comments on the need to adapt to the changing ways consumers define health attracting attention.
Among the industry's major manufacturers, it is fair to say Nooyi was one of the first chief executives who identified rising consumer interest in health and wellness and she sought to up PepsiCo's focus on healthier products.
Nooyi became CEO in 2006 and almost immediately looked to adapt PepsiCo's portfolio. She oversaw the elimination of trans-fats through the use of sunflower oil, sugars were reduced or eliminated and new products like baked snacks were launched.
In 2010, she set out an ambition for PepsiCo to triple its US$10bn revenues from healthier food and drinks in ten years. The same year, the company announced plans to further reduce the amount of salt, saturated fat and added sugar in its products.
Perhaps to be expected, there have been some challenges. Progress on the pledges was at least initially slower than hoped, the commitments were met with some scepticism in campaign circles, while some investors were reportedly frustrated at the attention PepsiCo put on health, arguing it distracted the company from its core products. Not each of the new healthier products were a success.
Even within today's first-quarter results announcement, there was a further sign not every one of PepsiCo's moves in healthier categories has gone smoothly, with the company recording a US$65m impairment charge on Muller Quaker Dairy, its US dairy venture with German yoghurt giant Muller.
Nooyi indicated PepsiCo still saw a future in the venture but admitted it had not performed as expected. "We are not closing down Muller; the business is still running and doing well. But I think it just didn't meet our expectations and we have to go through some retooling. But, no, that business is alive and kicking."
Nevertheless, PepsiCo and Nooyi continue to consider health and wellness trends in its new product development.
At the Consumer Analyst Group of New York conference in February, PepsiCo showcased some of the new products its beverage business was launching this year and said the lines were hitting demands for reduced sugar, zero calorie and portion-controlled drinks.
"Eight of the nine products you see on this lineup up here are products that are launching in 2015, most of them just going out the door right now, and almost all of them have improved health benefits for the consumer in the category," Al Carey, CEO of PepsiCo's beverages business in the Americas, said.
Elsewhere, PepsiCo has bet on the continued growth of fresh dips, with Sabra, its US venture with Israel's Strauss Group, doubling capacity at its in hummus plant in Virginia. Both companies spent $35m on the expansion.
However, Nooyi yesterday revealed PepsiCo is having to reconsider how it will meet changes in consumer demand. For around a decade, PepsiCo has grouped its products in three categories – fun-for-you, good-for-you and better-for-you. The first contained flagship products like Pepsi and Lay's; the second included baked snacks lines; and the third involved more lines containing fruit, vegetables and fibre.
With consumer habits – particularly among millennials – evolving, Nooyi indicated PepsiCo was having to think again about what it may once have termed 'better-for-you' and 'good-for-you' products.
"We've never seen the consumer as confused as they are today. And I use the word confused in a neutral way, not a negative way," Nooyi said. "A few years ago people were moving to diet sodas. Now they view real sugar as good-for-you. They are willing to go to organic, non-GMO products even if they are high-salt, high-sugar, high-fat. So I think we have a challenge these days to really think about what is the definition of good-for-you from a consumer perspective. And this is unprecedented. The old definition of good-for-you is being challenged right now."
Nooyi used a novel phrase to indicate how PepsiCo is weighing up the changing consumer habits and its product development.
"I think the best way to think about this is to think about the fruit and vegetable corridor, a protein corridor, a grains corridor and then sort of a predominantly carb corridor. And then within that just vary our strategy based on what the consumer is thinking about. Because especially millennials today have got very different definitions of good-for-you versus fun-for-you. They don't really make the definition in the difference, that they're looking much more to ingredients. So we are also going through a little change in our thinking. The good news is whatever the segmentation is our portfolio is still balanced and we can actually flex to either definition. So we are managing the business by watching both."