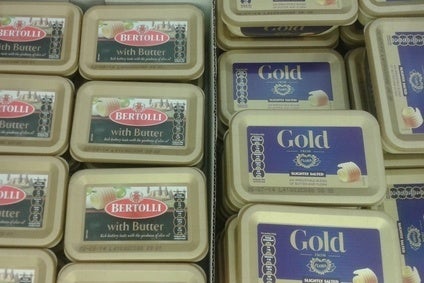 Today was a positive day for Unilever in some ways. The FMCG giant's first-quarter sales beat expectations and its shares rose steadily in London.
And, at face value, the Knorr and Hellmann's maker had some good news on its under-pressure food business, which saw underlying volumes rise 3% in the first three months of the year.
Unilever's savour business "performed well", it said, helped by the take-up of cooking ingredients in emerging markets – still, relatively speaking, a small part of that business – and by a "good start for soups" in Europe.
There was growth from Unilever's dressings business, driven, it revealed, by Hellmann's as the company rolled out its squeezy bottle into North America.
And there was an "improved" performance from spreads, a division in the spotlight in recent years and one which many analysts think Unilever should look to offload.
After a year when food volumes slid 1.1%, the company's first-quarter performance looked a solid one. Furthermore, according to Sanford Bernstein analyst Andrew Wood, the growth in Unilever's food volumes was the highest it had been since the first quarter of 2012.
However, for all the apparent good news and inroads made in areas like emerging markets, as Unilever itself acknowledged, the earlier Easter played its part. The "good volume-driven growth" reported from Unilever's food business included what the company called were "strong sales in the run up to Easter which was earlier than last year".
Martin Deboo, an analyst at Jefferies, wrote in a note to clients: "Food remains virtually ex-growth, Easter-adjusted."
Unilever reported pricing from its food business – very much weighted to the challenging markets of North America and Europe – dipped 0.1%, reflecting the competitive pressure in those markets and, as a consequence, continuing to buffer the division.
And it has been in spreads where that competition has been particularly fierce, from own-label on one side and from butter on the other.
In recent months, Unilever has tried to drive sales through innovation, with the launch of a spreads-and-butter mix in markets like the UK and Germany, and renovation, with a new recipe for I Can't Believe It's Not Butter in the US. It is, however, early days. Unilever now runs its spreads business in North America and Europe as a stand-alone entity and remarked in its announcement how there had been "a continued drag from market contraction in the United States and in Europe".
Spreads, ultimately, is a business a number of analysts think Unilever should sell, although, as we have reported on these pages before, even if the company wanted to offload the business now, there is a paucity of obvious buyers.
The other Unilever division that falls onto our beat is, in part, refreshment, which houses ice cream and tea. The unit saw underlying volumes dip 0.2% but faced a tough comparison with the 3.6% growth it saw in the first quarter of 2014. With Unilever seeing pricing grow 2.6%, it meant refreshment sales were up 2.5% helped by new products from Magnum and Ben & Jerry's. With dairy commodity prices depressed, the company could see the benefit of a margin boost from its ice cream business in the quarters ahead.
Broadly, it is too early to say whether the volume growth seen in the first quarter can continue. Unilever acknowledged the boost from Easter and the market is uncertain about how whether we will see a sustainable recovery in the quarters ahead.