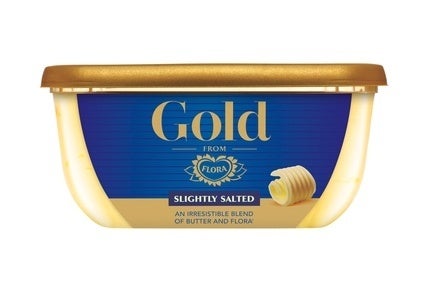 Unilever caused a stir last week with the news it is embarking on what amounts to an internal spin off of its spreads business.
Spreads has long been a problem area for the Flora and Becel owner. On Thursday (4 December), Unilever announced the creation of a stand-alone unit for its spreads business in North America and Europe in a bid to, the company told us, "accelerate its transformation and return it to growth".
However, Unilever's move was seen by many company and industry watchers as a pre-cursor to a sale of the business. No sooner had CFO Jean-Marc Huet stood up at the company's annual investor seminar to outline the establishment of The Baking, Spreading & Cooking Company then Unilever's shares jumped over 4%. The prospect of offloading a drag on the FMCG giant's growth clearly warmed the market.
That said, it is the growth rate of Unilever's spreads business that suggests an imminent sale is unlikely to come quickly.
Underlying sales from spreads fell 3.1% in 2013; in the first nine months of this year, sales were down 3.2%. Unilever has made some moves to boost sales, including launching spreads blended with that once enemy of margarine – butter. Huet said the company was gaining market share.
Nevertheless, it is too early to judge whether such initiatives will pay off. The management of the Baking Spreading & Cooking Company will need to nurture the business back to growth – if indeed that is possible in a category a long time in the doldrums.
And which companies could snap up what is the world's largest spreads maker? When looking at shares of the global spreads category, Unilever is far, far ahead of its nearest rivals branded rivals BRF and Bunge, which appear to be the most logical buyers on paper but both with considerations that make them merely possible suitors.
According to analysis produced last year by Investec, Unilever accounts for around 16% of the global spreads market. Its nearest challenger is private label, with 12% of sales. The company's nearest branded rival is Brazilian firm BRF, which accounts for 4% of sales, predominantly in Latin America.
BRF has done a deal with Unilever with margarine in the past. Seven years ago, Perdigao, one of the Brazilian companies that merged to form BRF, acquired three local brands from Unilever. However, BRF's spreads business is local and its international ambitions appear to focus on expanding its core protein operations.
Bunge is often touted as another possible industry suitor, with analysts pointing out the company has indicated it would like to add more value-added assets to its core commodity operations. However, some in the City point to the fact the US agribusiness giant is in the middle of reviewing its options over its under-pressure sugar business in Brazil. The company, analysts say, would need to sell that asset first before embarking on major M&A like an acquisition of Unilever's global spreads arm.
Would private equity therefore step in? It's conceivable but a buyer would want the stand-alone business to demonstrate a sustained period of growth – or at least improvement – before getting out the chequebook.
These notes of caution are not to argue Unilever should not consider selling the business. The origins of Unilever are partly in margarine but it has struggled with spreads for a number of years and it is now wrestling with consumer trends that are not in its favour.
However, there are obstacles in the near term. And, by Thursday afternoon, the market recognised all these obstacles to an impending sale on Thursday, with Unilever's shares falling back after the early gains. By the close of trading, Unilever's stock had inched up 0.07%.