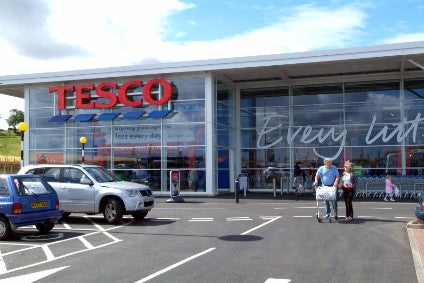 Tesco is 100 years old this year but finds itself marking this historic milestone at a time of unprecedented uncertainty for the UK business community, not least for the food manufacturers and farmers that supply the retail behemoth.
Statistics consistently show the average life expectancy for companies has been on a downward trend for many years, so turning 100 is unquestionably a notable achievement. However, there was little fanfare or triumphalism as Tesco welcomed journalists to its headquarters in Welwyn Garden City last week to a celebratory event.
"Tesco is a hundred years old this year," CEO Dave Lewis told his guests. "If ever there was a time to step back and reflect, your hundredth birthday feels like a good time to do that."
Encouragingly for food manufacturers, while dialling down the self-congratulation, the retailer used the evening to champion the role of its "trusted supplier partners" in achieving future goals. A select group of produce and prepared foods suppliers were on hand to showcase innovation and extol the mutual benefits of close partnership with the retail giant.
Sustainability was the parallel theme of the evening which served to illustrate how important partnership is to achieving sustainability goals, whether they are those of an individual company or for society.
Tesco founder Jack Cohen, the man who coined the phrase "Pile it high and sell it cheap", was an entrepreneur who wanted, and most certainly did, become rich, but by making value for money a core principle he could justifiably claim he was looking out for the interests of his customers. In 2019, serving the interests of consumers is a more complex challenge. Today, as Lewis put it, "the purpose for which Tesco exists" is to provide "affordable, healthy, sustainable food for all".
The retailer now has partnerships with the largest UK health charities concerned with the principal obesity-related illnesses, the British Heart Foundation, Diabetes UK and Cancer Research UK and is working with the three organisations on ways to measure and improve "the health profile of our basket". Last year, it entered a partnership with WWF to work in a similar vein on environmental sustainability.
In pursuit of its aspirations to provide healthy and sustainable food, Tesco had again recognised the value of partnership. "Very, very, very important to us is that we do all of that in partnership with our suppliers," Lewis said.
For food manufacturers, a massively powerful supermarket chain that values the idea of partnership is infinitely preferable to one that does not. The difference between the genuinely committed and a retailer with a good PR company may only be revealed over time but what Tesco was saying last week, and the examples of supplier partnership it showcased, suggest the company is backing up its sustainability goals and its partnership ethos with concrete action.
Among the companies present were Tesco's potato supplier, Branston, which earlier this year was awarded a five-year contract to supply 100% of Tesco's fresh potatoes. With Tesco's commitment to address food waste in mind, the retailer has facilitated an agreement between Branston and its ready meals supplier, Samworth Brothers, whereby potatoes that are "visually imperfect" but perfectly edible are used for mashed potato in Tesco ready meals.
Along with Tesco's tomato supplier APS, two start-ups currently in the retailer's incubator programme, Biotiful Dairy and Mara Seaweed, were also present, along with former participant, plant-based specialist Bol Natural Foods. Underlining the partnership theme, Bol paid tribute to Tesco's decision to support the brand when it made an overnight decision to move exclusively to plant-based lines, halving its business and dropping some of its best-selling products in the process.
A further telling example of the retailer pursuing its sustainability goals in partnership with its suppliers can be seen in the development of its vegan range by long-standing suppliers Bakkavor and Samworth Brothers which supply the Wicked Kitchen range. Wicked Kitchen is now a GBP26m brand and Tesco has announced it will expand the range from 32 to 80 lines by the end of the year.
However, it is Tesco's plans to introduce a more competitively-priced plant-based range, also to be supplied by Bakkavor and Samworth Brothers, under the Plant Chef brand that arguably provided the most potent message of the evening.
The sternest challenge with regard to diet and health for UK food retailers and manufacturers alike is that the less well off tend to have less healthy diets and higher prevalence of obesity and diet-related illnesses.
A new product that taps into one of the most vibrant growth sectors in the food market, and meets all three of Tesco's objectives to provide affordable, healthy and sustainable food for all, is a tangible sign that Tesco's partnership-led approach can deliver the sustainability wins it is seeking.
If the mood last week was more reflective than celebratory, it may have owed something to the fact that, whatever Tesco's past glories, the last five years have been the most traumatic in its long history.
There was understandably little explicit reference during the evening to the dark days of 2014/15 when Tesco was hit by a notorious accounting scandal and posted a record loss of GBP6.4bn. There was only a solemn acknowledgment in a commemorative film that the retailer had "lost sight of the customer and lost sight of our core purpose".
It was a spectacular fall from grace but it is probably fair to say that the nation did not mourn. Tesco's rapacious growth and dominance was such that it became the object of satire, a TV show suggesting the retailer had built a Tesco Express on the side of a cliff because it was the only location left, and annexed Denmark.
Lewis, who was formerly head of Unilever's personal care business and the retailer's first externally appointed CEO, joined Tesco in September 2014 at a time of crisis. The recovery he has masterminded has not only been about putting Tesco back on a firm footing financially but repairing a seriously damaged public image and restoring trust with its stakeholders. Building strong supplier partnerships and walking the talk when it comes to sustainability could not be more crucial to that endeavour.