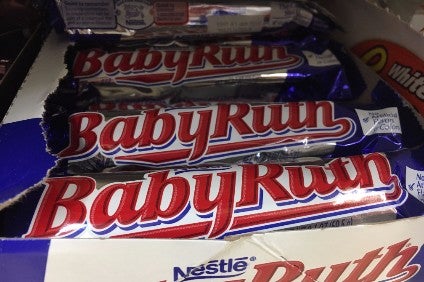 Ferrero and Ferrara Candy Co. have this summer been named as two possible bidders for Nestle's US confectionery assets. This week, they announced they were to join forces. What, then, could that mean for Nestle's bid to sell the business?
Since Nestle effectively put its US confectionery business up for sale in June, a range of major names have been touted as potential buyers.
The likes of Hershey, Mars, Ferrero, Ferrara Candy Co. and Leaf Brands have all been linked with making a bid.
This week, two of them entered into their own transaction.
Ferrero, the confectionery giant behind brands like Kinder and Tic Tac, struck a deal to buy US candy business Ferrara Candy Co.
Ferrara, formed in a 2012 merger between US confectioners Farley's & Sathers and Ferrara Pan Candy Co., is the third-largest, non-chocolate candy company in the US, with brands including Trolli, Lemonheads, Red Hots and Brach's.
The acquisition has been made through an unnamed "Ferrero-affiliated company" and the Italy-based group said it "expects to operate Ferrara as a separate unit".
Ferrero, which in March bought US chocolate maker Fannie May Confections Brands, said adding Ferrara's brands to its stable would give it a presence in new categories "with attractive growth prospects".
According to data from Euromonitor International, Ferrara is the fourth-largest maker of sugar confectionery operating in the US. (Sugar confectionery being an aggregation of products like mints, boiled sweets, pastilles, gums, jellies, toffees, nougat, medicated confectionery, lollipops and liquorice).
Ferrara's share of sugar confectionery retail sales has risen from 5.7% of the market to 6% in 2016, with Euromonitor forecasting that will grow to 6.3% by the end of this year.
Ferrero ranks ninth. In 2013, it accounted for 2.2% of the category, rising to 2.4% but expected by Euromonitor to fall back to 2.2% in 2017.
(Incidentally, Nestle's US sugar confectionery stable ranks seventh, with its market share declining from 3.3% in 2012 to 2.6% last year, per the Euromonitor data, which forecasts a further drop to 2.5% this year).
Some may ask, with more consumers showing more interest in the link between diet and health, why invest in sugar confectionery?
Well, we all like to indulge at times and, looking at the US confectionery market as a whole, Euromonitor says sugar confectionery sales grew faster than those of chocolate and gum last year thanks, it argues, to innovation, marketing sour flavours and a growing preference for chewy candy. It said sales grew 4% in 2016 to US$11.3bn.
The researchers at Euromonitor believe Ferrara's "strong growth" in recent years has been down to a focus on expanding the organic sugar confectionery segment, as well as work to "revitalise" brands like Now and Later, Red Hots and Lemonheads in 2016 with new packaging and products. "The company believes it can grow sales to surpass $2bn by 2020," Euromonitor notes.
Ferrero and Ferrara have this summer been reported as possible bidders for the Nestle ,US confectionery assets up for sale, which include brands like Butterfinger and Raisinets, as well as the international chocolate brand Crunch.
Nestle CEO Mark Schneider went on-record in July as saying the "clear priority" for the company is a sale of the division and he said the group was hopeful it could "complete the process" by the end of the year. just-food contacted Nestle today for an update on its position in the wake of the Ferrero/Ferrara deal but the company could not be reached for immediate comment.
Could Ferrero's move for Ferrara make it less likely the Italian giant would come to the table for Nestle's assets?
One would err towards that conclusion but it is hard to know what fire-power is at Ferrero's disposal. With two acquisitions in 2017 alone, Ferrero is intent on expanding in the US. Adding Nestle's US confectionery arm to Fannie May and Ferrara would make Ferrero a clear number three in the category Stateside, at least four percentage points ahead of Mondelez International.
However, one cannot rule out the three largest confectionery operators in the US – Mondelez at three, Hershey at two and Mars top of the shop – from making a move. Nestle's US confectionery business is in the doldrums and its brands in the low-growth, mainstream part of the market but a deal by one of these three has the obvious benefit of scale. It would be a matter of which bidder believes most strongly it can grow the assets and generate worthwhile returns.
In September last year, Mondelez outlined why it believed it could grow its own chocolate business in the US, pointing to per capita consumption that was "only about half that of many developed European chocolate markets". And let's not forget Mondelez's (in the end failed) tilt at buying Hershey last year.
According to Euromonitor data, Hershey and Mars are the two largest confectionery makers operating in the US and an acquisition of Nestle's assets would take the market share of either business above 30% but that is likely too low a threshold to bother competition officials.
CNBC reported last Friday that Hershey was expected to be among those making initial bids for the Nestle brands. Among others mentioned were Ferrero and Ferrara.
The business channel also suggested private-equity firms could be eyeing proceedings and that should not be discounted. Private-equity firms are often interested in buying businesses from trade operators believing they can make quick efficiency gains – and therefore advances in profitability – from assets that have been embedded in larger companies.
It would be a punt to guess where Nestle's US confectionery assets could end up but it is not a wild assumption to make that this week's Ferrero/Ferrara transaction may have left the field a little more open.