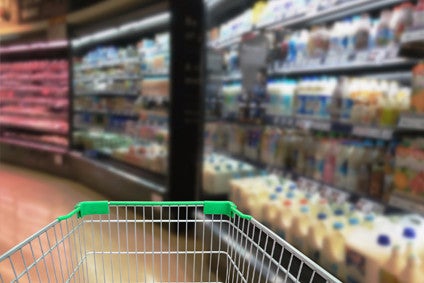 Look at the top-line data on the UK grocery market and it shows a sector in rude health. However, at present, inflation has become central to the market's growth, while the performance of own-label is outpacing brands. In a guest column, Stuart Galvin, business director at shopper marketing specialist, SMP, argues one way brands can help themselves is to no longer be the hero of their own marketing strategies.
The UK grocery sector last month recorded the strongest rate of year-on-year growth for almost three years but the data emphasised how brand owners, in a country where own-label enjoys one of its highest market shares, have a challenge on their hands.
According to Kantar Worldpanel, which was tracking a 12-week period up to 21 May 2017, the UK grocery market grew by 3.8% year-on-year. Much of that growth was driven by inflation, which, Kantar said, rose 2.9%. However, the researchers at Kantar said the 3.8% growth rate was the grocery sector's best performance since September 2013.
But, digging down further into the numbers highlighted how own label was a notable source of growth for all UK food retailers during the period. Own-label sales were up 6% year-on-year, compared to a 0.6% rise in sales of branded products. Today's (12 June) data from credit card firm Visa, which claimed to show UK consumers cut their spending for the first time in four years, also underlined how challenging the trading environment is for consumer good companies.
Today, the food ecosystem has never been more complex or saturated. With innovation, uncertainty and so many variables to contend with, brands need crystal-clear strategies if they are going to achieve cut-through.
The main challenge is food brands are tiny minnows in massive ponds. Even the big fish – like Nestle or PepsiCo's Walkers – do not have the status they once enjoyed. What is more, a growing number of consumers, amid growing interest in health and with the help of social media, are scrutinising what they buy, presenting opportunities for smaller brands. Consider the rise of snack brands like Propercorn and Graze. They do so well because they offer variety, while tapping into health concerns.
With so many variables at play, how do food brands get into the baskets of shoppers? By not being egotists. Instead of trying to be the hero of their own story, brands need to think in depth about what they mean to the shopper and their relationships with the retailers that stock them.
Take the retailer. Whether a vending machine or a major supermarket, they will have similar objectives – driving sales and business growth – but very different ideas on how to achieve them. Likewise, each shopping environment has its own meaning, creating unique purchase intentions for shoppers.
Too often, food brands become a third wheel, pushing their own presence into what should be first and foremost a voyage à deux. Instead, they need to think about the needs of the shopper and the retailer and create a strategy that joins them together across the shopper journey.
We have conducted research that sought to simplify this complicated task for brands in four FMCG categories: alcohol, grocery, personal care and technology. The consumer research discovered seven shopper mindsets – 'conscious', 'creative', 'fulfilled', 'influential', 'knowledgeable', 'secure' and 'sociable' – that offer more insight about shopper behaviour than the go-to model of demographics.
Shopper mindsets do not depend on traditional demographics; nor do they treat shoppers as always fixed within a particular group. Instead, they allow for movement and change within the contexts of what a shopper is searching for, where, on which device and depending on what life stage they are in.
Food shoppers are most likely to be secure, knowledgeable or sociable. Shoppers in the secure mindset are driven towards safety, security and value. The knowledgeable mindset is about wanting to know a product is good, but also enjoying choosing products, while sociable means liking buying for other people, like friends or the kids. Understanding the mindsets at play in their category means food brands can tailor and improve their activity with greater precision, such as media channels, messaging and promotions.
To understand this in practice, we can see which campaigns performing well through the lens of mindsets. Take a look at what Mondelez International has been up to recently with its Philadelphia brand, for example. The brand offers tips and recipe cards in-store, underpinned by an advertising campaign that positions the product as a versatile cooking ingredient. Perfect for knowledgeable shoppers wanting to discover and sociable shoppers looking for exciting recipes to entertain friends, while maintaining the security of the original cream cheese offering.
What is particularly effective about Philadelphia's shopper strategy is it also takes into account the retail environment, guiding shoppers around supermarkets with tips and tricks. Marketing cannot work if it fails to integrate successfully with specific retailer targets.
Brands need to improve their knowledge of the retailer. Tesco, for instance, sees brands as partners, building shopper experiences together, while other retailers will have their own specific approaches. One strategy popular with many stores is using consumer events to increase engagement and drive sales, as shown by the launch by Raisio-owned Big Bear Confectionery of limited-edition Union Jack Fox's Glacier Fruits sweets, which sought to mark the UK's summer of sport and celebration in 2016, including the Rio Olympics, the Queen's 90th birthday and the UEFA European football Championships.
The patriotic design secured shelf space across retailers from Poundworld to Farmfoods to WH Smith Travel. It was a great example of how food brands can work with retailers to inspire customers during big events. The secure mindset gets the value it craves, knowledgeable mindset recognises a best-loved brand, while sociable can share a tasty treat with family.
Rather than striving to take centre stage, food brands need to create a marketing strategy that, at its core, considers the needs of shoppers and retailers.