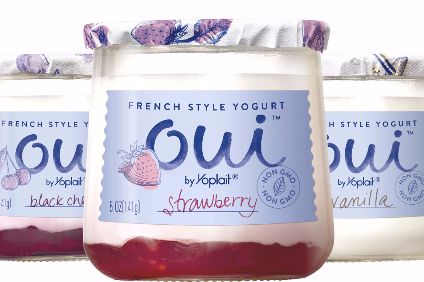 General Mills maintained its full-year forecasts after an opening quarter of falling sales and profits but there is uncertainty on Wall Street about the outlook for the US food giant, which continues to toil at home, writes Dean Best.
Wednesday (20 September) saw another quarter of falling sales at General Mills, a result that contributed to a decline in profits and which caused some on Wall Street to express concern about whether the US food giant really can, as it continued to insist, meet its annual forecasts.
That General Mills has found the going tough in the US is nothing new (and, for that matter, not something limited to the Cheerios and Yoplait owner).
Moreover, in June, General Mills, reporting its financial results for the year to 28 May, did forecast it would see its sales fall in its 2017/18 financial year, although it did foresee improving profits.
However, General Mills' financial results in the first quarter of the new year, issued on Wednesday, came in below market expectations and sparked questions among some in the investment community about whether it could meet those forecasts.
In the quarter to 27 August, General Mills net sales dropped 4% to US$3.77bn. On an organic basis, removing exchange rates and M&A from the numbers, the company's net sales were also down 4%.
First-quarter operating profit declined 3.1% to $625.8m. Segment operating profits, which strips out unallocated corporate items, as well as restructuring, impairment and other exit costs, fell 16%, with declines across the business. Net earnings dipped 1.1% to $404.7m.
General Mills' top line came under pressure due to its ongoing struggles to get net sales growing in North America. In the first quarter, General Mills' North American retail net sales fell 5%, on the back of a 3% decrease in volumes. General Mills said "more than half" the decline was due to its yogurt business.
The company's combined Asia and Latin America division also suffered, with net sales down 8%. General Mills pointed to a timing shift in its fiscal 2017 reporting calendar and "challenges" from the implementation of an enterprise reporting system in Brazil.
Nevertheless, General Mills stuck to its previously-published forecasts for the year as a whole. The company continues to expect its organic net sales to decline 1-2%, its constant-currency total segment operating profit to be in a range between flat and up 1% and its adjusted operating profit margin expected to be above year-ago levels. General Mills forecasts its constant-currency adjusted diluted EPS is expected to increase 1-2%.
With North American retail accounting for around two-thirds of General Mills' total sales, investors would naturally be looking for signs of improvement.
Part-way through General Mills' last financial year, the company rejigged its business structure and moved from reporting on its US retail business as a unit to North American retail.
However, the first three months of the new fiscal year continued a worrying a trend at General Mills. In all four quarters of General Mills' last financial year, the company booked falling organic net sales from either US or North American retail. In fact, you have to go back to the first quarter of the year before for the last time General Mills reported rising organic net sales in its own backyard.
Nevertheless, on Wednesday, General Mills CEO Jeff Harmening insisted the company was seeing signs of improvement domestically.
"Our first-quarter US sales trends improved by more than 300 basis points over the fourth quarter of last year. Our results strengthened each month in the quarter and that improvement has continued as we have seen the first couple of weeks of data in September. And the improvement is broad-based," Harmening said.
Don Mulligan, General Mills' CFO, acknowledged the company's first-quarter profits came in "a little bit short", saying margins were affected by "volume deleverage, higher input costs – including currency-driven inflation on imported products – and unfavorable trade expense phasing". However, he added: "Our top line came in as expected. Our bottom line was a little bit short, but not materially and not material enough certainly to change our full year expectations. We expected segment operating profit would be down double-digit, so the actual results were not materially off of that."
Nevertheless, despite General Mills' apparent confidence it can still hit its full-year forecasts, the numbers from the first quarter meant there was some uncertainty on Wall Street about whether those predictions for the year as a whole will be met.
"Given the soft start to the year, with Q1 EBIT/EPS down 14%/9% and guidance for EPS to decline again in Q2, we see risk to General Mills' 2H-weighted EPS growth outlook, which implies a sharp sequential acceleration. We see downside risk to both GIS's topline and margin recovery as it is unclear if its recent retail sales acceleration (scanner +1.4% L4W) is sustainable, given a likely temporary lift from weather-related sales in August, as well as an acceleration in promotional levels," Morgan Stanley analyst Matthew Grainger said.
At Sanford Bernstein, Alexia Howard said General Mills' "weak" first quarter had made it "difficult" for the company to achieve its full-year forecasts. She added: "The question from here will continue to be whether investments in innovation and marketing support can begin to improve top-line performance, particularly in the yogurt and cereal categories in the US. If General Mills' sales continue to shrink at a single-digit rate, we expect this to set the company on an unsustainable course. While cost savings could temporarily offset some of the negative impact from operating deleveraging, the top-line weakness could start flowing through to the bottom-line as cost-cutting initiatives run out of steam."
Not all analysts covering General Mills were pessimistic. Pablo Zuanic, an analyst at US investment and trading firm Susquehanna International Group, said there were "several reasons to believe" General Mills could still hit its targets, including some of the first-quarter margin pressure coming from the company lapping lower trade expenses a year earlier and that "a healthy pricing trend" is "expected to continue".
However, at Barclays, Andrew Lazar raised a different concern for investors. He underlined the fact General Mills' first-quarter miss means the company "naturally needed greater acceleration" in the second half of its financial year to meet its earnings target but added: "In our view, one of the larger investor concerns is whether the company is paying too much for this improvement in retail [sales] trends – and the much greater than forecasted first-quarter gross margin contraction (-230 basis points year-on-year) only serves to support this thesis."
Shares in General Mills fell by more than 5% on Wednesday suggesting, overall, the market does have its concerns about the outlook for the US group.