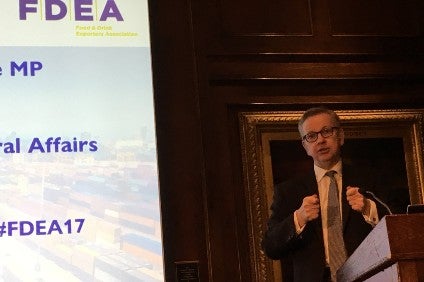 Amid the uncertainty facing the UK food industry as the country prepares to leave the EU, this week Michael Gove, the country's Food Secretary and prominent Brexit campaigner, addressed an industry conference on exports – and was praised in some quarters.
However, that uncertainty meant Gove had nothing specific to offer on how the post-Brexit landscape would look for the UK food industry's manufacturers and exporters.
Of course, after the tortured first phase of negotiations between the UK and the EU – talks that can now officially move on to phase two and trade – that is little surprise. How the UK and the EU will trade – and how the UK will trade with the rest of the world – after Brexit is anyone's guess at present.
But it is rare for your correspondent to attend a UK food industry conference at which a government minister is speaking and hear praise (even if qualified) from manufacturers in the room.
That happened on Wednesday at the annual forum convened by The Food & Drink Exporters Association, a UK trade body that seeks to help the country's food and drink manufacturers grow their businesses overseas.
Gove was announced Secretary of State at the UK's Department for Environment, Food and Rural Affairs in June.
It is fair to say he is one of the UK government ministers that divides opinion. In Gove's previous roles as the UK's Education Secretary and as its Justice Secretary, he has had his critics, while the Conservative MP was a vocal campaigner for Brexit in the country's referendum to leave the EU.
Gove's appointment at Defra raised eyebrows given his stance on EU membership and given the belief the country's food industry could be among those most negatively affected by Brexit.
However, at Education and Justice, while Gove had his critics, was seen as a reformer, as a thinker, someone willing to look at the status quo anew. And, since joining Defra, he has attracted praise in environmental circles for the department's policies in areas such as soil fertility.
Gove was the headline speaker at the FDEA's forum in London on Wednesday and there were warm words on the sidelines for his speech.
One of the manufacturing executives present told just-food that "no matter what you think of Gove politically, he is a clear, bright, intelligent guy", who gave "an honest appraisal" about how the UK government – often criticised in industry for talking the talk on how it wants to support the industry but not walking the walk – could support the food manufacturing sector.
The UK government's recently-announced Industrial Strategy and its plans to set up a Food and Drink Sector Council to work with the industry seems to have given exporters a morale boost. For years, UK food manufacturers and exporters have looked grudgingly at their counterparts in markets like Ireland, France and Spain and felt they were not getting similar levels of support.
In some ways, that frustration is still there but industry representatives are hopeful the new initiatives can make difference.
"We look enviously at Ireland's Bord Bia and hope that the newly-announced Food and Drink Sector Council will establish an exports academy to help SMEs with market access, marketing intelligence and showcasing their products in international markets," Ian Wright, director general of UK trade body The Food and Drink Federation, told just-food. "UK food and drink exports have grown strongly in recent years, but still only 20% of UK food businesses sell overseas, compared with 40% in Germany. The world loves UK food and drink and Brexit represents a terrific opportunity for government and industry to work together to really turbocharge our export performance."
Nevertheless, with Brexit on the horizon, some profound questions are hanging over the UK food industry, particularly those trying to build businesses in international markets.
Gove talked up the UK's "reputation for producing the best-quality food" and outlined "the action we're taking on issues like animal welfare and environmental standards [that] reinforces the story that British food is of the highest quality".
He said the Government planned to "refresh" the Great marketing campaign that has been used to tout the quality of food made in the UK and sketched out plans to redirect some of the proceeds from the UK's Apprenticeship Levy – a levy on UK employers to fund new apprenticeships – to improve "training and skills".
And, while admitting government policy towards the food industry had in the past been "insufficiently coherent", Gove said he hoped the new Food and Drink Sector Council would lead to a "sector deal" for the industry that would see government and business work "in partnership" to to grow exports and support investment in agriculture and manufacturing.
Gove willingly brought up Brexit – how could he not? – by telling the audience: "One of the other questions that will be on your mind is: 'Yes, there may be these new opportunities but these new opportunities may be all the more difficult to access if we don't get a good trade deal with the European Union or if the nature of the relationship we have with the European Union inhibits us from securing access to new markets or inhibiting access to the markets we have.'"
At this stage of the Brexit talks, one cannot realistically expect even a senior member of the UK Cabinet to have concrete answers on future trading arrangements.
However, in his appearance at the FDEA event, Gove underlined the uncertainty facing the sector, admitting the UK reverting to trading on WTO terms was possible if no deal could be reached with the EU and acknowledging subsequent free-trade agreements with the likes of Australia and New Zealand could affect UK food companies in their domestic markets.
"There would be tariffs, absolutely," Gove said. "We will be ready for any eventuality. While I don't think there is anyone here who would like to see us trading on WTO terms, we need to be conscious of why that might occur. One of the things that we ought to do is to make sure that we are battle-ready for any situation and that includes helping you to secure access to as many markets as possible. I must stress while we are ready for any eventuality that is not the eventuality we see."
He added: "I can't deny that if we do have a future free-trade arrangement with Australia and New Zealand that it might increase competitive pressure one one or two sectors here but I also think we are well equipped, provided we've taken steps now and we'll be saying more about that in the next few months, to help invest in the industry to grow."
It was an honest assessment but it would have may those alarm bells ring louder for some of the businesses in the audience.
Amid the praise for Gove and his comments on how government could work with industry and on Brexit, there were expressions of frustration. One member of the audience took to social media to suggest the issue of Brexit had not really been addressed during the day:
Export Forum today in London. A tragedy of Melpomenian proportions! The ?? in the room was of course Brexit but few mentioned it and no one had any answers not even #Gove

Businesses, NGOs and Government talk the talk but behind the ?? there is a void. #fdea17 pic.twitter.com/RYoQNiUXpr

— Tim Harrap (@BritishCheese) December 13, 2017
But there also emanated, among some industry speakers, a position of preferring – even though it may come from a feeling of resignation over the UK's decision to leave the EU – to wait and see what comes from the Brexit talks and then act accordingly.
Nonetheless, no business likes uncertainty and it is clear in many parts of the UK food industry there is still anxiety about what Brexit may hold, for all the qualified optimism about Government working "in partnership" with industry. There are significant unknowns and the UK's departure from the bloc could have significant ramifications for the sector.