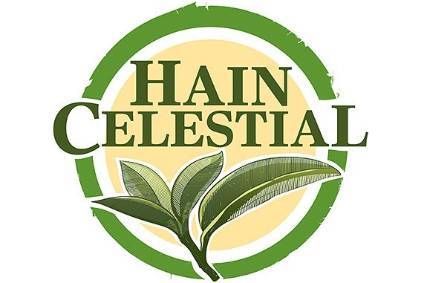 Shares in Hain Celestial nose-dived yesterday (16 August) as Wall Street responded to a surprise announcement on Monday late afternoon US time from the Earth's Best baby food maker – and it was an announcement that capped an unsettling year for the business.
At 17:00 ET on Monday, Hain Celestial pushed back the publication of its annual results, with the company reviewing the payment of concessions to distributors in the US.
The company said it had "identified concessions that were granted to certain distributors in the United States" during its fourth quarter, which ran until the end of June.
Hain Celestial said it is "evaluating whether the revenue associated with those concessions was accounted for in the correct period". It added it is reviewing "its internal control over financial reporting".
In its statement to the market, Hain Celestial also said it "does not expect" to achieve its previously announced guidance for its 2016 fiscal year. That line represented the third revision to Hain Celestial's forecasts in its financial year.
In May, Hain Celestial lowered the top end of its forecasts for annual net sales and earnings per share.
The Earth's Best baby food owner expects its net sales to grow by around 9-10% to US$2.95bn to US$2.97bn and its earnings per diluted share to grow approximately 6-9% to US$2.00 to US$2.04.
In January, Hain Celestial cut its forecasts after a challenging start to its financial year. It then estimated full-year net sales would US$2.9bn to US$3.04bn, with earnings per share in the range of US$1.95 to US$2.10.
At the close of trading in New York yesterday, NASDAQ-listed Hain Celestial had seen the value of its shares fall by more than a quarter in a day, finishing down 26.31% at US$39.35. That followed a more than 20% fall in Hain Celestial's share price in after-hours trading on Monday evening in the immediate aftermath of its announcement.
Sanford Bernstein analyst Alexia Howard noted Hain Celestial expects that the timing issues over the payment of concessions should not impact the total amount of revenue ultimately recognized by the company, which she suggested "may be a modest source of comfort".
However, Howard had a further reflection on Hain Celestial's admission it did not expect to meet its guidance for the 2015/2016 financial year as a whole. "Management had commented on the 3Q:16 earnings call on May 4 that it expected to return to a FY15 margin level in FY17. However, with FY16 results now reportedly below previous guidance, this begs the question of whether another rebasing of earnings will be required." She has suspended her rating on Hain Celestial's shares of 'outperform' until Hain Celestial's issues on concessions and internal controls on financial reporting are resolved.
Barclays Capital analysts covering Hain Celestial downgraded its rating from 'overweight' to 'equal weight'. In a note, they said the outcome of Hain Celestial's may not be "materially unfavourable" and "could simply reflect timing". However, they added: "Overall at this stage, we simply believe there are more questions than answers. With respect to the accounting methodology, the magnitude of the aforementioned revenue recognition practices under review is not yet clear, including how many quarters could be impacted. So too are we not yet able to rule out the potential need for a restatement of financials that could materially differ from previous filings. Furthermore, we recognise that there remains some uncertainty as to whether the additional evaluation of internal controls might broaden the scope of any financial impact."
However, BMO Capital Markets analyst Amit Sharma kept his 'overweight' rating on the shares. Sharma did reduce his target price on Hain Celestial's shares to $45, which he said "more than adequately accounts for greater questions about management's credibility and heightened uncertainty around Hain's near-term operating performance". He added: "We believe that the 20+% decline in Hain's share price in the after-hours market is overdone. While the lack of adequate internal financial controls is disappointing, it is unlikely to impact Hain's leading position in the attractive health and wellness sector. Annie faced similar issues related to the timing of its trade promotion/spending in 1Q14. However, after an initial 20+% decline, Annie's recovered within 30 days, before being acquired by General Mills at an attractive valuation."
Nevertheless, it has been a problematic year for Hain Celestial. The group ended its last financial year, which ran to the end of June 2015, with fourth-quarter earnings that met Wall Street forecasts and an outlook for the new financial year also within analyst estimates.
By November, however, there were signs Hain Celestial was finding the going tough in its two key markets of the US and the UK. Hain Celestial reported higher sales and earnings for the first quarter of its financial year, supported by growth at its protein and international businesses. Nevertheless, in the UK, its sales dropped 4%, while in the US, the company's largest market, sales were down 4.6%. Irwin Simon, Hain Celestial's founder, president and CEO, said US sales had come under pressure from "temporary disruptions from some of our distributor and retail customers", as well as "a decline in grocery brands associated with deceleration in the natural channel".
The issues in the US showed little sign of easing by January, when, ahead of the publication of Hain Celestial's second-quarter numbers, the company pointed to "lower consumption and reductions in shipments and inventories at certain customers" as it made the first revision to its guidance for its annual results.
Speaking to analysts on a conference call to discuss the second-quarter figures, Hain Celestial cited five factors for a 3% fall in US sales during the quarter, including the Sensible Portions brand being hit by the impact of Wal-Mart's so-called "clean-floor policy", movements in distributors and accounts led to lost sales and inventory, as well as lost own-label sales, notably on nut butter and fifth came the impact of currency on Ella's Kitchen.
John Carroll, the head of Hain Celestial's business, said the company did see some improvement in its domestic performance in the second quarter when compared to the previous three months but added: "We have a lot of opportunities to do more."
To some extent, Hain Celestial has been facing more competitive categories in the US. The growth of the more natural and organic categories in the country has caught the attention of mainstream packaged food majors searching for a boost to their own top lines.
On the second-quarter conference call, Simon was typically confident about what he saw as Hain Celestial's strengths. "There's a lot of consumer packaged good companies out there that would love to own the brands in snacks, personal care, yogurt, grocery, protein, basmati rice, fresh soups that we own around the world today," he insisted.
That is not to say the Hain Celestial boss was over-confident. He did acknowledge the changes in the sector and how Hain Celestial was facing stiff competition. "I wouldn't want to be starting Hain from scratch today," he conceded, "because you can see a lot of consumer packaged goods companies are trying to get traction and trying to figure out how to compete in this world with 80 million millennials."
Fast-forward to May and, alongside its third-quarter results, another change to Hain Celestial's forecasts for the year. Tellingly, Hain Celestial, a business that has grown in part through a flurry of acquisitions over the last decade and more, announced plans to sell off brands that "no longer fit into its core strategy", as well as the launch of Cultivate Ventures, a unit for fresh investments. Furthermore, Hain Celestial said, starting in its 2016/2017 financial year, it would establish five platforms within its US business to try and drive net sales and margins.
These initiatives were the result of Project Terra, a programme Hain Celestial started earlier this year with Boston Consulting Group to try to improve its performance. The project has also earmarked US$100m of cost savings, with Hain Celestial outlining plans to "optimise" plants, co-packers and procurement, as well as "rationalise" the company's product portfolio. The savings were on top of what Hain Celestial said were existing efforts to save $50m in costs through productivity. The plan, Hain Celestial said, as to reinvest in the brands it did want to keep.
It cannot be said Hain Celestial has not realised it is facing challenges, particularly in the US, and, speaking to analysts on 4 May, Simon said the company was confident about the continued growth of healthier categories and about its own position. And, even in the wake of Monday's announcement, a number of analysts on Wall Street did underline what they saw as Hain Celestial's strength in the natural and organic markets in the US.
However, Monday's announcement has put some question marks over the business, especially in the short term.