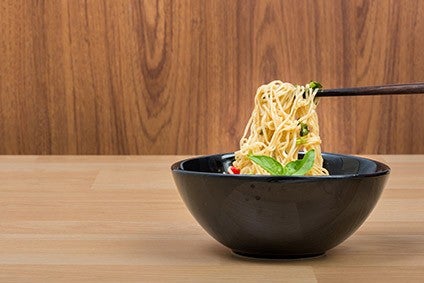 just-food's China columnist Peter Peverelli outlines how chilli flavours have made inroads in the country's packaged food sector as the palates of local consumers get used to – and embrace – some heat in their food.
When I went to Beijing to study late in 1975, the locals were not particularly fond of chillis. One of the first times a group of us foreign students had lunch in a local restaurant, we were seated at a table with a few local ladies (sharing a table was quite common then). One of them refused to eat from a dish that included a few chillis, stating: "This is too hot for me."
Things have changed. Spicy dishes can be ordered in all restaurants in China. Supermarkets offer a huge variety of chilli pastes and spicy sauces. When I search for 'spicy seasoning pastes/sauces' on online retailer JD.com, I can choose from 60 different types all with their own flavour.
The top-selling brand of recent years is Lao Gan Ma or 'Old Godmother'. That name refers to the company's founder, Tao Huabi. She started a road-side stand selling noodles with her own spicy sauce to truckers in Guizhou province. The truckers were raving about the flavour and spread the news quickly throughout the nation. Her turnover in 2017 was CNY4.55bn (US$666m).
In China, spicy varieties can be found for almost any type of processed food. Even the traditional sweet and savoury Peking Duck is now sold as one-bite snacks – necks, hearts, tongues (for the connoisseurs) etc. – and, yes, chilli lovers can pick spicy versions. When I observe my Chinese acquaintances, the spicy varieties seem to be the preferred flavour nowadays.
Chillis also find their way to Western foods like chocolate. A young female entrepreneur in Beijing has opened a cake shop and her proprietary products include chilli cake and spicy butter cookies. I haven't tasted them myself yet but I have entered the address in my contacts for my upcoming visit to China this month.
Another recent development that drew quite a bit of attention in the Chinese media is chilli ice cream. It was launched in the Chengdu province in Sichuan, which does have a tradition for spicier food.
The product went on sale at the Ito Yokado store on Chengdu's Chunxi Road, the city's most fancy shopping area, where you can find brands like Louis Vuitton and PRADA, as well as a number of fusion food and beverage outlets.
The picture shows ad advertisement telling that 'in case you are getting bored with sweet taste, we dare you to choose our spicy ice cream'.
It is regular vanilla ice cream sprinkled with chilli oil. Customers can add other items like chopped spring onions, soybean meal, or powdered peanuts to make it even more look and taste like a Sichuan dish. You can also enhance the spicy mouthfeel by adding popping sugar.
In present-day China, chillis are appreciated as a way to, literally, add spice to your life, to get some variation in what used to be rather bland local flavours.
Lao Gan Ma is one real, stand-out commercial success. However, adding heat has actually helped reviving an entire sector described as 'over the hill' a couple of years ago: instant noodles.
Western readers may find it odd that such a basic Chinese food as the noodle would be able to disappear but it has been the instant variety under scrutiny.
Instant noodles are a great invention. The creation should be credited to the Japanese but the product has been made big in populous China, as it entered the market just at the moment that the pace of life was increasing and Chinese were looking for something that could quickly relieve a feeling of hunger without completely killing your appetite.
Annual sales volumes climbed, some years more than 20%, until, in 2014, the national output of decreased 1.55% – and again by another 6.3% in 2015.
The declines startled the major players. However, even more annoying to domestic producers was the continued growing consumption of Korean instant noodles, like Samyang and Nong Shim. The secret of the Koreans was chilli.
Koreans live on chilli and even their 'mild' varieties of instant noodles can be quite spicy. Chinese producers of instant noodles needed time to adjust but then started launching spicier types of noodles as well.
An interesting success story is that of Nanjiecun (Nanjie Village, Henan province). Wang Hongbin from Nanjie had a chance to visit Japan in 1988, where he had his very first taste of instant noodles.
After his return, Wang and some friends bought an old factory building and founded Nanjiecun Co. (cun means 'village'). They targeted people in rural areas and students, so the noodles were priced at CNY0.5 per packet. Nanjiecun's star rose and brought wealth to the village. A full industrial cluster grew up around instant noodles, including print shops and seasoning and packaging factories.
In 2017, the company sold noodles worth CNY600m. About CNY80m of that came from online sales. Nanjiecun has set up an R&D centre to develop new flavours. The picture shows their latest product and the chillis on the pack need no further comments.
Those who can read Chinese will note the flavour is linked to Beijing. This is a marketing ruse suggesting these noodles suit the palates of the demanding consumers of the capital. However, it is notable the same people who loathed chillis in the 1970s are now positioned as chilli lovers.
Western companies that want to market their food in China need to include 'flavour' in their market surveys. They should not only look at what is in vogue but also what can be expected to fall out of grace soon. Chinese consumers, several of whom change their cell phone twice a year, are easily bored and want to be excited by your products.
The chilli is intrinsically exciting and the Korean noodle makers had more luck than wisdom. You will need to create your luck by promoting a flavour experience that is new and exhilarating. It does not have to be chilli. Chinese are still not so fond of sour flavours, so why not introduce them to rhubarb-flavoured foods like, perhaps, rhubarb ice cream?