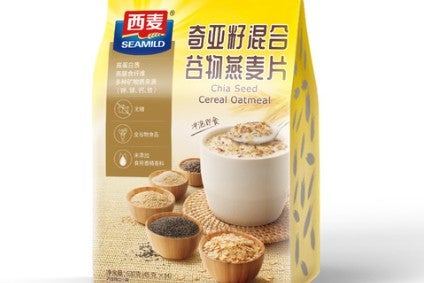 Chinese commuters' demand for convenience has been fuelling sales for quick and easy options for breakfast and Covid-19 – for different reasons – has also led to interest in the segment. Peter Peverelli reports.
A buzzword in the current Chinese food market is daican, which literally means 'replacing meal'. It is also a good money maker.
Leading online stores together sold more than CNY1bn (US$142.9m) of these products in 2019, some 35% more than in the previous year, according to Chinese media company Sina Corp.
A convenient English translation is meal-replacement product. However, that term needs to be properly defined to avoid misunderstanding. Daican products are complete meals. Some can be consumed upon opening, others by heating them first, saving the time for preparing a meal from scratch.
However, they are certainly not 'fast food'; which can have negative connotations in China, as in most other countries.
Some people may associate the English term with dietary foods. Daican are not the same, although many are positioning themselves as lighter alternatives to a heavy meal, appealing to the trends for foods lower in salt, sugar, and fat.
The convenient aspect of meal-replacement products is the next step in a trend that started as early as the 1990s, when the pace of life in China started to increase. The Chinese used to prepare three meals a day at home, rising early to take time for a proper breakfast.
That worked well, as long as commuting time was relatively short. When more Chinese started working in high-rise offices, the average commuting time in a Chinese city doubled or worse. Breakfast changed dramatically (see one of my earlier just-food columns on that topic) and most Chinese took lunch close to the office.
These demographic trends empowered the instant noodle, China's first type of meal-replacement product. Chinese dairy companies started to launch milk or yoghurt, pre-mixed with cereals and marketed them as convenient breakfast foods. Biscuit producers have also developed coarse grain varieties with chunks of dried fruit and marketed them also as alternatives to the opening meal of the day.
In this column, I am focusing on the fastest-growing segment of this market: cereal-based replacements for breakfast, which can also be used as lunch (or also as a snack between meals). In supermarkets, you will find them near other cereal products.
As Covid-19 spread across China, citizens were virtually put under house arrest for almost three months. The nation spontaneously split into two tribes: those who started to cook at home avidly and those who looked for suitable products to eat properly without having to prepare meals three times a day.
Both tribes shared a desire for tasty food to light up their lockdowns. The former tried to achieve this by buying better ingredients, the latter were reliant on the ingenuity of food technicians.
The Chinese food industry picked up the signals and a flow of innovative meal-replacement products were launched.
Take Wugu Mofang (Grain Mill). It is produced by a company with the same name in Chinese, but known internationally as Natural Food International Holding, based in Shenzhen, bordering Hong Kong.
The group's flagship products can best be described as being based on western breakfast cereals, enriched with traditional Chinese and trendy ingredients, with their regions of origin indicated. Its Bazhen (Eight Treasures) cereal shake contains ingredients including Chinese yam (from Guangxi), black sesame (from Jiangxi), red beans (from Heilongjiang), oats (from Australia) and chia (from Mexico).
The product is specifically marketed as a replacement for breakfast. It is a powder than can be infused with hot water. This range includes a few other products with a different mix of ingredients, like black beans or millet. There is also a smoothie for those who like a creamy flavour.
Nanfang Black Sesame is both the producer and the brand of a popular mix of powdered black sesame, oat and rice. It is a simpler product, but very popular, also as a snack between meals. It is a variation on a traditional Chinese food: black sesame broth.
Seamild (Ximai) is China's oldest, homegrown, oatmeal, produced by Seamild Biology Technology – in which US business J.M. Smucker owned a stake from 2012 to 2017. The group was listed on the Shenzhen Stock Exchange in June 2019.
The company targets various segments of consumers with products such as Seamild for the elderly, a chia seed oatmeal and a high-calcium cereal for children.
Ocak is an interesting brand as it sells well on Tmall, but is not among the top ten sellers on domestic online pure-play retailer Maigoo. In spite of its foreign-sounding name, Ocak is a domestic brand produced by Ocak Food Co. in Tianjin. The most salient feature of the company's leading meal-replacement product is it contains cubes of fruit-flavoured yogurt. Although you can eat it in liquid yogurt, you can eat it with any liquid and still enjoy the refreshing taste of yogurt.
There are several other brands looking for a piece of the action. Three Squirrels, China's leading nuts and seeds processor, has launched a nut mix with oatmeal and yogurt cubes of its own. In spite of its strong brand, their product does not appear in the top-selling products on Tmall or Maigoo.
What opportunities are there for new entrants? The current leading products are mixes based on cereals enriched with nuts, seeds and dried fruits, which provide texture, flavour and nutrition.
Launching one more will require a strong USP, like a valuable ingredient that provides a unique flavour or a specific nutritional function.
Biscuit-like meal-replacement products are less popular. Weetabix is sold in China by dairy company Bright Food Group. In fact, Bright snapped up a majority stake in Weetabix in 2012, only to sell it again in 2017. For the Chinese, milk and Weetabix was literally not such a golden combination: you cannot dunk a Weetabix in milk, like a digestive.
A new product should have a healthy appeal, but that is obvious for meal-replacement products. It should not be positioned as a slimming product, though. That is a different category.
The same would apply to nutrition bars. Most of the power bars available in western supermarkets will strike Chinese as a sweet snack, not as a meal-replacement product, even though some of them contain nuts and fruits.
A product like Naked Meal, the US meal-replacement powder, has similarities with Black Sesame, but cannot compete with it in taste. For the Chinese, nutrition cannot be separated from flavour, odour and texture, which is why the oat mixes with dried fruit and especially the solid yoghurt cubes are so popular.
That said, the scientific marketing story of Naked Meal might appeal to educated young Chinese. A variety of Naked Meal with a Chinese flavour could work.
It is to be expected demand for meal-replacement products in the breakfast market will continue to grow for some years. Few Chinese college graduates will spontaneously begin to cook a traditional breakfast once they start living on their own.