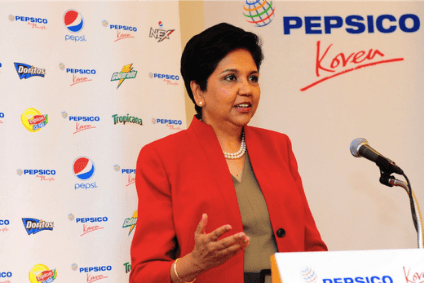 News PepsiCo has reorganised its senior management team following the departure of Frito-Lay North America CEO Tom Greco prompted a flurry of speculation from as to whether the company is lining up a successor to chairman and CEO Indra Nooyi. However, Katy Askew suggests bringing the company's North American businesses under a single leader can also be viewed as a natural extension of PepsiCo's "power of one" strategy. 
PepsiCo revealed earlier this week Tom Greco, the chief executive of its Frito-Lay North America unit, is leaving the business in order to pursue his "long-standing " career goal of becoming CEO of a business "outside" the food industry. 
Commenting on Greco's departure, PepsiCo chairman and chief executive Indra Nooyi said: "Tom has been a strong and valued leader inside PepsiCo for more than three decades, and has made lasting contributions to our business. He is leaving PepsiCo to pursue his long-standing career goal of being CEO of a company outside our industry. He leaves FLNA in great shape. We thank him for his service and wish him nothing but the best as he begins a new chapter in his career."
Greco's exit ushered in a shake-up of PepsiCo's senior management team. Al Carey, CEO of the firm's North America Beverages unit, has been promoted to CEO for the group's whole business in North America. The new role sees Carey taking overall responsibility for all of PepsiCo's North American businesses – beverages, Frito-Lay and Quaker.  Kirk Tanner, COO of North America Beverages, has been promoted to president and COO of the US beverage unit, while Vivek Sankaran, the existing COO of Frito-Lay North America, has been promoted to president and COO of the snacks unit.
"PepsiCo's deep bench of world-class leaders and our top-notch talent development capabilities allow us to elevate our next generation of talent into bigger roles," Nooyi said in comments that prompted many to speculate that she was hinting at succession planning. 
According to Wells Fargo Securities analyst Bonnie Herzog, Greco's departure to take a CEO role elsewhere "suggests he may have seen a limited path to the CEO role at PepsiCo in the near term". 
She continues: "We see this playing out in one of two main ways: One, CEO Indra Nooyi decides to depart PepsiCo relatively soon, in which case we believe Al Carey would be next in-line for the top spot. We think Carey would be a very capable CEO of PepsiCo given his extensive experience at the company. Or, two, CEO Nooyi remains at the helm for the next couple/few years, which could raise doubts on Carey's candidacy for CEO given he is several years older than Nooyi. This to us would suggest that [group CFO] Hugh Johnston as well as both Kirk Tanner and Vivek Sankaran are the ones to watch."
The adjustments at PepsiCo do support the possibility Nooyi is getting her ducks in a row, as any responsible chairman/CEO would, for her departure – whether it is imminent or otherwise. However, it is worth noting the organisational restructuring also points to the importance PepsiCo continues to place on its "power of one" strategy (also dubbed "better together"). 
Two years ago, activist investor Nelson Peltz launched a vocal campaign designed to "unlock shareholder value" by spinning off PepsiCo's drinks and snacks business. Peltz argued the split would unlock "shareholder value".
Management was swift to respond by highlighting the benefits of scale in the slow-to-no growth North American market. Through its "power of one" strategy, PepsiCo insisted it would be better positioned to grow both its food and beverages businesses. Management argued PepsiCo benefits from significant overlap of its snacks, breakfast and drinks businesses, which address common or complementary needs. 
Insight into the overlap has been used to drive product innovation and promotion over the last two years and allow PepsiCo to "pair" brands to meet divergent consumer needs. Examples include PepsiCo's successful cross-promotion of the Doritos and Mountain Dew brands, as well as the pairing of Pepsi and Tostitos – both combinations that represent staples in the snacking habits of many an American teenage boy. PepsiCo also worked to deliver a combined breakfast offering by bringing together its Quaker, Naked and Tropicana brands. 
Efforts to align the businesses have gone beyond marketing and promotion. They have included the formation of a team made up of executives that have worked on both sides of the company – and the latest management changes can be seen as a continuation. 
The drive can only be furthered by greater integration of the company's leadership in the North American market. As Herzog observes, Carey is "very well positioned" to lead the entire North America division and should be able to further leverage the "power of one" strategy that PepsiCo has focused on promoting. 
A 35-year PepsiCo veteran, Carey successfully drove top- and bottom-line growth at his most recent role in the North American Beverages unit. He has held various senior roles across snacks, beverages and foodservice during his career, including CEO of Frito Lay North America. 
Bringing the company's three North America businesses under a single leader will enable PepsiCo to "further leverage" its "complementary brand portfolio" to unlock "new growth opportunities". It seems clear, then, that greater integration is the order of the day at PepsiCo. Whether it also signals the company's thinking on the appointment of a replacement for Nooyi is, for the time being, a moot point.