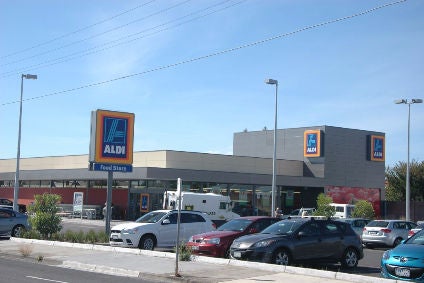 The rise of Aldi and Costco in Australia in recent years has shaken up the country's grocery retail sector. Brian Cook, group director for solutions and innovations for IRI in Australia, analyses what has happened and sets out how manufacturers and the country's two largest supermarket chains – Woolworths and Coles – can react.
The growth of discount retailers, in particular Aldi, is not just a challenge for food manufacturers in Europe. They are disrupting the incumbent supermarkets' traditional go-to-market strategies in other regions as well, including Australia.   
Shoppers in Australia have taken a shine to Aldi with the latest data from IRI's shopper intelligence report highlighting 30% of households now visit Aldi at least once every month. Fourteen per cent of households are spending more in Aldi over a year than they do in traditional supermarkets, with the average household spend per trip in Aldi now more than A$50 (US$36.6m).  
Today's consumers in Australia have more options than ever before, and are embracing new retail chains, a trend that also includes the US-based Costco Wholesale, which has operated in the country since 2009.  
Consumer choice and their changing perception of value for money has hit the share of wallet enjoyed by incumbent supermarkets, forcing them to think differently and implement new tactics to maintain customer loyalty.    
Aldi has consistently competed well against traditional supermarkets with its unique 'discount' position, which emerged in Australia in 2003.  It now has over 381 stores in Australia and continues to expand into more regions in the country. Aldi's price strategy has served it well, helping it attract those with less discretionary income, such as younger households with children or retirees. During the global financial crisis in 2008, other demographics feeling the pinch were attracted to Aldi's price position. Many of these consumers found the quality of Aldi products to be high and have since remained loyal customers.  
The crucial turning point for Aldi was its increased focus on the quality of its food in addition to its value pricing through catalogue and TV advertising. Quirky TV campaigns not only emphasised Aldi's low-price proposition, but focused on gourmet awards the retailer's products had won across its food, wine and fresh ranges, helping to reposition it in the minds of Australian consumers. 
Costco has also experienced strong consumer support in Australia by replicating its US club membership model. Some of Costco's eight club stores in Australia are their largest turnover outlets in the world. That success is attributed to Costco's competitive price offering, high quality, and also appealing merchandise assortment.  Many suggest consumers love the "Treasure Hunt" experience due to the ever evolving product range, which differentiates Costco from a traditional grocery outlet. 
As these alternatives have grown their share of the market – Aldi and Costco combined now represent up to 13% of sales value in the latest 52 weeks – the incumbent supermarkets have adjusted their tactics to minimise the impact on their business.  
The initial response from the traditional grocers' was focused on competing with discounter private-label ranges. Each moved to relaunch their own ranges, which had traditionally had minimal success or appeal for the Australian consumer compared to private label in European markets. However, the, new multi-tiered product ranges confused the customer and did not meet quality expectations, so generally were not accepted as trusted brands.  
Another tactic employed was a defensive one: discounting national branded products. The result was multi-layered discount schemes utilising loyalty cards, everyday low pricing and deep discounts of as much as 50-65%.  This adversely trained the consumer to buy on deal, was replicated by competitive retailers easily, and had minimal impact on customer loyalty or retention.  
Meanwhile, food manufacturers must face the challenge of Aldi and Costco's unique go-to-market strategies by adapting packaging, supply chain, and price proposition, which takes time and investment to get right, but over time will pay off and reduce dependency on traditional retailers. 
Despite the challenges, the rise of Aldi and Costco allows manufacturers to reach consumers they might not normally attract (older demographics and smaller households through Aldi, and businesses such as offices and restaurants through Costco). And Aldi's focus on supporting Australian-made products provides an opportunity for manufacturers to supply private label, which in many instances improves overall factory and supply efficiencies. The increase in competition will over time balance power between retailers and suppliers, and suppliers that can consistently help retailers grow category sales will be in demand.
Supermarket retailers are well positioned to compete against discounters due to their sophisticated supply chain, number of locations, and large store footprint. Opportunities exist to win the customer. Firstly, by enhancing the overall shopping experience; which is still one of the key reasons why consumers choose a store after location. Secondly, by offering a broad range of products that meet multi-demographic needs – such as greater flavour varieties or pack sizes for different usage and meal occasions.  Retailers can offer an optimal mix of private label and branded offers and continue to be innovative, being first to market with healthy and time saving meal solutions for example. Lastly, those retailers that effectively harness data intelligence will be in the strongest position to leverage emerging trends, activate against opportunity segments and respond to changing shopper attitudes, thus converting consumers to loyal customers.