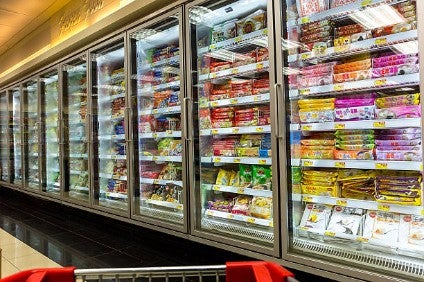 US frozen-food sales have received a boost from Covid-19 but the category was already in growth before the pandemic, bouncing back after several years in the doldrums. just-food's US columnist Victor Martino looks at how manufacturers and brand-owners can continue to drive sales.
Nearly two years ago I proclaimed in this column frozen foods, which for nearly three decades had been struggling in the US in the wake of the growing popularity of fresh and prepared foods, were back.
I based my assertion on the quantitative – a three-year, progressive, sales trend. In 2018, US frozen-food category sales turned in significantly higher year-over-year sales growth (over 5%) than in 2017 (1.5%) and 2016 (0.6%).
I also based it on the qualitative – an impressive spate of new product innovation over the last five years; an increased emphasis from brands on reformulating products to taste better, as well as creating new foods offering premium quality and other key attributes like clean label; and improved marketing and communications to consumers and retailers. Category growth continued at about a 3-4% rate in 2019.
But then came Covid-19 and the resultant shutdown of most of the US economy, with the exception of grocery stores and a few other businesses deemed to be essential, which sent frozen food sales through the stratosphere.
With restaurants closed, grocery stores became, by necessity, the solo venue for consumers to get food. Fear and uncertainty induced by state shelter-in-place orders, as well as as the long lines at food stores and the warnings from epidemiologists to avoid places where there are large crowds, resulted in stock-up buying and hoarding. Filled with uncertainty, shoppers filled their pantries with staples and their home freezers with frozen foods.
Frozen-food category sales soared by 40% for many months starting in late March, according to IRI data, and although sales growth has levelled out, category sales remain up by a whopping 20% over last year, according to the most recent data from IRI for September 2019, leading all other consumer packaged goods categories.
Make no mistake about it, frozen food is hot – but it's not just because of Covid-19.
According to survey research commissioned by the American Frozen Food Institute (AFFI), 86% of consumers said they've increased their purchases of frozen foods during the pandemic. Among those, 7% were new frozen food buyers, who rarely or never purchased such items before.
Additionally, consumers who said they were regular buyers of frozen foods pre-pandemic, increased their purchasing and bought products they previously hadn't bought before. In terms of volume, 70% said they bought more frozen foods than usual, 72% bought different brands (due to their first choice brand being out of stock), and 68% bought new or different items.
Looking ahead to November and December, I see frozen-food category sales holding the 20% year-over-year sales gain and perhaps even increasing it by a few percentage points, for a number of reasons.
First, Covid-19 is on the rise in the U.S, with 31 states now reporting the highest number of cases since July. Some states and local jurisdictions are even discussing a new round of shutdowns because epidemiologists are warning the next two months could be even worse than the first few months of the pandemic.
Restaurants also aren't fully opened yet. Dining inside is back to normal in some states but other states are only allowing indoor dining at 25-50% of total capacity. The weak economy also has consumers pinching pennies. Many can't afford to dine out or get prepared food for take home except on rare occasions. Outside dining, which has been the saving grace for many restaurants, is or shortly will be on the wane in most places because of winter weather.
The spike in Covid-19 is already starting to result in a new round of pantry- and home freezer-loading behaviour, albeit at a much lower pace than we experienced from March to July. Frozen foods will benefit.
November and December also are historically high sales months for frozen foods because of the Thanksgiving and Christmas holidays, when consumers stock up on frozen vegetables, side dishes, pies and other frozen desserts.
At retail, grocers are putting a renewed focus on the frozen-food category. Most promotions have now resumed and some retailers are even adding new fixtures. I've been spotting more and more endcaps, for example, getting the addition of an upright frozen-food display case as a way to extend square footage, as well as feature promotional and new items.
Ironically, the coronavirus pandemic is serving as a once-in-a-lifetime opportunity for frozen-food brands. It's served to generate new consumer trials for the entire category.
CPG companies need to take advantage of this unplanned opportunity to position their frozen-food brands for the long-term. The good news is the category was already on the move pre-pandemic because of the innovation over the last few years – what I call frozen foods' "fourth wave." The coronavirus pandemic, though, has taken the respectable sales gains of 2018 to a new level. It's fair to say frozen food is now truly back.
Home freezers, which were a mainstay in American homes and garages until the 1980s when fresh and prepared foods started to make their ascendancy, are back, too. Since March, sales of home freezers have more than doubled, according to industry data, and consumers who've ordered them online or from a retail appliance store (most have been out-of-stock) have waited an average of 12 weeks to get theirs.
This is good news for frozen-food brands because many people will keep their home freezers post-pandemic and will need something to put in them. The longer the coronavirus pandemic lasts, the higher the probability that consumers continue to buy frozen foods because of habit formation.
Key to continuing the growth of the frozen-food category – it won't and doesn't need to sustain the 20% gain long-term – for both brands and the industry as a whole is to behave in a way that for all intents and purposes pretends the whopping sales gains haven't happened.
For CPG companies in the frozen food space this means continued innovation. Now isn't the time to cut back on R&D and new product development. It's also a good time to expand frozen foods into new categories.
There are new dry grocery and refrigerated foods categories where there aren't like frozen products. The best time to expand into new categories – and to expand the category itself – is now, when sales volume growth is so high. Retailers are hot on the frozen-food category and are willing to innovate in partnership with brands.
Now is also the time for direct-to-consumer for frozen foods. Some brands are doing this but, because of the high costs associated with it, most aren't.
Direct-to-consumer isn't right for all frozen-food brands but for those it is right for – ice cream, unique entrees and side dishes, hard to find specialty items are just three examples among the many – now is the perfect time to do it.
Not only can direct-to-consumer serve as a sales channel in conjunction with brick-and-mortar retail stores, it also serves a secondary role in creating consumer awareness when launching into new markets, as well as having the ability to be part of a brand's marketing mix in terms of a way of getting products, existing and new, into their hands. It's a direct way of generating new consumer trial.
Few categories get the growth and reinvention opportunity frozen foods have been given. The comeback started in earnest in 2018. The coronavirus pandemic provided the frozen-food category with a moonshot-sized leap this year.
There's no better time for category, brand and product expansion than right now. Frozen foods' sales chill has thawed and the future is white hot.
just-food columnist Victor Martino is a California-based strategic marketing and business development consultant, analyst, entrepreneur and writer, specialising in the food and grocery industry. He is available for consultation at: victormartino415@gmail.com and https://twitter.com/VictorMartino01.