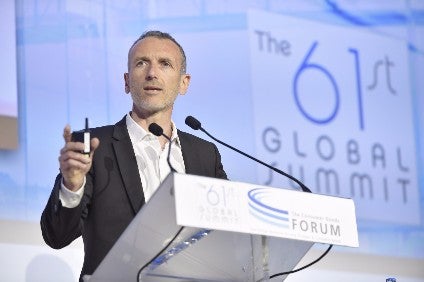 There are increasing signs more investors are becoming interested in the corporate sustainability practices of food companies, with some introducing the issue into the factors they weigh when deciding where to put their cash. However, as interest in corporate sustainability varies by company, so it does in the investment community, with some in the financial sphere seemingly little interested, proving the CEO advocates in the sector still have some convincing to do.
As sustainability has become an increasingly important focus for companies, how corporate performance against sustainability criteria is measured, reported and valuated has changed beyond recognition.
Two recent announcements herald further steps in that evolution, relating respectively to critical aspects of companies' sustainability missions – value creation and risk mitigation.
The Embankment Project – an initiative launched by the Coalition for Inclusive Capitalism, professional services firm EY, six companies and 15 financial institutions – aims to see investment in sustainability better reflected in the valuation of companies.
Meanwhile, the Task Force on Climate-related Financial Disclosures (TCFD), set up in late-2015 by the G20's Financial Stability Board, has published its final recommendations, designed to help organisations identify and disclose information needed by investors, lenders and insurance underwriters to assess and price climate-related risks and opportunities.
Common to both initiatives is their focus on leading the investment community to a better understanding and appreciation of what companies are doing in the name of sustainability.
There are semantic issues here as well as some substantive ones. For a long time, there has been a struggle to find the right term for the activities now generally grouped under 'sustainability'.
Corporate social responsibility (CSR) became a problematic and rather tarnished term, associated with discretionary decisions, not directly linked to shareholder return, and corporate philanthropy. It has been ditched by many companies. Corporate sustainability is faring better but for some 'sustainability' clearly rings the same alarm bells that CSR did.
There is much to be said for viewing and expressing sustainability as simply the long-range view writ large. As Paul Polman, the sustainability-championing CEO of Anglo-Dutch consumer goods group Unilever, said, when commenting on the aims of the Embankment Project, "long-term investment and sustainable growth models go hand in hand".
Polman continued: "Businesses must operate with purpose embedded in their strategy, serving their shareholders and wider society. The ability to articulate this in a standardised, meaningful way has long been needed so markets can properly measure this broader approach to value creation."
It is impossible to consider this statement – and other pronouncements from CEOs espousing a strong commitment to sustainability – without pondering the very nature of capitalism.
Modes of operation at the business end of capitalism are adapting to an environment that requires responses to sustainability issues at every turn. As Polman advocates, this means a broader understanding of value creation which takes in many other stakeholders.
Back where they count the money, things may look rather different. It is very likely that a broader concept of value creation will sit uneasily with some investors and those advising them. They will understand that a long-term outlook is important but their prime responsibility is to shareholders, not 'stakeholders'. They have one measurement of a company's value they hold sacrosanct, and that's the share price.
Quite possibly because of the significant human and environmental sustainability challenges it faces, the food sector has more than its fair share of companies and bosses with progressive ideas about sustainability. So, it is not surprising to find three out of the six firms involved in the Embankment Project are food manufacturers, namely Unilever, PepsiCo and Nestle.
Emmanuel Faber, CEO of French dairy, baby food and soft drinks group Danone, recently became the latest food boss to affirm his commitment to a more sustainable global food system. Danone's new "One Planet. One Health" corporate 'signature' resonates with the 'Performance with Purpose' philosophy of PepsiCo, the Unilever Sustainable Living Plan and Nestle's Shared Value concept, among others.
Trying to capture a sustainable ethos in a slogan may have drawbacks. Catchy and cuddly slogans may sound compelling to visionary CEOs but hard-nosed bean counters might be wary, not least if they appear to be associated with sharing the value around.
When just-food asked equities analysts about Danone's 'One Planet. One Health' announcement, the response was mixed. Encouragingly, one said that "more and more investors are looking at ESG (environmental, social and governance)" but added "the word 'sustainability' leaves a lot of room for interpretation, so it can mean different things to different investors". Semantics again.
Another analyst chose, like Danone itself, to sum up his view in a succinct four-word phrase: "No interest from investors".
Perhaps it was a busy day, but taken at face value and if representative of even a minority in the investment community, the latter reaction suggests Polman et al. have some way to go in the battle for hearts and minds.