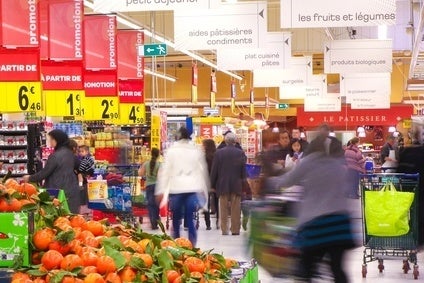 Although the FMCG market overall in Europe is growing very slowly, with signs of stability and economic recovery returning to the region, we're seeing price deflation in many countries, as the price war continues to push prices down, impacting both retailers and manufacturers.
Some of the world's biggest brands and retailers are caught up in a battle that threatens to engulf the whole of Europe. France is already two years into a price war with the main banners – Leclerc, Casino, Carrefour and Auchan – investing in significant price reduction programmes and sparking fierce competition in the French grocery market. The UK is not far behind as the discounters continue to tighten their grip. And we're starting to see the same deflation trend in Italy and Spain.
As the French say "there are now more retailers that must share the same-sized cake" – but they cannot do this on price alone.
In a challenging environment where consumption is flat, manufacturers and retailers need to find paths to growth. They have to fight, and price is the one front that many retailers have chosen to try and develop or maintain their market share. But it's wrong to assume that because you are fighting on price, you can automatically expect to grow – it's not a reality.
Casino, which triggered the price war in France, recently published its first-quarter results, which showed sales in its home market fell by 2.1%. The supermarket referenced the fact price cuts continue to impact sales.
As the result of this price war, purchasing divisions of some major French retailers have merged. It's too early to evaluate the impact on manufacturers and shoppers, but it might be a first step before reshaping the retail landscape.
So while it's good news for shoppers, lower prices combined with increasing levels of promotion have often impacted manufacturers' margins. Promotional activity has increased in all countries, reaching an all-time high in the UK, at a time when there should be a focus on fewer, bigger, better promotions. Promotions are certainly better than lowering prices permanently, but breaking the promotional cycle will be tough. It may impact sales in the short-term and in a longer term could limit the innovation capabilities and advertising investment, which are key drivers in developing penetration (number of clients) and consumer loyalty.
Another consequence is after many years of growth for private labels consumers are coming back to national brands in France and Spain, thanks to heavy promotional activity. Private-label market share in France has decreased by one percentage point since the beginning of the price war in 2012 and we can expect the same effect in Spain.
It is possible to win this particular battle however. In France, for example, consumers are trading up to better quality products, which saw national brands increase volume sales by more than 2% in 2014, while private label decreased by more than 2%, according to IRI's Private Label in Western Economies report.
National brands have also benefited in France from an increased range of products, while own label has remained more or less stable.
For manufacturers today, it's about focusing on real innovation, focusing on what customers want, but also on being different. Stand out from the crowd and deliver quality products at affordable prices, while delivering high margins. Local and small brands have managed to be successful in France, being a differentiator versus the competition and often generating higher margins.
Neither manufacturers nor retailers will win the price war. The winners will be those who move away from price as the only option, and develop appropriate strategies around product assortment, innovation and a focus on long-term growth, not short-term gains.