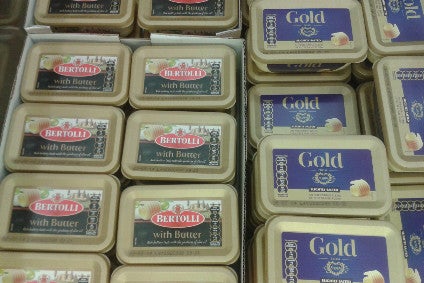 It was only a matter of time.
Unilever's reported demand of price increases from each of the UK's Big Four grocers should come as little surprise.
With the value of sterling falling by around 15% since the UK voted for Brexit, food manufacturers doing business in the country are seeing the pressure on their costs build and it is logical some would try to push through price increases to their retail customers.
Manufacturers operating in the UK are selling in what is one of the world's most competitive grocery markets. The UK's Big Four food retailers – Tesco, Asda, Sainsbury's and Morrisons – have all been hit by the rise of Aldi and Lidl and have all tried to use price as a mechanism to lure consumers from the German discounters and from each other. Suppliers would have been facing stiff demands as their key retailers did – and continue to do – battle on price.
The savvy supplier will have hedges in place but hedges only last so long. In such a febrile environment – great, of course, for consumers – suppliers will be looking internally to try to cover their rising energy and ingredients costs before picking up the phone to their retail buyers and asking for a hike. In such a competitive environment, it takes a bold supplier to ask for a price increase.
Even a company the size of Unilever will have thought carefully. Sure, a supplier with Unilever's muscle will in theory have more bargaining power than an SME but the Flora and Knorr maker has its own sizeable competitors in the UK – rivals that, even facing similar pressures, will have allowed themselves a wry smile as this morning's newspaper headlines announced 'Marmite Wars' and TV viewers tweeted in to say Unilever was "exploiting" consumers.
It does no harm to Tesco, of course, trying to rebuild its corporate reputation, to be seen as a champion of consumers this morning. However, these are real pressures food manufacturers of all sizes are facing in the aftermath of the vote on Brexit.
Urs Riedener, the CEO of Switzerland-based dairy group Emmi, the owner of Caffe Latte ready-to-drink coffee and Onken yogurt, both sold in the UK and itself no minnow, told just-food in August the company would "have to look at price increases" as a consequence of Brexit and the impact on sterling.
Suppliers with household brands in their portfolios tend to secure some form of compromise from their retail customers – especially ones wary of keeping brands like Magnum or PG Tips unavailable for too long.
Unilever's reported request for a 10% hike could be a fair reflection of its cost position. It could, of course, be a bargaining position for an agreement on a reduced hike. Unilever has so far not commented and made no mention of the reports in its third-quarter trading update this morning. Suppliers with strong brands tend to prevail in some way – through, say, price increases on selected products or a lower-than-initially-tabled hike across a range.
However, beyond the headlines on Unilever or warnings from the likes of Emmi, there will be dozens of smaller suppliers, both within the UK and exporting to the market, that are facing real pressures from a falling pound.
There will be more requests on retailers to move on price. Not every supplier will be successful. And for those that are not, it may serve as a push to, ultimately, look for scale or for a buyer. Another round of consolidation in the sector is likely.