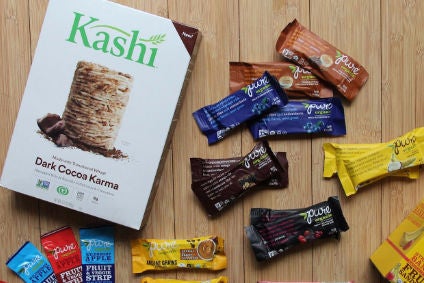 Kellogg has added to its international operations via M&A in recent months but the US cereal and snacks giant's last domestic acquisition was in 2012 – and that was the mega move for Pringles.
Since then, many of Kellogg's packaged food peers in the US, also battling the same evolving consumer trends in their home market as the Special K maker, have sought to reposition their businesses through a series of bolt-on deals for fledgling snacks makers: think J.M. Smucker and Sahale Snacks or General Mills and Epic Provisions or Hershey and BarkThins.
This week, Kellogg has decided to act, snapping up privately-owned US snack bar maker Pure Organic.
Financial details were not disclosed. The deal, announced by Pure Organic founder Veronica Lehman in a video on YouTube yesterday (16 June), was made through Kellogg's natural foods arm Kashi.
"Since I started Pure it has been a daily goal of mine to bring more nutritious, organic food to more people. Kashi has the resources, the knowledge [and] better distribution to allow us to do just that," Lehman said.
At the time of writing, Kellogg had yet to comment on the deal, which is unusual. Nonetheless, the acquisition can be read as an attempt to, in a similar vein to J.M. Smucker, General Mills and Hershey, and even the likes of bakery giant Flowers Foods and ConAgra Foods away from snacks, tap into increasing consumer demand in the US for simpler, less processed products.
Looking further ahead, the acquisition of Pure Organic could also be seen as Kellogg lining up Kashi as an umbrella entity for a number of this kind of business.
Kellogg has in recent months gone back to the future with Kashi, a company it bought in 2000. The Special K's ownership of Kashi is often held up as a case study in how a large business should not treat a newly-acquired asset.
However, after a series of mis-steps, Kellogg is made Kashi more a stand-alone entity, relocating the business back to its roots in California, while it is in the middle of restoring the unit's namesake brand to GMO-free ingredients. When Kellogg discussed its first-quarter results with analysts in May, Paul Norman, the head of the group's business in North America, said there had been "sequential improvement" at Kashi over the last 15 months and, with more innovation to come, added the group has "confidence we're going to get this business back to growth over the coming months in 2016 and into 2017".
General Mills and Campbell are two fellow US giants that have set up divisions to house investments in smaller businesses that have had success in tapping into the emerging consumer trends in the US. Could the same happen to Kashi?
"It is possible that this acquisition may be a baby step in expanding Kellogg's position in natural and organic products through acquisition while at the same time evaluating whether or not Kashi can function as an umbrella unit to manage newly acquired emerging brands," Tom Vierhile, innovation insights director at Canadean, says.
In any case, the acquisition of Pure Organic also fits another of Kellogg's stated aims – to expand its snacks business. When Kellogg announced its financial numbers for 2015 in February, chairman and CEO John Bryant admitted the company's US snacks business had had "a disappointing couple of years", pointing to the challenges with the Special K brand across cereal and snacks, although he was quick to point to growth in other areas like Pringles.
Tellingly, Bryant said the "opportunity" for Kellogg's US snacks business was "making sure the food is absolutely on-trend". The company has been working hard on the recipes and ranges of its existing snack brands but the move for Pure Organic could be read as another way of capturing that opportunity.
"Kellogg sees itself behind the curve in capitalizing on the single-serving snack opportunity, so the Pure Organic acquisition may help address this. Kellogg has stated that it has big plans to go after snack opportunities over the next three to four years, so this is presumably part of this effort," Vierhile tells just-food.
The snack bar category is, however, a very competitive arena, as Kellogg has discovered with its own products. Pure Organic looks to have built a solid platform in the decade since its inception. On Lehman's LinkedIn page, she says the company's products is sold across the US and in Canada in stores, with listings in retailers including Whole Foods, Trader Joe's, Sams Club and Safeway.
At present, however, it is hard to judge what lies ahead for Pure Organic and it will be interesting to see if Kellogg or Kashi comments publicly on how it sees the prospects for its new asset.
"The snack bar category is notoriously crowded with low barriers to entry, so it is hard to see a clear path to growth here without significant investment in the brand and business. Maybe Kellogg believes the Pure Organic brand has potential far beyond snack bars and fruit snacks. The Pure Organic brand almost sounds generic; in some ways it reminds me of Kroger's Simple Truth brand. I could see "Pure Organic" as a platform for innovation across a broad range of food categories and maybe that is part of the attraction here," Vierhile suggests.
Perhaps we'll hear more from Kellogg on Pure Organic when the company releases its second-quarter results on 4 August.
In any case, now that Kellogg has joined the party, it would not be a surprise to see the company turn again to bolt-on M&A in the quarters ahead. The growth profile of swathes of the business suggests it may be necessary.