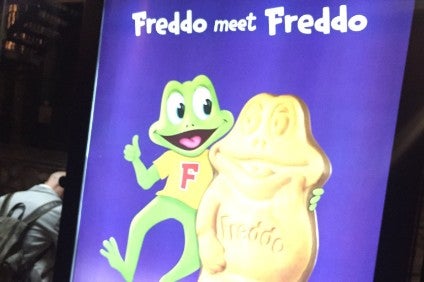 How the owners of food and drink high in fat, salt or sugar advertise their products has long been a contentious issue in the UK, with campaigners calling for further restrictions. Today (11 May), London's Mayor, Sadiq Khan, has won praise for his proposals to introduce regulations within his area of influence.
A bold announcement emerged from London's City Hall today (11 May), with the city's Mayor, Sadiq Khan, taking aim at the food industry.
"Almost 40% of London's children aged ten and 11 are overweight or obese. So I'm proposing to ban adverts for junk food from our entire Tube, bus and tram network to reduce the pressure on children and families to make unhealthy choices," Khan said.
Khan is consulting on his plans to ban advertisements for unhealthy food and drink that are high in fat, salt or sugar across the entire Transport for London (TfL) estate, including the London Underground, London Overground and the capital's buses and bus shelters, as part of a package of measures to tackle child obesity.
The announcement won praise from campaigners. Celebrity chef and health campaigner Jamie Oliver tweeted this morning that battling child obesity "takes big, bold, brave action & today Sadiq & his team have done that. It's a lesson in how to lead".
Mike Bloomberg, who introduced restrictions on the sale of sugary soft drinks mayor of New York City earlier in the decade, tweeted: "Obesity has become a global epidemic, and children face a lifetime of health problems unless we take bolder steps to confront it. @MayorofLondon's plan to ban junk food ads on the @TfL network sets a great example that other cities can learn from."
One would imagine reaction within the food industry is, well, let's say, mixed. Ella's Kitchen founder Paul Lindley took to Twitter to describe the proposal as "real leadership by a determined Mayor of London", although it is important to remember he is now chair of Khan's recently-introduced taskforce on child obesity.
just-food approached UK trade body The Food & Drink Federation for a reaction and it referred us to The Advertising Association.
Stephen Woodford, chief executive of The Advertising Association, said the organisation "welcomed" the consultation and added: "Our industry is always ready to play our role in supporting evidence-based and proportionate action around responsible advertising.
"It is important to note, as this consultation begins, that the advertising rules in force in the UK are among the strictest in the world. They already ban the advertising of HFSS (high fat, sugar and salt) food or drink products in any and all media where under 16s make up more than 25% of the audience. This includes TV, online, social media, on the street or on public transport. For outdoor advertising, such as posters on the Underground, streets and bus shelters, there is an additional recommendation that no sites can carry HFSS advertising within 100 metres of any school. All of these measures mean that there have been dramatic falls over the last decade in the exposure of under 16s to HFSS advertising.
The Institute of Practitioners in Advertising criticised the proposal of a ban. "A ban on ads for 'unhealthy foods' across London's public transport system would certainly grab the headlines, but if the aim is to prevent childhood obesity, an ad ban is a wholly disproportionate, unnecessary and ineffective solution," the institute's director of legal and public affairs, Richard Lindsay, insisted. "Advertising is an easy target, but childhood obesity is caused by a range of socio-economic factors. Banning advertising will not solve the problem, it will just prevent businesses from promoting their products to all of us."
There are set to be some caveats based on geography and on how London's transport system is set up, with private companies in charge of some rail networks serving the UK capital and therefore outside the scope of Khan's plan.
And some campaigners may baulk at the idea of a regular Coke or a Big Mac falling foul of the proposed regulations but Coca-Cola Co. or McDonald's still being able to plug healthier products.
However, Khan's plan should be applauded. It is often said local administrations can find it easier to implement stiffer policies aimed at tackling obesity and it should be hoped it sparks similar initiatives from central government, with some of the regulations governing other forms of media, including, for example, on the advertising around TV programmes broadcast before the 9pm watershed, in need of change.