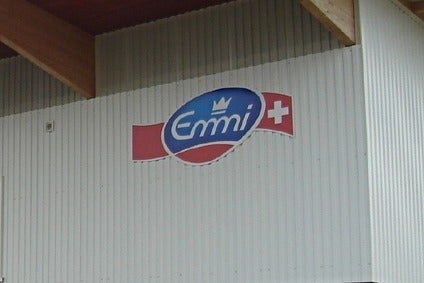 For several years Glenboden has opined that Emmi is a divestment candidate in denial – within a broader European dairy context. The recent debacle with Italian unit Trentinalatte confirms that growth through acquisition is not something the Swiss group is always successful at. Would Emmi's shareholders consider a liquidity event that would make them a participant in European dairy consolidation, plus earn them lots of money?
Poor internationalisation record …
Emmi's internationalisation strategy has been characterised by a string of relatively small acquisitions, in Europe and the Americas, which has allowed the group to inch along in overseas sales as a percentage of total, but without any real breakthrough.
Since it went public in 2004, Emmi's acquisitions have included the Onken dairy brand from Dr. Oetker; Kaiku in Spain; Roth Cheese in the US; Trentinalatte, Ambrosi and most recently Rachelli in Italy; and Glaserne in Germany.
The percentage of Emmi's overseas sales has now crept above 40% of the group's total – thanks mostly to sale in the Americas. However, from a big picture perspective, the perennial question is whether a relatively small national champion like Emmi would be better off as part of one of the big European consolidators – Lactalis, FrieslandCampina and Arla Foods.
… coasting along okay for now …
Although publicly-listed, Emmi is still a dairy co-operative in the sense that 60% of the group's shares are held by a farmers' group, ZMP. With low debt and a stable business in growth and margins terms, there's no Parmalat-style threat to Emmi that would force a sale or merger of the group.
On the other hand, there is the ongoing liberalisation of the Swiss dairy market, which over time is likely to pose a threat to Emmi's ability to continue ensuring sufficient volumes and prices to its milk suppliers. Milk prices in particular are the most important consideration for the members of any dairy co-operative.
In parallel, in order to avoid the risk of a future loss of the value of Emmi's shares, the owners should stay open-minded about choosing the moment to realise their long-term investment, mindful a business like Emmi will only go southwards in value over time.
… liquidity event to 'have cheese and eat it'
Major dairy co-operatives are continuously tempted with the 'have your cake and eat it' option. Basically, they could enjoy a liquidity event – stock market jargon for making money from selling their shares – while at the same time continuing to sell milk with the same volume and moreover price regime as hitherto.
Emmi's milk suppliers are well-placed to benefit. Given the group's status as Switzerland's dairy champion, they could enjoy a healthy windfall (see valuation). Isn't that better than sitting on a cash pile (CHF250m at H1 2014) while receiving miserly dividends (CHF20m in H1 2014 after the same in 2013)?
That puts into focus the fact major dairy co-ops generally give a bad deal financially to their members. There's one exception, in recent memory: Dairy Farmers selling to Kirin Holdings in Australia in 2008. There you had a situation where management opted for a liquidity event, because that was in the co-op members' interests.
THIS LEAD'S VALUATION
Size (€ mln)
2.9
Sector
dairy products
Asset Quality
Switzerland no.1 branded
Seller
large co-operative
Buyer
privately -held corporate
P/S
1,1
P/Ebitda
12,0
Type
enterprise value estimate