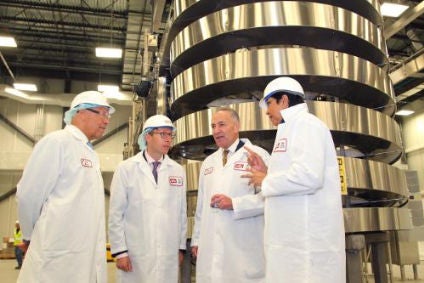 Just three years after PepsiCo and Muller launched their bid to capture part of the US yoghurt market, the companies have thrown in the towel.
Muller Quaker Dairy is to be disbanded, with the venture's plant in New York state sold to US co-op Dairy Farmers of America.
Ronald Kers, Muller's CEO, insisted "feedback from customers" had been "very positive" and said the venture had faltered amid "extremely challenging market conditions".
PepsiCo said the decision to end the venture was "mutually agreed" after it was determined the business was "not meeting expectations" in a "competitive and dynamic marketplace".
When the companies unveiled their plans in 2012, they were witnessing buoyant growth in the US yoghurt market, notably in the Greek segment, which was being led by privately-owned Chobani.
However, by the time the Muller Quaker Dairy facility started production in the summer of 2013, growth in Greek was slowing and promotional activity was intensifying, trends we noted at the time.
Ultimately, PepsiCo and Muller were attempting to take on well-entrenched competitors like Chobani, Danone and General Mills with solid positions in the US yoghurt market. While Chobani's leadership has come under pressure, it remains a robust player. Danone has invested heavily in NPD and marketing. Yoplait owner General Mills has regained some of the ground it had lost earlier in the decade when Chobani raced ahead.
The products launched by Muller Quaker Dairy did not give the venture a strong enough point of difference to what their rivals were already selling, with ots Corner pots too similar to Chobani's Flip line, while smaller companies were filling other niches like protein-enhanced, Australian or Icelandic.
Aside from operations in the UK, Muller lacks international experience but Kers insisted the German group still had ambitions outside its domestic market. It has steadily built its business in the UK, with its most recent move the acquisition of Dairy Crest's liquid milk business. The failure of Muller Quaker Dairy may dent Muller's confidence to expand into other markets.
For PepsiCo, while it still has a significant position in Russia's dairy market through its ownership of Wimm-Bill Dann, the experience in the US may give it pause for thought should it consider looking to invest further in the sector.