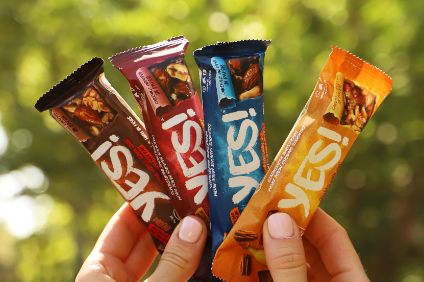 David Burrows offers qualified praise for Nestle's recent announcement on recycled plastics and argues major questions persist about whether the company – and industry – can move from virgin material.
Nestlé CEO Mark Schneider has been doing the rounds in Davos this week, promoting his company's CHF2bn (US$2.07bn) commitment to contribute to the food and beverage market's shift from virgin plastic to recycled plastic of food grade quality.
In Schneider's interviews there is talk of "consumer relevance", being "in tune" with the environment and the considerable effort being made to "solve the problem that has been created so far by plastic waste". The owner of Maggi Sauce and KitKat is sweet-talking his way out of criticism around single-use packaging – but he isn't the only one.
In September, experts at the University of Surrey presented the results of a short but intriguing analysis. They picked through the PR and policies of 12 "trailblazing" food and beverage companies, including Nestlé, and found a common thread in their discursive strategies: "… use of the new-found public concern for marine plastics waste pollution to reframe their organisation as a part of the solution rather than part of the system that created the problem in the first place".
So, there's some subtle spinning going on to refract any culpability. Schneider's appearance on CNBC's Mad Money show in August last year is the perfect example. "We didn't want to be a passenger to what the packaging industry is dishing up; we wanted to do our own thing," he explained.
"We realised it's our name on the product, hence we want to be sure it is packaging material that we fully endorse and that we can stand behind."
You see: point the finger at someone else and then launch your own Institute of Packaging Sciences to develop "the most sustainable packaging solutions". That was 2018's big thing.
Last week's announcement included CHF250m for a venture fund to invest in start-ups working on new ideas and materials, but the lion's share of the money is to get the market for food-grade recycled plastics going. This makes a lot of sense – economically and environmentally.
In 2018, Nestlé used 1.7m tonnes of plastic packaging, of which 65% was reusable, recyclable or compostable. The target is to hit 100% by 2025.
This is probably achievable – it's the hard-to-recycle flexible packaging that presents the biggest headache but its new recyclable paper wrapper (already on Yes! Snack bars) and potentially compostables (if they can actually be collected and composted) offer promising substitutes. That's the good news – providing 'recyclable' and 'compostable' ends up 'recycled' and 'composted'.
However, globally, the company's overall recycled plastic content use is just 2% (in bottles it's 5%). Now, hats off to Nestlé for publishing the figures, which it did as part of the global commitment on plastics run by the Ellen MacArthur Foundation.
Coca-Cola, Mars, PepsiCo and Unilever aren't doing much better: 9%, 0%, 3% and less than 1% respectively. They all have higher targets than Nestlé – Mars, for instance, wants to hit 30% across its 0.2m tonnes, whilst PepsiCo is hoping 25% of its 2.3m tonnes of plastic packaging will be made from recycled polymers within the next five years – but basically they are starting pretty much from scratch (and let's not forget that, in the UK, there will, by 2022, be a tax on plastic with less than 30% recycled content).
On flexible packaging – which, incidentally, is by far the biggest packaging segment in terms of product value sales – the cupboard is bare. It's not possible to turn a plastic sweet wrapper or crisp packet into another wrapper or packet – the European Food Safety Authority has apparently sifted through loads of applications for such a process but is yet to approve a single one (as far as I am aware). Take polypropylene (PP), which is used by many companies: it's the easiest plastic to recycle but can't be recycled back to food-grade quality – yet. Nestlé is working on a solution with PureCycle Technologies.
Others have also realised they need to get ahead of the game, with acquisitions, investments, loans, long-term contracts and even "marriages" between FMCG brands and recyclers in order to secure supply going forward. This will of course head off any concerns from investors who are all too aware that public rage and looming regulation have, pincer-like, put the squeeze on single-use plastics. (That the new rules don't target all single-use packaging and, as a result could see brands simply switching to alternatives with unintended environmental and reputational consequences, is a discussion for another day). Coca-Cola, for example, are (financially) helping Dutch firm Ioniqa develop its "enhanced recycling" technology that turns low-grade PET into high-grade rPET.
What a difference a David (Attenborough) makes. Recycled plastic is a market that food brands have been notoriously reluctant to dabble in. Now they can't get enough of the stuff, with demand outstripping supply – and that could see the gap in price between recycled plastic and virgin widen.
Yesterday, S&P Global Platts flagged that new production capacity in China and the US will flood the market with virgin plastic leaving brand owners with a tricky decision: "bite the bullet and continue buying the more expensive recycled material, or reduce recycled plastic purchasing to minimum levels".
The mismatch in pricing is likely to be short-term, but it will certainly test companies' commitments to this particular environmental cause. Surely they won't row back on their commitments? Nestlé has already said it'll pay the price, having stumped up that CHF1.5bn to cover a premium for recycled materials between now and 2025.
"The economics of plastic recycling are complex, but in nutshell, it's cheaper today for plastic manufacturers to produce virgin plastics than it is to produce food-grade recycled plastics. Our plastic suppliers need to receive financial assurances to make the leap," reads the Q&A on its website.
Nestlé is certainly making the right noises and, as one expert told me, closing the loop on food packaging would be a "pretty big step". If Nestlé hits that recycled content target, it could replace around half a million tonnes of virgin with recycled plastic.
That's a fair glug of oil kept in the ground, but is it enough? "We can't recycle ourselves out of this crisis", is the record the environmental NGOs are playing as they push for more reusables and refillables. So, as Schneider sips on his après ski with the 1% in Davos, it isn't only that 2% recycled content figure that should be worrying him.