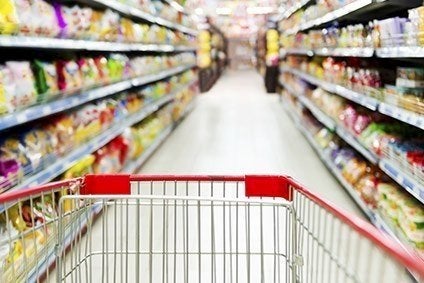 In the second quarter of 2014, the data from the just-food international basket suggested confidence was returning in most European economies, with consumers buying more but, notably, buying more multi-buys and products on deal.
The data, compiled exclusively for just-food by IRI, also saw the price gap between national brands and retailers' own label continue to shrink according to the relative price index.
The trend for the third quarter of the year very much continued in this vein, with the price gap continuing to narrow very slightly.
It's a mixed bag when looking at the value of a total basket of shopping, with some countries showing a slight rise in the quarter, while others are down. What's interesting, however, is when we look at food prices across Europe and the US, we can see distinct differences in different markets, affecting the overall price of our shopping.
Let's take Spain as an example. Slightly down on last quarter (from EUR15.49 in Q2 to EUR15.47 in Q3) and down on the third quarter last year (EUR15.81), an average weighted basket of food in Spain is one of the lowest in our barometer rating.
However, we can see why when we look at the price of food, which regularly comes in well under the average across Europe. Long-life milk is EUR0.70 per litre compared to an EU average of EUR0.82 and as much as EUR1.00 in Italy. Soup again is cheaper in Spain (EUR1.71 per 400ml) than anywhere else, with an average of EUR2.51 and a high of EUR4.82 in Italy – nearly three times as much as its Mediterranean nieghbour.
It seems the price of some foods in the UK is higher than anywhere else in Europe and the US, despite higher levels of trade promotion. In our analysis of the basket of 14 staple food items, we found UK prices rank in the top three in eight of them and is most expensive country for rice, beer and fruit juice (despite higher than average levels of promotion on the latter two products) and in second spot for long-life milk and soup.
The UK is not alone in high prices, however. The price of a tin of tuna in most European countries is well above the UK and as high as EUR10 in Italy and EUR12.41 in Greece. In fact, Greece regularly out-prices other markets, showing the highest or second highest price in nearly all 14 categories.
So what does this all mean to the average shopper? Well, if you want a cheap pizza, buy it in the UK; if you fancy good value butter, then go to the Netherlands, but definitely do not go to Greece to buy it; and you're best to hop over to Germany for the best priced cola.
On a serious note, however, focusing on offering high volumes of products on promotion is not making the average shopping basket any cheaper, and consumers are not necessarily getting a good deal on price and are ending up paying more for their average shop.
It seems it has become so much a way of life for consumers to look for a good promotion that the whole thing has spiralled to the point where we are now. Unpromoted prices must be artificially higher than they need to be, so they can be so regularly and so deeply discounted.
Overall in the UK, the proportion of sales volume that goes through under trade promotion conditions is currently 54% on food and a staggering 58% on non-food. This level did show signs of reducing in 2013, but has been on the rise again in 2014 as total sales volume falters and brands are under pressure. Manufacturers believe reducing the number of promotions will affect their market position and so are reluctant to bite the bullet, despite the enormous cost to their businesses that promotions account for these days.
Another way to de-escalate would be to reduce the deal depth, switching BOGOF for three-for-two or for a round-pound deal that gives less away on price. This was tried and until the first quarter of 2014 we began to see the average level of deal depth falling slightly. Deal depth for food and drink in the UK averages around 24% but the last six months have seen a slowdown in the decline – and even a small deepening again. For the future, as prices fall in the supermarkets, to combat the very real threat posed by the discounters, one wonders whether deal depth will have to reduce, since base prices will be lower and deep discounts off lower bases could take prices just too low?
Packaged grocery prices have fallen by 1.3% in six months in the UK and they will undoubtedly fall further. So far this has saved the average family shopper about the price of 2kg of granulated sugar per week, which seems very little, but at this rate, the decline in prices will cost the industry GBP1.5bn per year. It's a high stakes game and is certain to bring major challenges to suppliers and retailers alike over the next few years.