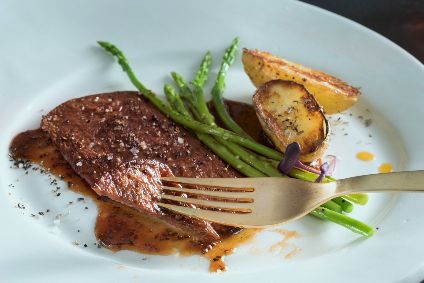 Andy Coyne asks whether the Singapore regulator's approval of the sale of cell-based meat has brought the prospect of seeing such produce on supermarket shelves any nearer?
The news that Singapore's regulator has approved the sale of cell-based meat has rightly been heralded as a significant step forward but we are still some way off seeing lab-cultivated products on our supermarket shelves.
It was announced yesterday (2 December) the south-east Asian city-state has become the first country to give meat made in a lab – using animal cells and a plant-based growth medium – the green light by approving cultivated meat products made by US firm Eat Just.
Eat Just co-founder and CEO Josh Tetrick is understandably upbeat about the news.
"I'm sure that our regulatory approval for cultured meat will be the first of many in Singapore and in countries around the globe," he said.
But it should be noted that Singapore's approval will be followed by a "small-scale commercial launch" with the company's "chicken bites" initially for sale only in a local restaurant.
It's a step forward for sure but significant hurdles still need to be overcome if such products are going to make any meaningful retail impact.
Companies in countries such as the US, Israel and the Netherlands pressing forward with their cell-based meat product development will know that regulatory approval was probably the lowest of those hurdles.
Longer-term, there is the question of whether consumers will accept such products.
There are powerful arguments in favour of the products, which mean meat or seafood can be produced without animals having to die. Cell-based protein is also held up as one possible solution to feeding an ever-growing global population.
But there could be a backlash against such artificially produced food. GM crops have faced negative headlines in certain countries and the same accusations of "Frankenstein food" and of tinkering with nature could be faced by the cell-based industry, even if proponents could claim the assertions would be misguided.
Of more immediate concern are the problems of cost and scale.
The one-off cost of buying the equipment and getting it up and running is not the main concern.
What is more problematic, at least in the short term, are the high cost of the substrate culture the cells grow in.
As Simon Powell, an equity strategist at US investment bank Jefferies, said, in comments made after the Singapore announcement: "Currently, the culture medium costs in excess of US$400 per litre and we estimate that to grow 1kg of meat in the lab could require 500-1,000 litres, hence the high cost of meat that has been grown so far."
The industry needs to reduce this figure significantly if it is going to be able to produce a burger or a steak, which doesn't come with an eye-watering price tag.
Scaling up could reduce costs.
"As alt-protein moves from the laboratory to industrial-scale production, costs will reduce," Powell noted.
But to scale up to a batch process that can produce 2,000 to 5,000 kg of meat at a time will require bioreactors as large as 20,000 litres, he suggested.
Ryan Whittaker, a consumer analyst at data and analytics company GlobalData, accentuates the positive. He says: "Eat Just's approval in Singapore shows that this technology is getting that much closer to scale. Scale will ultimately lower prices and help to reduce global warming and improve animal welfare."
Certainly scale and cost are not insurmountable problems but they are issues that have to be dealt with and they are large enough for industry observers, and many of those producing meat in a lab, to admit we are probably still some years away from seeing such products appearing on our supermarkets shelves or, on any meaningful scale, on restaurant menus.
None of this is to diminish the breakthrough that has been made in Singapore and it is possible that such a headline-grabbing announcement will provide new momentum to the industry and focus attention on the need to get to market quickly or be beaten to the punch by a rival.
In that sense what has happened in Singapore could be a game-changer.
But this is still a game with a long way to go before we reach the final whistle.