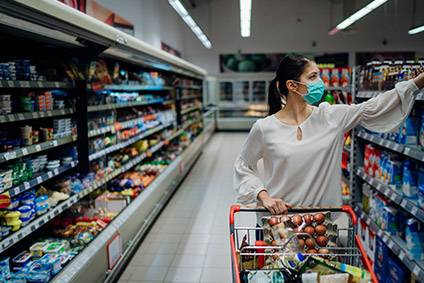 just-food's US columnist Victor Martino sets out how CPG companies can steer their way through choppy economic waters.
CPG companies need to create a new playbook to deal with a US market experiencing an economic recession plagued with a whole lot of uncertainty.
The US is officially in recession. This recession though is different than most. For example, unlike the "Great Recession" of 2008, which was a financial recession, this one is due to a single event, the coronavirus pandemic-induced shutdown of much of the US economy in March. As a result, the old rules and economic tools for getting out of the recession don't necessarily apply. We're in uncharted territory. Economic uncertainty among business and individuals is high.
Unemployment is a good example of the complexity of the current recession. In April, the official unemployment rate was 14.7%. Most economists and financial analysts predicted it would rise to 19% or 20% in May. But May's unemployment rate, reported earlier this month by the Bureau of Labor Statistics, was 13.3%. The unexpected job growth – 2.5 million new jobs were created in May – was a surprise to economists, analysts and financial markets. Few, if any, experts truly have any idea what June's unemployment numbers will be when reported next month.
Many government programmes initiated after the shutdown of the economy in March and April to support the unemployed and businesses are set to end 31 July. They have provided a buffer for individuals and businesses over the last three months. Many are worried the US will slide deeper into recession once they go away.
Ironically, CPG companies (not all) and grocery sales at retail have been two of the few bright spots in the US economy. With the near-decimation of the foodservice sector, Americans have been preparing and eating more meals at home than at any time in recent history.
But this outsized sales growth is beginning to level off as states reopen their economies and people have more options, like restaurants, for where they purchase foods. Consumers are also spending less than in previous months, including at grocery stores, because they worry the recession could be long and deep.
CPG companies, particularly the big guys, tend to fare better than many other industries in recessionary periods. But such times require changes to how brands are managed.
What can CPG companies do to drive brand growth during the coronavirus-induced economic recession? And what can they do to position brands once the economy starts to rebound, which could possibly be as early as this fall?
Conduct a top-to-bottom brand portfolio review
In good economic times, CPG companies tend to expand brand line-ups without giving sufficient thought to the growth. As a result, the company's anchor brands and products still end up contributing the majority of overall sales.
Many CPG companies extend into new categories during good economic times –but remain the number three or four brand in the category
Many CPG companies also extend into new categories during good economic times and, despite significant trade and consumer marketing investment, remain the number three or four brand in the category. These efforts are expensive. In good economic times, they might make sense but in recession this expansion and extension can be hard to maintain. Is it worth the continued spend when the anchor brands are still the main contributors to overall sales?
In order to answer this important question, CPG companies should conduct a top-to-bottom review of their brand portfolios now. Evaluate each brand vis-a-vis its risk in a recessionary environment as well as conduct a cost-benefit analysis of how much trade and consumer marketing dollars are being spent versus the benefits being derived from this spending. Brands not earning their keep should be minimised or earmarked for potential divestiture.
Curate, rationalise and cull item assortment
The results of the top-to-bottom review will likely show some brands in a CPG company's (this pertains more to larger businesses than smaller and speciality firms) portfolio won't carry their weight in a recessionary climate – and might not have even been doing so in a good economy, which up until a couple months ago the US had overall.
CPG companies need to determine which brands have the better growth potential and be laser-focused with their sales and marketing efforts. Additionally, within these "keeper brands" managers need to identify the top-performing and high-potential SKUs and put the majority of effort and resources on them.
In addition to providing the all important "best bang for the buck spent", doing this will also provide guidance to the sales force in narrowing its focus. Putting sales and marketing resources on best performing and strong growth potential brands and SKUs historically has proven to be a good formula during economic recessions.
Pivot brand positioning and messaging
Once the two important tasks above have been achieved, it's important to review brand positioning and messaging. Consumers behave differently during a recession. And not all consumers behave the same. For example, lower-income (and some middle-income) consumers tend to switch to private label during recessions due to cost. CPG brands must take this into consideration in brand positioning and marketing communications.
Historically, premium foods in certain categories – super-premium ice cream, for example – tend to perform well in recessions
Upper-income consumers (and many classified as middle-income too) tend to continue buying their favourite brands during recessions, though. In fact, some consumers will even spend a higher proportion of their income on food and drink in bad economic times because it is the one luxury they can afford. And this could be the case in this recession because people are reluctant to dine out at restaurants even though most are now opening throughout the country. Travel also isn't an option for most as fears of Covid-19 remain. Historically, premium foods in certain categories (super-premium ice cream, for example) and comfort food brands and products tend to perform pretty well in recessions despite their higher costs.
CPG companies should look at who their primary consumer customers are (demographics and psychographics) and how those customers' behaviour changed during past recessions, most particularly the most-recent major downturn in 2008-2009. While this recession is different in kind there are still lessons to be learned from the "Great Recession".
The net result of this process should be to compare brand positioning in the economic climate prior to the coronavirus-induced downturn with the current climate and an analysis on how things are most-likely to go for the rest of the year. Once an assessment is made CPG companies then need to adjust how they position these brands and match their marketing communications with it.
Keep investing
One of the classical mistakes some CPG companies make during economic recessions is to dramatically reduce spending on consumer marketing and promotion. This is nearly always a mistake.
Brands and products require as much or more investment in recessionary times as they do in good economic times. Instead of cutting back too much, CPG companies should instead refocus what they are spending their marketing and promotional dollars on.
For example, shifting dollars from print and broadcast media to digital marketing and social media, both of which are more immediate and more cost-effective, is a good strategy. It can also result in brands spending less money but getting as much or more return for investment.
A greater focus on public relations also often works well during recessions, as long as you create a compelling and genuine narrative and make sure it is central to the recessionary positioning and overall marketing communications programme.
The retail imperative
Coronavirus and the resulting economic shutdown have forced more changes at retail than at any time in recent history.
Category managers have had to make structural changes to store sets in order to obtain needed supplies of high-demand products in many categories. Additionally, the shutdown of foodservice and imposition of shelter-in-place orders have resulted in a significant change in how people eat. Americans have almost overnight shifted from consuming 50% of their meals at home (the other half outside-the-home) to preparing and eating the vast majority of meals at home.
This, too, has caused dynamic structural change at retail – flour and yeast are two of the categories that have inked the highest percentage sales gains since March because Americans are now baking bread at home, for example – because retailers have had to change store configurations in order to accommodate the surge in demand for centre-store items.
How CPG companies and retailers do business has also changed dramatically. The in-person buyer-seller meeting has been replaced by Zoom conferences and phone calls. Even more significantly, most suppliers and brokers suspended sales-force store calls because of shelter-in-place orders.
As a result, what happens at retail, which is vital for brands, hasn't had much input from and involvement by CPG companies. Now that many companies have their sales forces going back in the stores, it's crucial to put a renewed emphasis on retail involvement and detail in order to keep the focus SKUs on the shelf. After going through the four steps above, CPG companies need to give their sales managers a new portfolio – which brands and SKUs to focus on, the new positioning and messaging – with concise marching orders on where to focus their efforts. Sales is more vital than ever during recessions and the sales force needs to know what the priorities are.
The key imperatives for CPG companies with brands during recessionary times are to: (a) stay on the shelf with the brands and SKUs to be focused on; (b) grow sales despite the economic downturn; (c) and position brands for further growth once the economy rebounds.
Achieving this requires reviewing the brand portfolio and SKU assortment; assessing, curating and culling item assortment; continuing to invest on the in-focus brands; ensuring messaging fits with the economic times; and putting renewed focus on retail.
The only economic certainty right now is uncertainty. But that uncertainty can be reduced by developing a playbook designed to do business during this recession.
just-food columnist Victor Martino is a California-based strategic marketing and business development consultant, analyst, entrepreneur and writer, specialising in the food and grocery industry. He is available for consultation at: victormartino415@gmail.com and https://twitter.com/VictorMartino01.