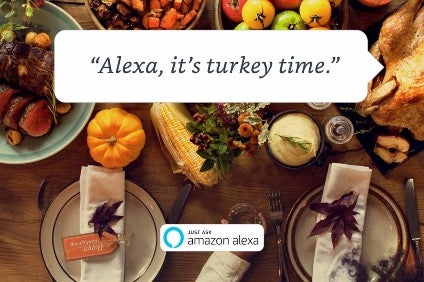 Taking advantage of the rise of the e-commerce channel will be a priority of an increasing number of food company strategists in 2018. Andrew Pearl, director of strategy and insight in the EMEA markets for e-commerce analytics firm Profitero, presents four trends to watch in the channel in 2018.
2017 has been another significant year in the development of digital commerce and online grocery.
We have seen Amazon's US$13.7bn takeover of Whole Foods Market as the e-commerce behemoth accelerates its grocery ambitions.
The growth of meal-kit providers like HelloFresh and Gousto have continued. There has been the rise of search through mobile and through voice assistants Google Home and Amazon's Alexa. And UK grocery giants Tesco and Sainsbury's have expanded their one-hour grocery delivery.
Earlier this year, Profitero surveyed 134 brands across more than ten industries (including CPG brands), with the aim of understanding how brand manufacturers are structuring and planning for e-commerce in 2018.
Respondents to the survey cited year-on-year e-commerce growth as their most critical KPI, with 47% of respondents from CPG brands specifically stating their e-commerce growth target for this year to be higher than 25%.
With respondents to Profitero's global benchmarking study citing year-on-year e-commerce growth as their most critical KPI, it is clear digital will continue to dominate the agenda as we head into 2018.
As digital looks set to dominate the growth strategies of global consumer goods brands as we head into 2018, here are four big trends to watch next year.
Mobile-first
In the UK, for example, mobile transactions now account for more than 50% of total e-commerce transactions in the UK.
With online the fastest-growth channel for grocery, and as consumers demand an increasingly frictionless shopping experience, grocery and CPG brands will need to optimise their product images, titles and descriptions to provide a much simpler shopping experience on mobile devices.
We know that the vast majority of online grocery shoppers do not click through to each product detail page to verify and read all the product information – instead, they simply add to their basket from the thumbnail image. Therefore, mobile-ready hero images are about making the online shopping experience even better.
A study led by Unilever showed sales of Magnum soared by 24% when hero images were used, underscoring why optimising content for mobile can make a big difference to your bottom line.
Voice search
With over 20% of mobile searches conducted via voice in 2016, a focus on optimising products for voice search is no longer a long-term priority.
Morrisons and Ocado both launched Alexa apps earlier this year, enabling customers to add grocery products to their shopping list by voice, while a recent survey conducted by IGD reveals that three in 10 (28%) shoppers are interested in using a voice activated device at home to add food or grocery items to their online basket.
The introduction of Amazon's Choice – a product designation from Amazon that identifies "best fit" products in response to a shopper's search query or voice request – in the US resulted in Alexa voice-activated devices recommending top-selling brands across food and grocery sectors.
With other retailers likely to adopt similar capabilities in the near future, achieving this designation is likely to be an increasingly competitive necessity.
Amazon has not disclosed how products are included in its Amazon's Choice list but the products tend to be highly rated, well-priced items eligible for Prime shipping.
Growing competition from digital-native brands
Mirroring Amazon's private-label launch of its Wickedly Prime range in the US, many established grocery brands are starting to closely analyse these innovations, thanks to the lower (and faster) route-to-market when launching in the online channel.
In the US, we've recently seen Walmart's Jet.com launch a private-label business called Uniquely J, rolling out dozens of food and household items targeting millennials.
We also saw the launch of Brandless, a direct-to-consumer site which sells everyday essentials like coffee, peanut butter, toothpaste and hand soap. All products are organic, unbranded and sell for a single price-point of $3.
Could Amazon look to take Wickedly Prime to other international markets? Could concepts similar to Brandless emerge elsewhere?
A relentless focus on online availability
The establishment of half hour delivery as the norm will require the significant optimisation of supply channels.
Creating specific online replenishment strategies and monitoring performance daily is already providing significant benefits to many grocery brands.
E-commerce data analytics platforms provide access to daily out of stock data, allowing brands to react instantly to any issues which ultimately lead to lost sales, both for the brand and the retailer.
A clear focus on the products driving these lost sales can not only result in significant availability improvements (both in-store and online) but also reduce levels of lost sales, typically accounting for between 3 and 5% of monthly turnover.
The ability to react with speed and innovate accordingly will provide brands with the increased annual growth that is being demanded of them.