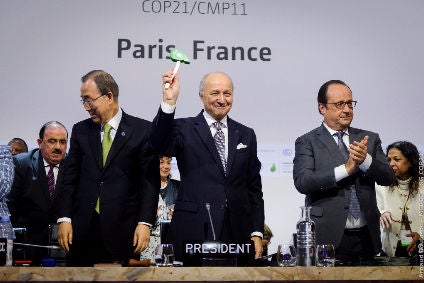 The COP21 agreement marks the start of a huge concerted effort in which the food industry will have a leading role to play, Ben Cooper writes.
The news coming out of Paris at the weekend can be viewed, appropriately enough for the season, as tidings of joy, if not comfort.
Joy because it is unquestionably good news for all – including food companies – that an international agreement on climate change has been reached. And an absence of comfort because what COP21 has essentially concluded is our planet is facing such great peril that only a monumental combined effort from all nations and their peoples, of which this deal is just the beginning, will be required to get us out of it.
So 12 December is a starting point rather than a conclusion. There is actually little scope for congratulation. The assertion by Mindy Lubber, president of corporate sustainability think tank Ceres, that the "low-carbon economy has finally arrived" therefore seems a tad premature. On the other hand, the suggestion by Professor James Hansen, the father of climate change activism, that the Paris agreement is a "fraud" may seem churlish.
Unilever CEO Paul Polman tweeted along the same lines as Lubber, suggesting rather more circumspectly the agreement "signals the start of the New Climate Economy", with "all in place now for a US$90 trillion low carbon revolution". The description by Food Ethics Council executive director Dan Crossley that the deal was "potentially momentous" may be closest to the mark, with the emphasis on "potentially".
In the long build-up to COP21, the prevailing view of food companies was they hoped an agreement would be reached and this would be positive for the industry. So, now that has happened, what are its implications for the industry? And why should food companies be glad their hopes have been realised?
First and foremost, however much debate there may be over the merits of the deal, the very fact there is now an agreement is in itself of huge significance.
The international community at last has a plan and, for major food companies as with any large corporations, the degree of certainty and unanimity of purpose the deal brings is crucial, in relation both to planning investment, particularly around low-carbon strategies, and addressing risk.
The principal elements of the agreement – the primary aim to keep a global temperature rise this century well below 2°C and drive efforts to keep it to 1.5°C above pre-industrial levels; national commitments to peak emissions as soon as possible and submit national climate action plans; the five-year review process and, lastly but by no means least, the US$100bn a year pledged to help developing countries to reduce their emissions and cope with climate change – together potentially (that word again) provide a stable framework in what may be a radically changing global environment around which companies can plan their futures.
Moreover, by dint of their dominant position within and pervasive influence upon the global food system, the futures of international food companies have global significance. Climate change is now commonly viewed through the lens of the Water-Energy-Food Nexus and keeping ahead of the food security challenge is a defining objective of the global response.
As with so many things, food security means different things in the developed and developing world. In developed markets, it is largely discussed in terms of price and availability and a country's food trade import-export balance. Food will become more expensive overall, and the convenience and luxury of having out-of-season or exotic products available all year round may be lost or curtailed. In developing countries, food security is about hunger and starvation. In human terms, the latter is palpably more important but under either definition, international food companies have a central role to play in meeting the challenge.
In addition to the provision of certainty, another facet of the deal which has been widely welcomed by food companies is the support it offers in addressing risk. In particular, the assistance for developing countries enshrined in the deal will help support efforts by companies to address climate change risk in their agricultural supply chains.
The impact of extreme weather incidents are a particular concern for food companies and while the deal clearly can do nothing to avoid these, it could offer much in terms of protection from and recovery after them, again helping to make global agricultural supply chains more robust in the face of climate change impacts. Protection from risk is financially advantageous for corporations and their investors but experience with the countless sustainable agriculture initiatives already launched by food companies shows that the more robust those supply chains are the better for those rural agricultural communities. In relation to food security in the developing world, it is vital work.
Furthermore, the potential for the deal to enable developing countries to move faster on low-carbon and renewable energy than might have previously been possible will assist international food companies in their bid to drive down their global carbon footprint. Regarding carbon emissions reduction in developed countries, there may be a nagging feeling in some quarters of "be careful what you wish for". With national climate action plans will come ambitious carbon reduction targets to which food companies will be expected to make their fair contribution and possibly tougher regulatory frameworks.
Those companies leading the way in sustainability may well feel they have little to fear from this, as they are well ahead of the curve. Indeed, tougher regulation – the proverbial levelling of the playing-field – can benefit the leaders. However, with regard to emissions reduction the picture across the entire food sector, across the globe, is rather more varied. The pressure on the laggards will certainly increase, as will pressure on companies already relatively active on carbon emissions to adopt more stringent, science-based targets, objectively aligned with the aims of the new global deal.
The global food sector's collective carbon reduction push will also be hugely dependent on how quickly SMEs, both in developed and emerging markets, can move. Through collective engagement and discussion of sustainability, leading food companies already have a relatively good record of supporting smaller companies. The importance of this outreach will increase.
Where global food manufacturers and retailers may well feel the influence of this deal sooner than later is in relation to food waste. However much they may point to what they are already doing to address waste and loss, it is a fair bet it will be deemed to be insufficient. In short, the carbon cost of food waste will become increasingly intolerable and the public and governments will look to food companies for solutions.
In spite of previous failures, the smart money was always on an agreement being reached in Paris and commentators of all hues have generally concluded the deal was about the best that could have been hoped for.
The COP21 deal should rightly give the world something to cheer about and international food companies should indeed be pleased that the deal they said they wanted has materialised. But in the New Year the focus must turn unremittingly to the hard work it presages.