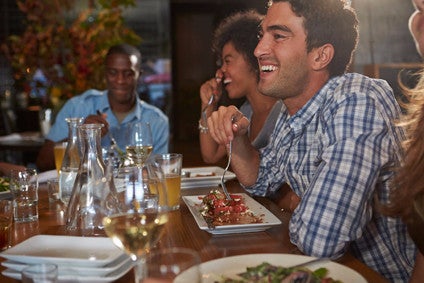 Foodservice is rapidly becoming a global industry, and operators and manufacturers need to be aware of, and stay ahead of, big trends to be able to fully capture the growth opportunities available. David Henkes, advisory group senior principal at US foodservice consultants Technomic, outlines eight trends he expects to see across the foodservice market in 2017.
The global foodservice industry is huge. In 2016 consumers worldwide spent US$2.7 trillion – 29% of which was in North America and 24% in Europe. As the industry grows and becomes a truly global marketplace, the trends that get identified in markets like the US, the UK or continental Europe start to replicate themselves in markets around the world and, while some differences occur in the details, the broader trends can be said to be global.
At Technomic, we've taken stock of the current trends in foodservice and made forecasts on what to watch for in the upcoming year. We expect to see big, "macro" trends throughout the global foodservice industry. Manufacturers supplying the channel will need to be aware of these trends as they work on their product development strategies.
Trend 1: Eatertainment
With the growth of online shopping, Netflix and HD televisions in a growing number of households, entertainment has increasingly turned inside the home. Dining out remains a great way to connect with family and friends, and consumers are increasingly using dining as their out-of-home entertainment. This means that they increasingly want a unique experience and something that is not replicable easily at home.
Trend 2: Taking a stand
Consumers are increasingly supporting brands that align with their values and stand for the greater good. This is particularly true in the restaurant space, and consumers across the globe are increasingly asking for menu transparency, sustainable sourcing practices, and broader corporate social responsibility throughout the business.
Trend 3: Big acting small
As consumers ask companies to "take a stand" they are increasingly supporting smaller companies – whether local packaged good suppliers on grocery store shelves, or smaller chain restaurants that exemplify strong corporate social responsibility. Regardless of the country, a backlash against big brands has been brewing for some time and will continue into 2017. We expect to see some more large-chain operators incorporating what has been called "food with an integrity focus" into their menus to try to gain custom from smaller, upstart rivals?
Trend 4: Now now now
Foodservice has become an "on-demand" industry, as consumers have come to expect to be able to obtain food whenever and wherever they are. As a result, more 'traditional' foodservice is under fire from emerging non-traditional segments that offer consumers food and beverage on demand. This has led to an increase in mobile apps to enable ordering, a huge growth in third party delivery, and the rise of things like meal kits (or recipe boxes), which allow consumers to obtain a restaurant quality meal at home.
Trend 5: Segment blurring
Given the demand for "now," there was been a huge growth in new segments that blur the line of what foodservice is. Convenience stores, supermarkets are two segments that we've been tracking for a while that are investing heavily in foodservice. In the US and parts of Europe, players like Whole Foods Market have installed full-service, sit-down restaurants, and "grocerants" are rapidly becoming the norm. Others, like the Italian food market/restaurant hybrid Eataly, are building on the food hall concept and creating viable alternatives for consumers.
Trend 6: Automating the experience
Technology will continue to transform restaurant service, as both labour restrictions and consumer demands for customisation, convenience and novelty drive automation. More chains will use kiosks and touchscreens, as well as chatbots and artificial intelligence to take orders through platforms from social media to smart TVs. With brands like Domino's and Chipotle Mexican Grill already testing drone delivery, it's only a matter of time until this amenity becomes more widespread. Next up, online reservation services will allow customers to choose their own seats, perhaps paying a premium, just as they do on airplanes.
Trend 7: Renewed QSR investment
As consumers' need for higher value and a better quality experience proliferates, fast food operators are finding new ways to improve the experience. This comes as "fast casual" (essentially upscale fast food) continues to drive industry growth. Simple things like modernisation can be seen by many quick-service restaurant operators, but we also see a drive toward customisation that is a hallmark of fast casual. Daypart and menu expansion (including breakfast and late night) are also ways QSR are trying to stay relevant to consumers. Adding beverage alcohol is also being employed – to particular success by Starbucks but also tests by Taco Bell, Burger King and others.
Trend 8: Sin is in
The widespread legalisation of marijuana in the US is quickly becoming a reality, with more and more states looking to legalise recreational use of weed. The investment community is already assessing how this might make restaurants' fortunes a little greener, either by boosting tourism or permitting THC's use as an ingredient. But that's not the only indulgence likely to figure into 2017 menus. More consumers are welcoming once-taboo fats back into their diet. Butter, lard and tallow enhance taste and fit into the new, natural definition of healthy.